Pulished on Sep. 25, 2023
Selecting the right porcelain tableware items for a hotel includes several considerations to ensure budget, style, and quality.
Below are suggestions to help you choose the RIGHT porcelain dinnerware for your hotel.
Set up your budget.
It will help you narrow down your options and choices when you keep the budget in your mind.
You can control the cost well and pay more attention to what you really need when choosing porcelain tableware.

Style goes first.
You are supposed to choose the porcelain tableware single item or a whole dinner set according to your hotel's style and ambiance.
Take the level of your hotel into consideration. Before purchasing and deciding on the style, make clear what hotel you are running now.
Does the hotel supply high-end dining, casual dinner, and various dining options ( such as Chinese food, France food, or Turkish meals, etc...)
Since different food needs completely different porcelain tableware



Make sure the porcelain tableware fits your restaurant's décor and atmosphere well.
The porcelain tableware items with white color are the most popular items among different level hotels.
The white hotel porcelain tableware items can be one of the great choices if you can't decide which styles you want.
The white porcelain dinnerware items can match all the food and dishes.

Based on the Classification and quality of the porcelain tableware.
When choosing porcelain tableware items, you should focus on the level of different types of them.
Pick the porcelain tableware set with the "hotel ware" or "commercial grade". Because they are more durable and long-lasting for kitchen use.
The thicker and heavier porcelain tableware items usually are more durable. You should have the extra porcelain tableware items or dinner sets on hand.
It can help you to cover the breakage and replacement in time and solve the mess problem.

Branded logo on the porcelain tableware.
Adding your hotel's logo or brand design pattern to the porcelain tableware dinnerware creates a unique and branded dining experience for your guests.
You can choose to add the design of the logo on the center of the porcelain plate or porcelain bowl or the bottom of each porcelain item.
When guests see your logo on dinnerware, it creates a memorable and distinct association with your hotel. This can contribute to brand recognition and loyalty.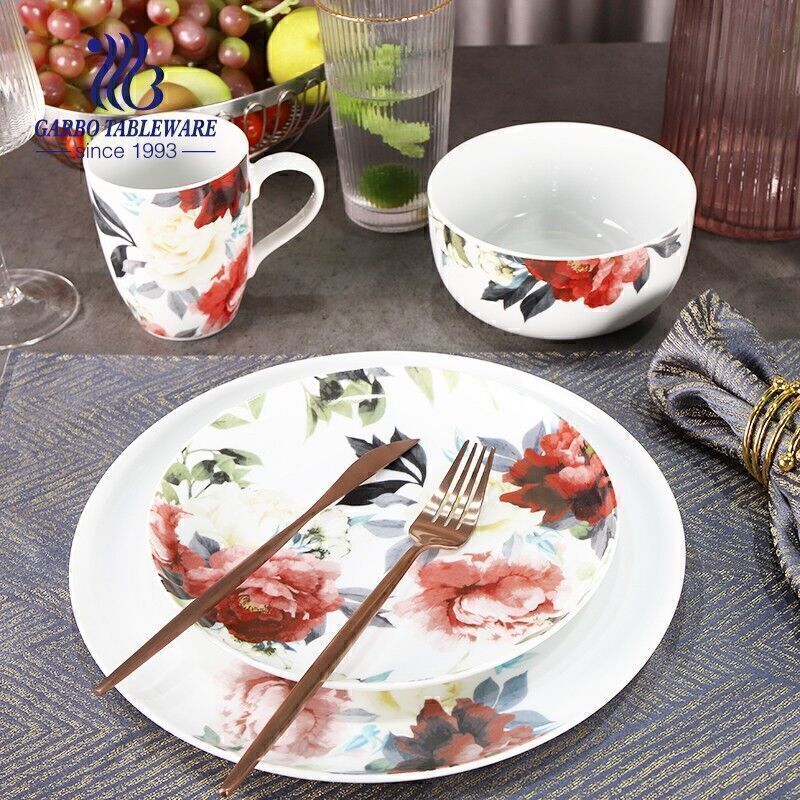 Garbo as a professional supplier of hotel porcelain tableware, can offer OEM&ODM design or just plain items. For more details, pls feel free to contact us.