Now many people like barbecue in home or outside like camping. Then you must need a baking pan. A beautiful bakeware is inseparable in your kitchen. So what kind of bakeware are hot selling?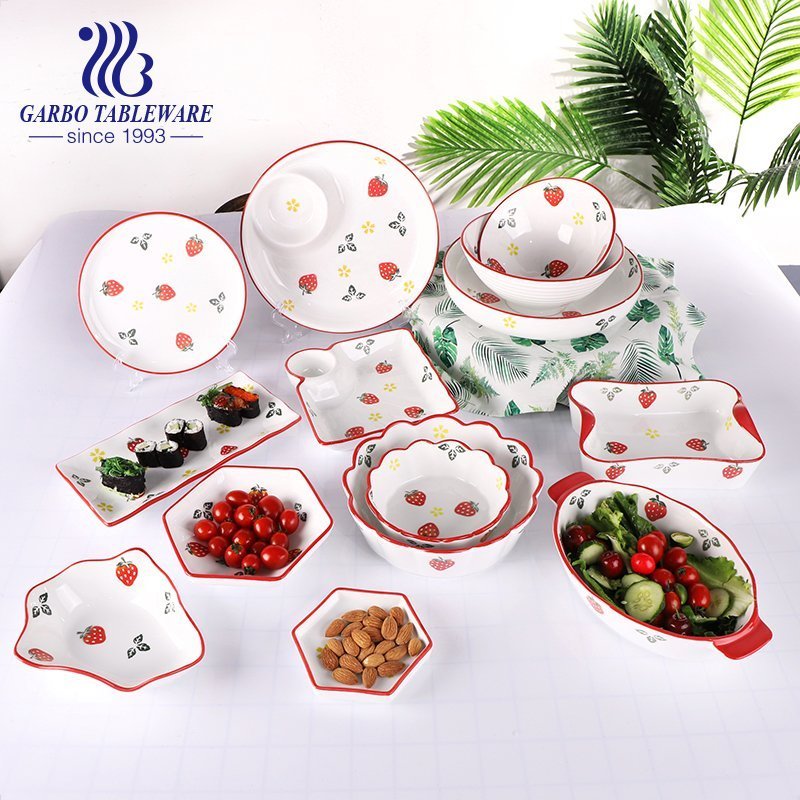 How many kinds of materials for the baking pan?
Silicone Bakeware
The color is bright and the appearance is very advantageous. In addition, it is not-stick, and it is easy to clean. It is useful for cake mold serving. Our Garbo also have those items to sell, pls contact us if interested.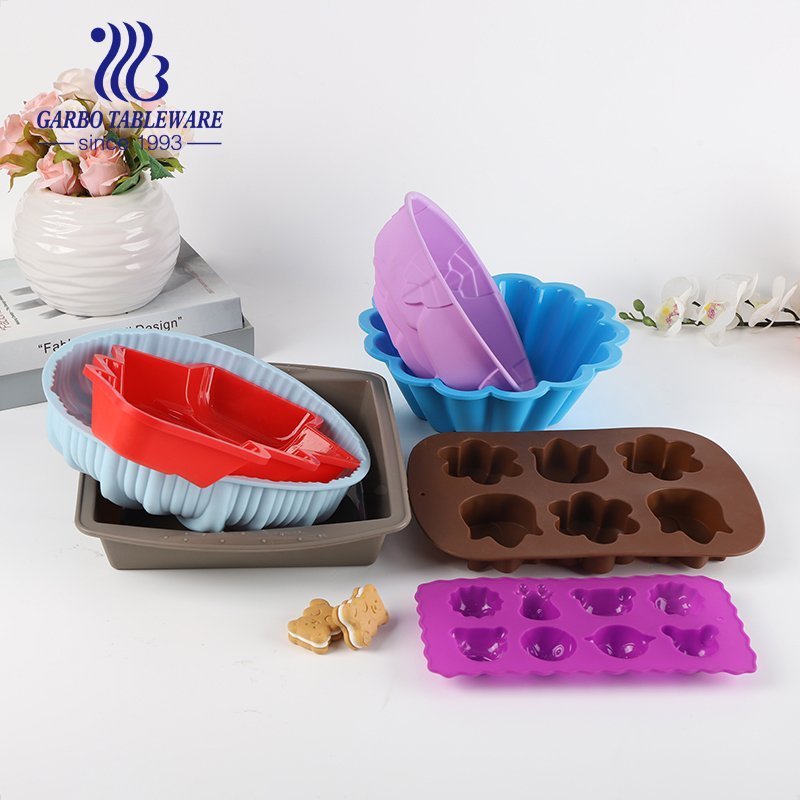 Glass Bakeware
The glass baking pan is crystal and clear, easy to clean, and it also has a high temperature resistance. And it's heavier than a silicone baking pan. The glass baking pan is made of high borosilicate glass, and it's safe for microwave, oven using.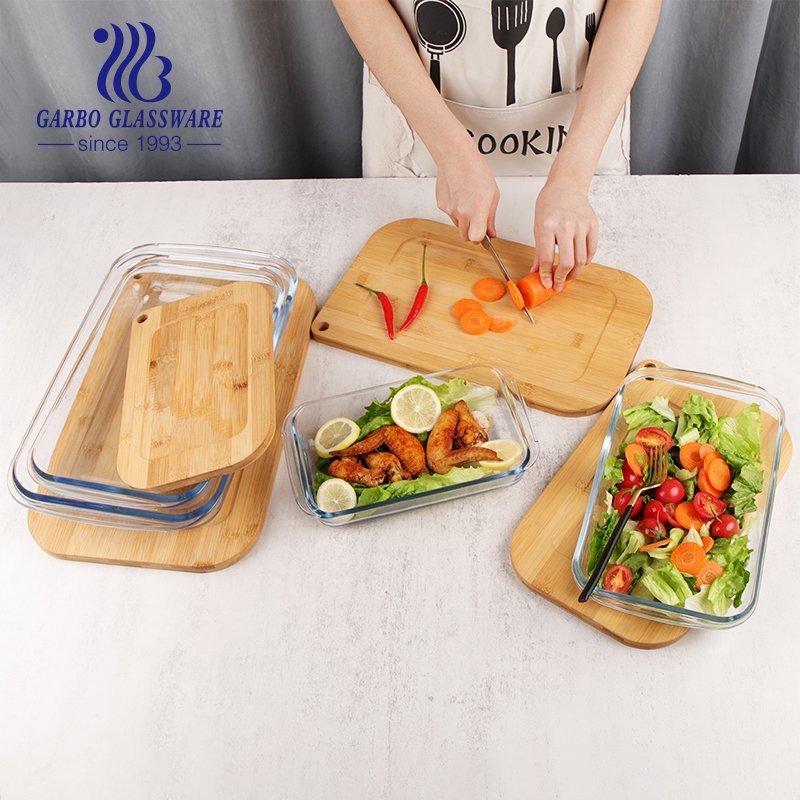 Ceramic Bakeware
It is estimated that it is one of the most beautiful baking pans, and it has high heat resistance, which has become a favorite of many people.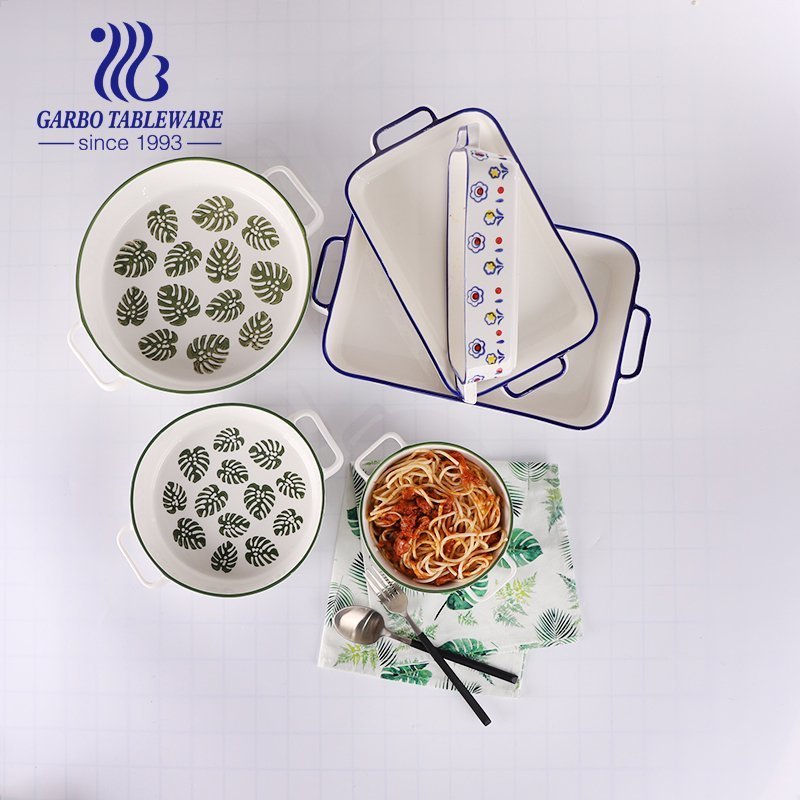 Aluminum Alloy Bakeware
The thermal conductivity and corrosion resistance are very good, and the cleaning is also very convenient, but the price is higher.
Carbon Steel Bakeware
Corrosion resistance, easy cleaning and other properties are comparable to aluminum alloys, and they are safer, but the thermal conductivity is slightly lower than that of aluminum alloy baking pans.
Which kind of ceramic bakeware you like?
Colorful bakeware
The colorful baking pan is beautiful and popular in the market. There are different colors we could make, like pink, red, green, blue or any customized colors! And those baking pans are made of ear handle design, it's high temperature resistance, heat insulation and anti-scalding when using. A good design for taking care of your hands!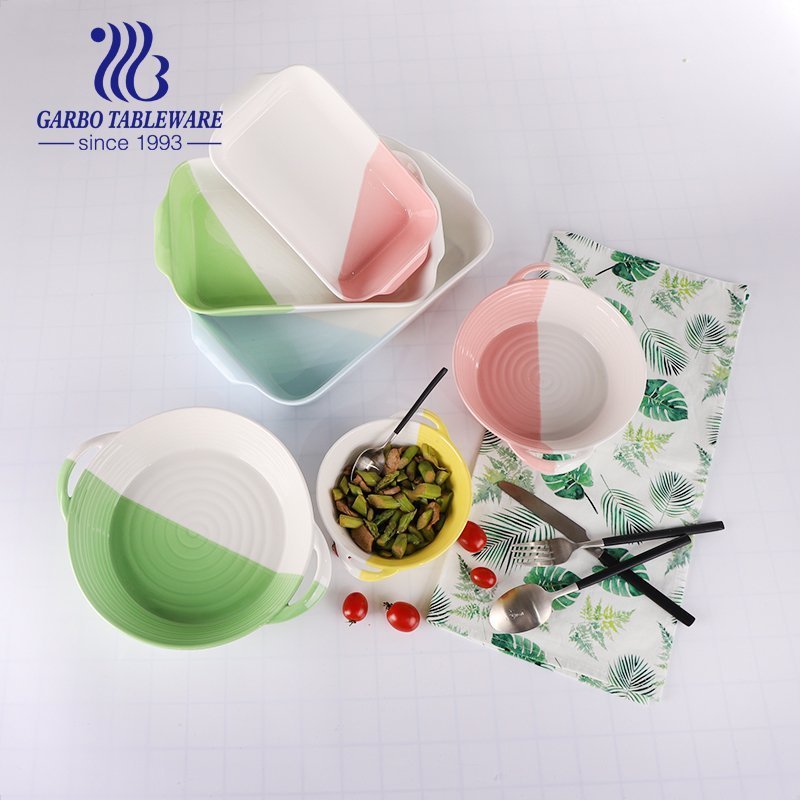 Unique bakeware
There are different sizes and unique shapes for the baking dish: gourd shape, carrot designs, lovely heart shape, and also normal rectangle shape, square shape, oval shape, and all the baking dish are with handle. This is easy to hold the heat food, and served better when you are in the party or barbecue outside! Those unique ceramic bakeware is serving for different foods and will make your dinner very nice.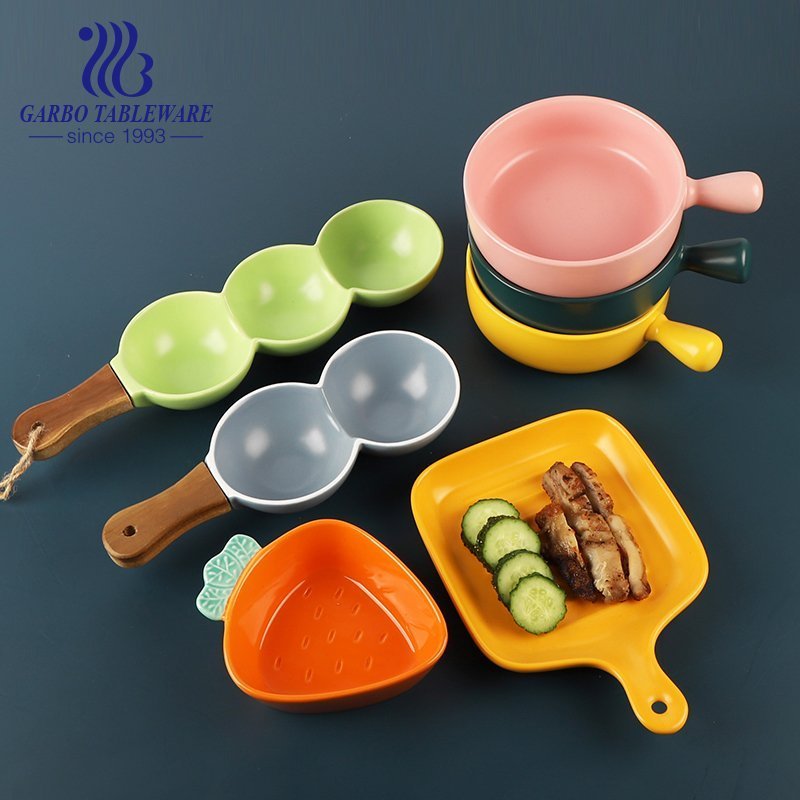 Decal ceramic bakeware
This ceramic bakeware is made with custom decal designs like flower, stawberry, or any other beautiful designs. We also have a professional designer team to create many new designs for your choice! And after cleaning, those baking pans can also be stacked to save space.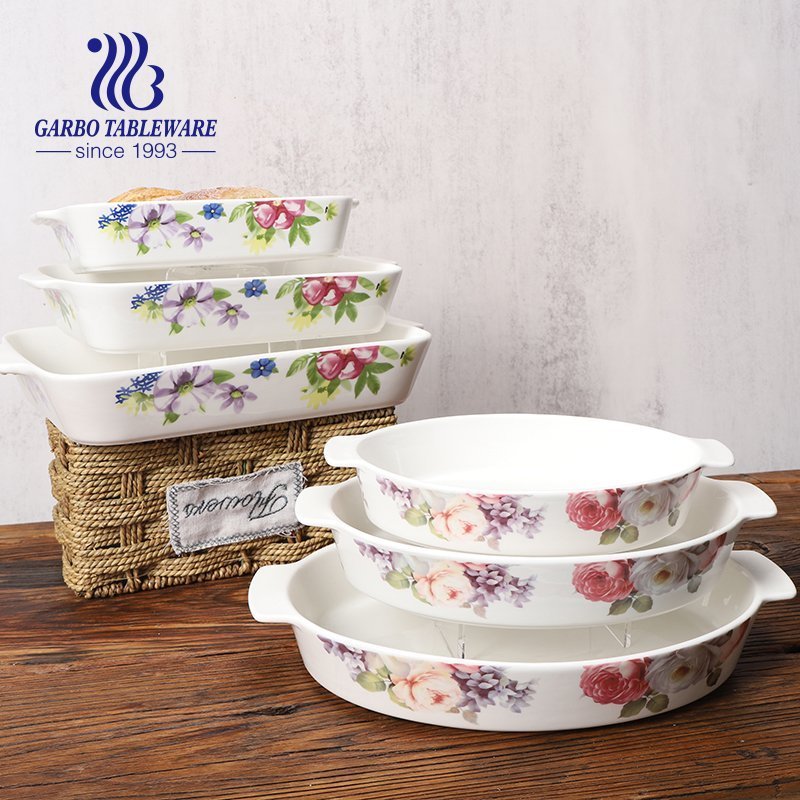 Golden plated ceramic bakeware
In recent years, the luxury dinner set becomes popular and popular, many customers would like the dinner set to be decorated with some golden designs, or gold rim on the edge of the plates or bowls. This gold rim dinner set meets the demands for our customers. And it also combine many different and unique shapes like heart shaped, flower shaped, square shaped ect! It's now very hot sales in the market!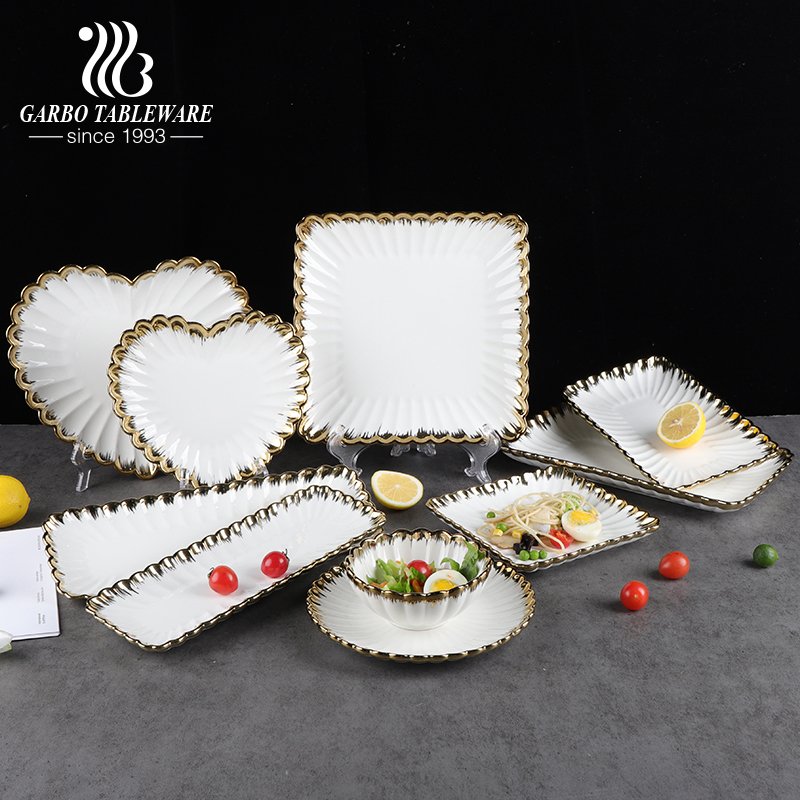 What are the advantages of ceramic bakeware?
The ceramic bakeware is beautiful and has a very good heat resistance, it could be used in microwave, oven, and it's also easy to clean. It could pass the food grade test, and it has many unique shapes for choice. And it's also welcomed for OEM colors, designs. Lastly, the MOQ for ceramic bakeware is also small, generally it's only about 2000-3000pcs!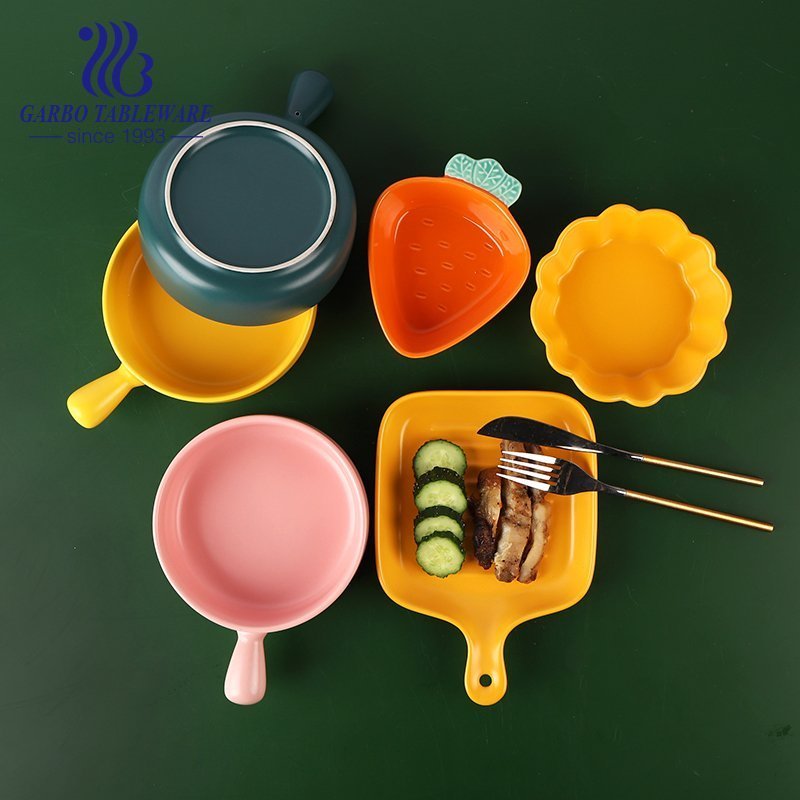 Above are some popular ceramic bakeware in Garbo Tableware, not only for ceramic bakeware, we also have glass baking dish, silicone bakeware.
Not only for those styles and series, Garbo tableware has a lot of designs for them, and our own designer team will develop new designs and shapes every week. If you are interested in them, just feel free to contact us. Garbo Tableware is one of the professional ceramic tableware in China, and we will definitely support you with high quality products in competitive prices!