Garbo tableware regularly launch and recommend some classical and popular cutlery in official website and all kinds of B2B platform. Cover Facebook, Alibaba, Made in China, LinkedIn and so on. So when you plan cellphone in relax time, you can see our cutlery from time to time.
November 1st to 8th, total two weeks' time, Garbo tableware launch 4 categories cutlery: gold cutlery+gold cutlery with ceramic handle+cutlery with paint color handle+silver cutlery. Each category have their own special feature and highlight. Show different styles to people from different countries. Let's see, is there any cutlery you like.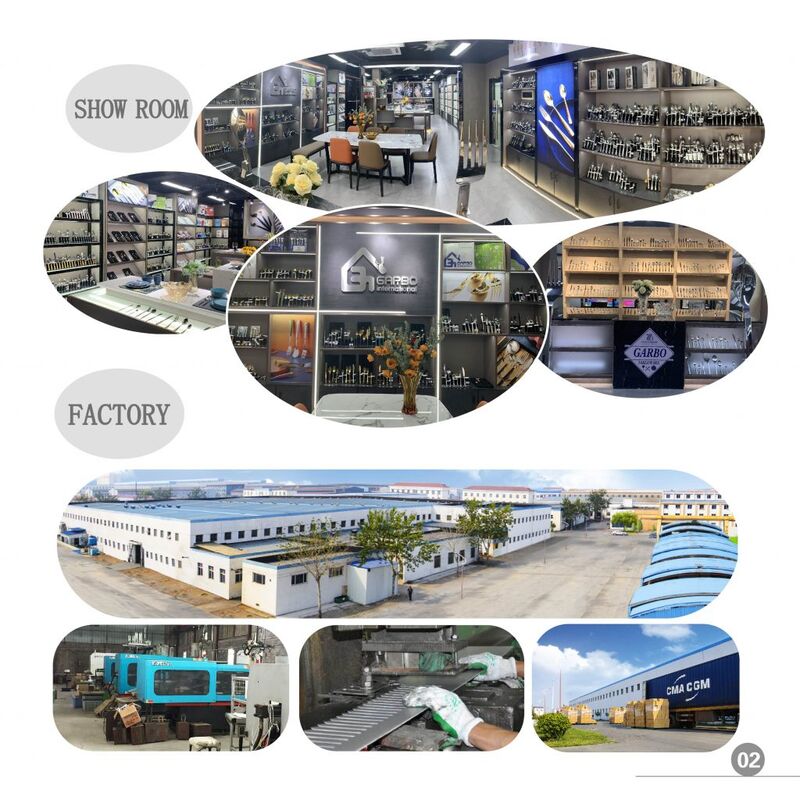 1st category: gold cutlery
Luxury shinny gold flatware catch your eyes right now. It is super blinking. You can't stand anymore to see it more. There are 4 components in this gold cutlery set. Including daily use dinner knife, fork and both spoons. 4 items are made of 304 stainless-steel material, super high-quality mirror polish and finished by matte. Even the gold color is shinny, but surface is matte which can make you feel classic and retro style. The fork is very unique. Looks like cat paw, a popular design from Starbucks. Knife and spoon is large for convenient use.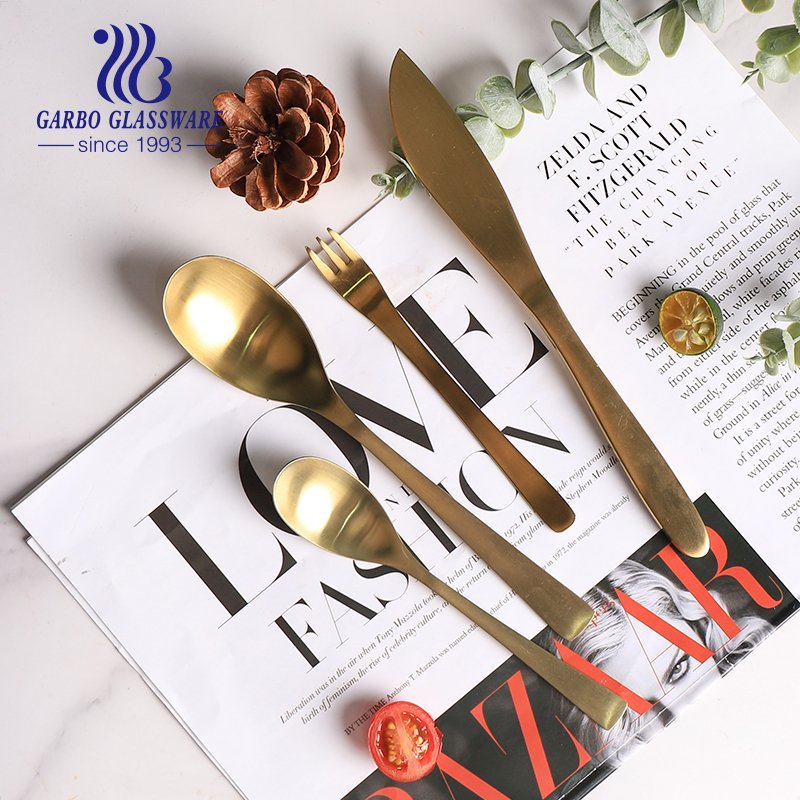 2nd category: gold cutlery & ceramic handle
We select a dinner knife with ceramic handle to introduce today. Because I think this photo is very nice. Like it so much. The background with white magazine and a little yellow newspaper. The newspaper is fabulous. It represents the passing of time. Just witnessed the development history of cutlery. Even the photo is beautiful, but the dinner knife is nicer for sure. 410ss material add hand polish, then do PVD gold color on the blade. Finally, connect with ceramic handle. There are green and pink, also have white. The handle has s gold marbling pattern. Such a nice dinner knife for tabletop and be a decoration.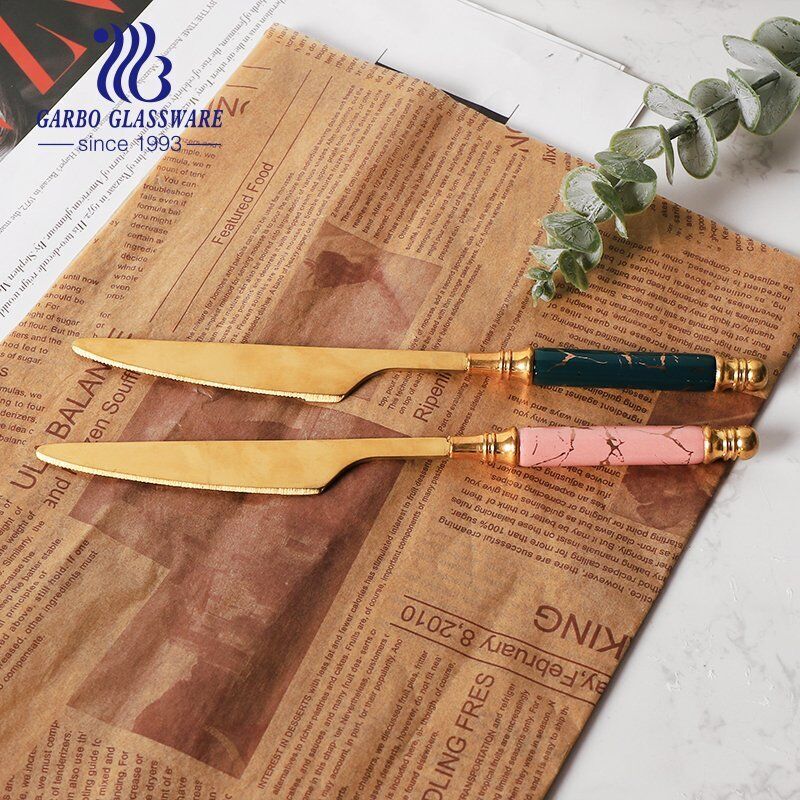 3rd category: cutlery with paint color handle
This cutlery original is silver. Our factory and worker just take it to do PVD gold color on the spoon, fork and blade. The gold color is not like normal gold color. A little like rose gold. Also, can call it champagne gold. Because the matte and glossy surface can come out different effect respectively. The technology of handle is paint color. Feels like a coat. Can paint many colors: red, green, black, blue.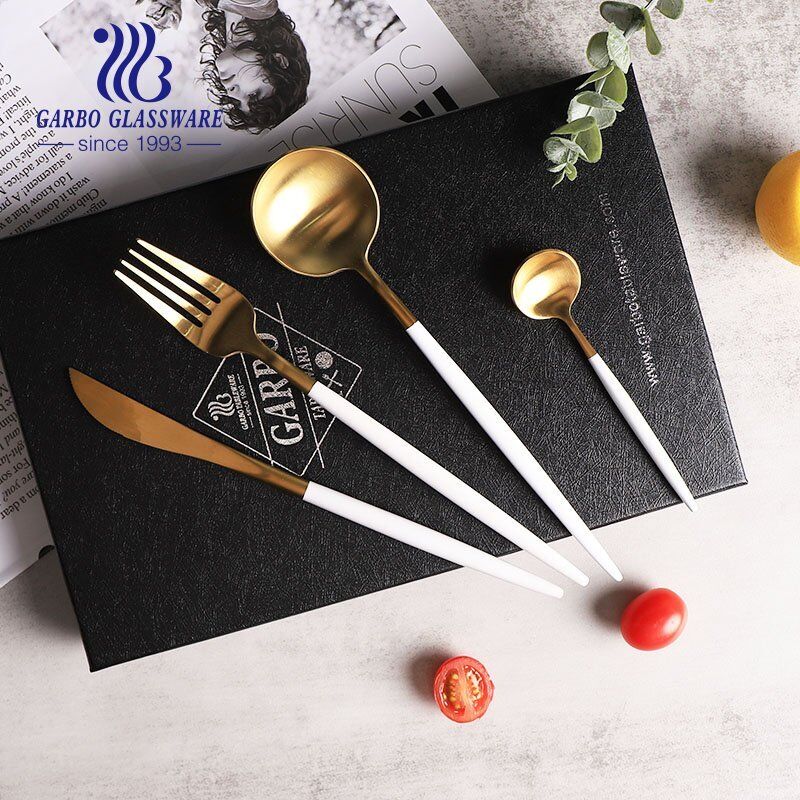 4th category: silver cutlery
Classical Portugal cutlery 4pcs set. The feature is the handle. It is long, thick enough and slim. Portugal people prefer to use this style. So it is why this kind of cutlery call the name. Matte finish give you a blurry feeling. Pls kindly check the blade of knife. You will find garbo logo. It is laser logo. Won't fade out. You can custom your own company logo. Then customers can know and remember your company brand name. It is good for company to built their own brand benefit.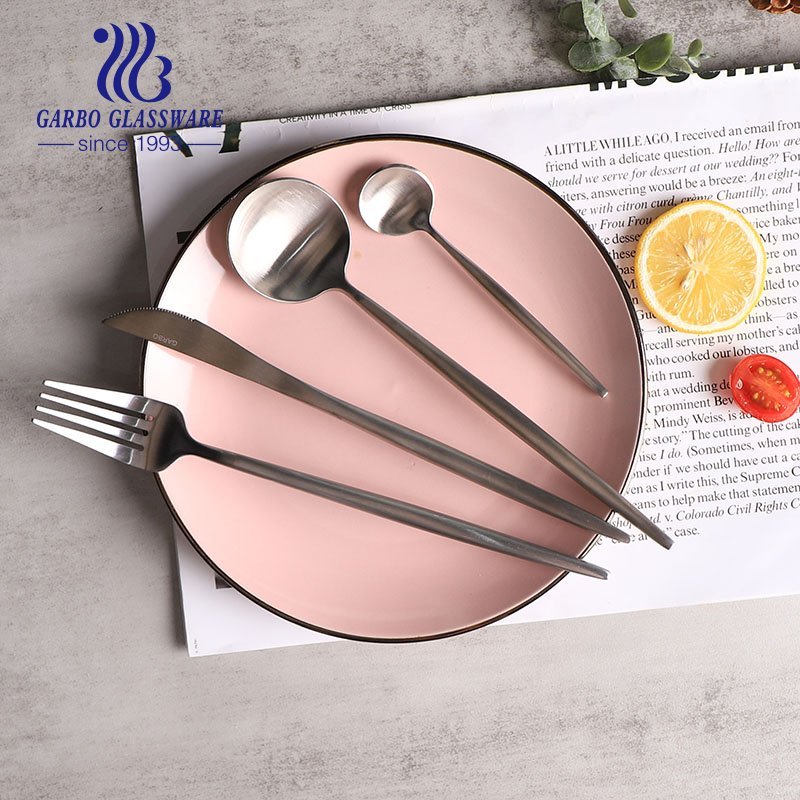 Above content only give you a brief introduction of each kind of cutlery. For deep learn and understand, it will be better to subscribe to our website to get updated items.