We are used to serving our food on plates, but we have been serving our food in ceramic bowls and plates since ancient times. According to archaeological findings and historical records, we can know that the earliest porcelain bowls were celadon products, with a large mouth and a deep belly and a flat bottom. They were used from the Shang and Zhou Dynasties to the Spring and Autumn And Warring States Periods.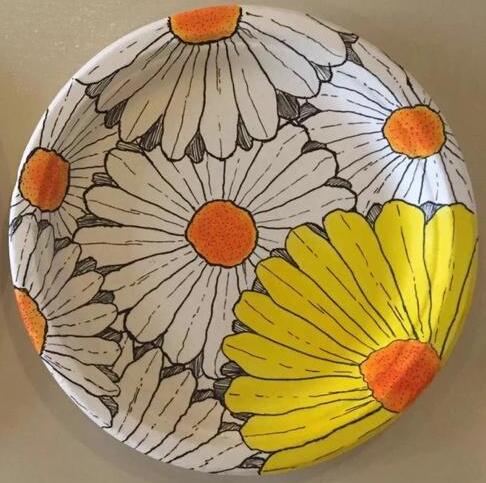 With the evolution of times, the gradual improvement of porcelain making technology and the improvement of people's aesthetic and practical requirements, the shape, decoration and quality of bowls have become more and more exquisite, and the division of labor has become more and more specific and diverse, such as rice bowls, soup bowls, vegetable bowls, tea bowls, etc. Now the appearance level of dishes is getting higher and higher. People not only have requirements for the function, but also have certain requirements for the appearance level of tableware. They pay more attention to whether it is beautiful, as if they are choosing ornaments. If the dishes look better, the food will taste more delicious. However, when it comes to food, you must pay attention to its quality. Here are some ways for you to pick your plate.
Plastic plate is not easy to break, if there are children in the family, you can choose this kind of plate, but in the selection must see the plate material label, should choose food grade material. The temperature of the meal just finished will be relatively high. After the collision of plastic and hot things, harmful substances may be produced. When choosing materials, we must pay attention to them.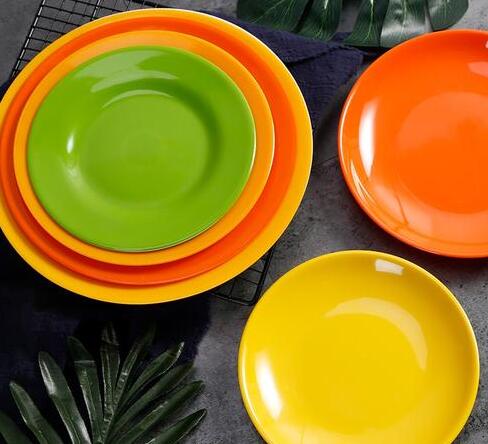 Glass plates are most often used as fruit bowls, which are more beautiful. This type of plate generally has a high appearance level, but glass plates cannot be used to put hot dishes, because the thermal conductivity of glass is very good. If you use it to put hot dishes, it will be very hot. But if it's heat-resistant glass, it's ok, but if it's normal, don't try it, to prevent burns.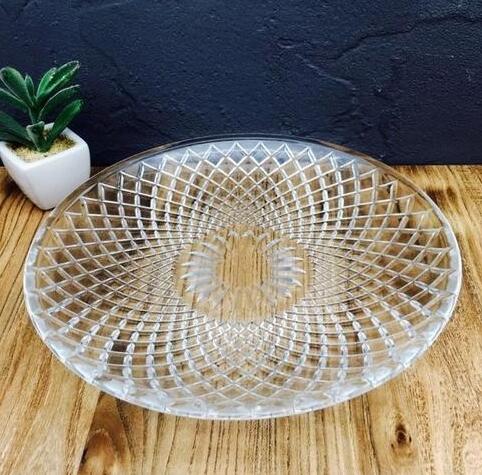 Ceramic dish is the most popular at present, because ceramic dish is not only easy to clean, and still have better insulation. Moreover, ceramic dish also compares good-looking, with many available patterns to choose.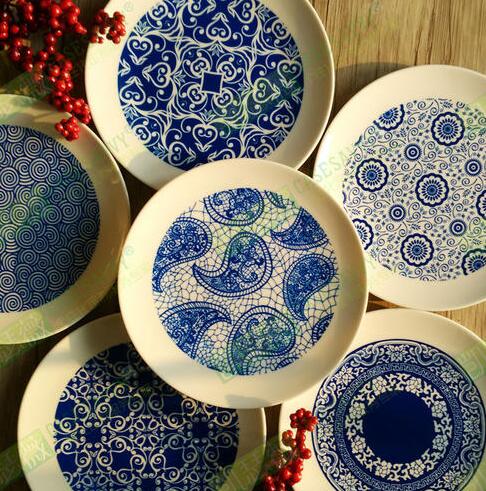 1.For plates with good quality, no matter what material , the surface will make smooth without defects, the selection should pay attention to the surface to check if it is smooth.
2.Some of the inferior plate, with usage of inferior fuel in the manufacturing process, the decal will be very easy to fade when using, When buying plate, touch with the hand to see whether the color will fade, and check if the color is uniform.
3.Observe whether there is a gap along the plate or around the bottom of plate, if there are gaps, then it belong to defective product, is unqualified.
Here will introduce a creative plate with high level of appearance and with high quality for you. Fresh fruit series of tableware, with hand-painted stroke. Microwave oven and oven safe. A variety of types for choice.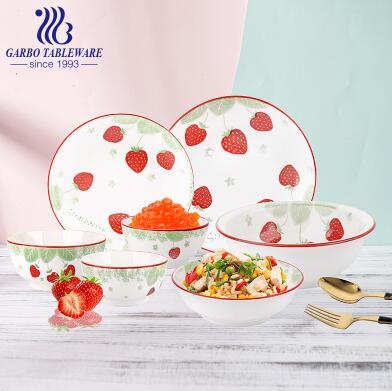 Its material is reinforced porcelain, which will be not easy to break. Using the process of glazed color, with a bright color looking for a long time as new. Glazed surface bright and transparent, feel smooth, not easy to fade and easy to clean. Durable, cold and high temperature resistant, suitable for microwave oven, refrigerator and other household appliances. No lead, cadmium and other heavy metals, environmental health. The large capacity design is used to place the beautiful dish, put the dessert, will be good looking and convenient to use.
Pls let your tableware become interesting! These products are with high quality and competetive price. They are worth to buy to help to increase your mood.