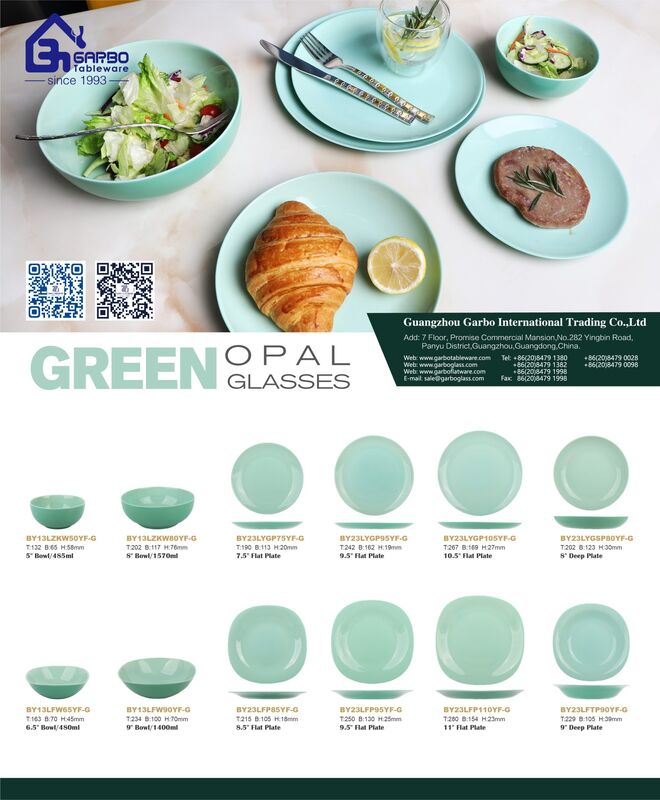 Opal glass dinnerware has been gaining popularity over the years due to its durability, lightweight, and elegant appearance. Garbo, a leading manufacturer of opal glass dinnerware, has recently introduced colored opal glasses to their product line. It is a great idea to have color on opal dinner set. If you're a new buyer looking to purchase colored opal glass dinner set, you might want to know how the colored opal dinner sets look like, and is it safe? Or what color options can be available. This article will provide you with all the information you need to know before making a purchase.
What is opal glass? Opal glass is a type of glass that is made by combining white glass with various additives, including bone ash, feldspar, and kaolin. This combination creates a glass that is translucent, lightweight, and has a pearly appearance. Opal glass is often used for dinnerware such as dinner plates, dinner bowls, mugs etc. As it is more durable than regular glass and can withstand high temperatures. Moreover, they are affordable, a better option if you don't want to buy ceramic tableware.
Safety of using opal glass Opal glass is generally considered safe for use in dinnerware. The raw material is green and health. All the products are tested to pass any food grade certificates. It is non-porous, meaning that it does not absorb liquids or food particles, making it hygienic and easy to clean. Additionally, opal glass is resistant to scratches and chipping, reducing the risk of breakage and injury. However, it is important to note that like any other glassware, opal glass can break if dropped or mishandled. Always handle opal glassware with care to avoid accidents.
Here are some tips for you to use and clean colored opal glass dinner set.
To use a color opal set, you can follow these steps:
Choose the opal you want to use from the set.
Clean the opal gently using a soft cloth to remove any dust or debris.
Place the opal in the setting of your choice (such as a ring or pendant).
Wear and enjoy your opal set.
To clean a color opal set, follow these steps:
Remove any loose dust or debris using a soft cloth.
Mix a small amount of mild soap with warm water in a bowl.
Dip the opal set into the soapy water and use a soft brush to gently scrub the surface.
Rinse the opal set thoroughly with clean water.
Dry the opal set with a soft cloth, making sure to remove any excess water.
Note: Avoid exposing your opal set to harsh chemicals, extreme temperatures, or rapid changes in temperature. Store your opal set in a cool, dry place away from direct sunlight.
As for color options, Garbo offers a range of colored opal glass dinnerware, including blue, green, yellow, and red. The color is added to the glass during the manufacturing process, creating a uniform and long-lasting hue. If you're looking for a particular color to match your dining room decor or a specific occasion, Garbo's colored opal glass options might be just what you need. There is another way to make color. It is called color sprayed, same can be pink, grey, jade green and so on. You can also add the gold rime to make the full set more elegant. There is some colored dinner set for reference.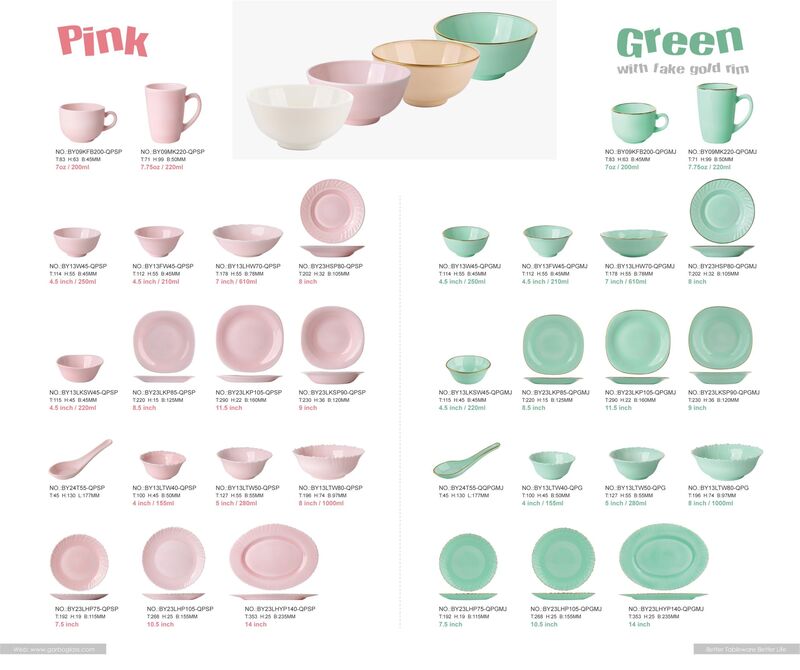 Choosing the right color for your needs When choosing a color for your opal glass dinnerware, consider the overall theme of your dining room or the occasion for which you'll be using the glasses. Blue and green opal glasses create a calming and relaxing atmosphere, making them ideal for a peaceful evening at home. Yellow and red opal glasses, on the other hand, are more vibrant and energetic, making them perfect for festive occasions such as birthdays or holidays. Whatever color you choose, Garbo's colored opal glasses are sure to make a statement on your dining table.
If you still have some questions about the packing way. Here we offer you some regular way. The packing options for a color opal dinner set may vary depending on the manufacturer or retailer. However, some common packing options include:
Individual packaging – Each piece of the dinner set is packed separately in a box or container.
Set packaging – The entire dinner set is packed together in one box or container.
Foam padding – The dinner set is packed with foam padding to prevent any damage during transportation.
Bubble wrap – Each piece of the dinner set is wrapped in bubble wrap to protect it from scratches or breakage.
Gift box – The dinner set may be packed in a gift box, which is suitable for gifting purposes.
It is important to note that the packing options may differ based on the size and type of the dinner set. It is recommended to check with the manufacturer or retailer for specific packing options for your color opal dinner set.
Opal glass dinnerware is a great choice for those looking for durable, lightweight, and elegant dinnerware. With Garbo's recent introduction of colored opal glasses, you now have even more options to choose from. Whether you're looking for a calming blue or a vibrant red, Garbo has a range of colors to suit your needs. And with the safety and durability of opal glass, you can enjoy your new dinnerware with peace of mind.
Now start to contact with Garbo for more discussion.