In general, stainless steel will not rust. However, if the stainless steel is used or maintained improperly, or the environment in which the stainless steel is located is too bad, the stainless steel may rust. When we see the yellow or orange rust spots on the steel surface, we can quickly confirm that it is a sign of rust. So how to maintain the stainless steel kitchenware?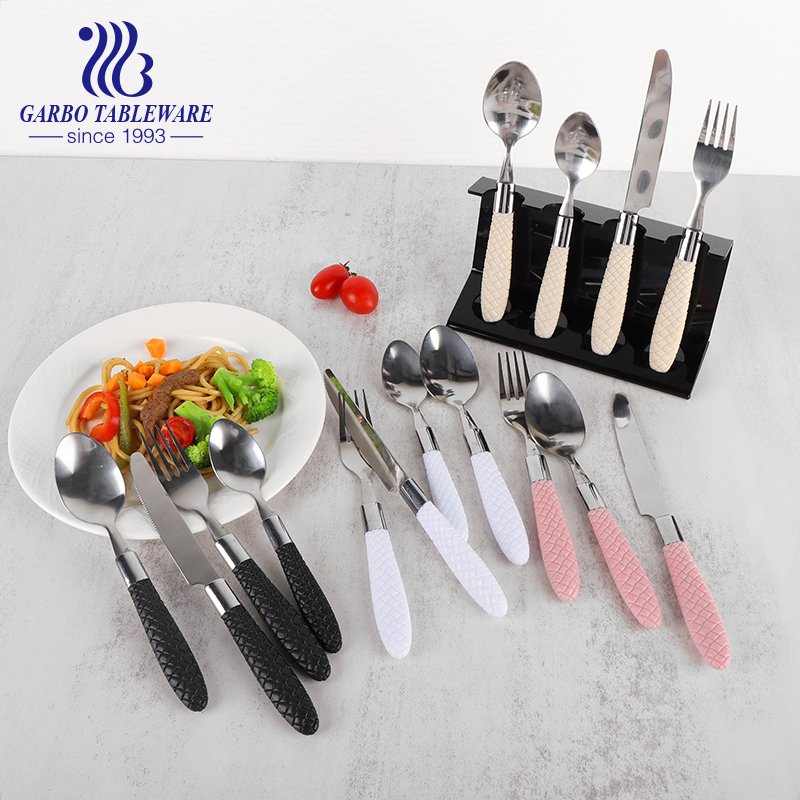 The maintenance method of stainless steel has been introduced in our previous articles. I won't elaborate too much. If you want to know, just click that method. Today, I'd like to talk about why stainless steel kitchenware rusts.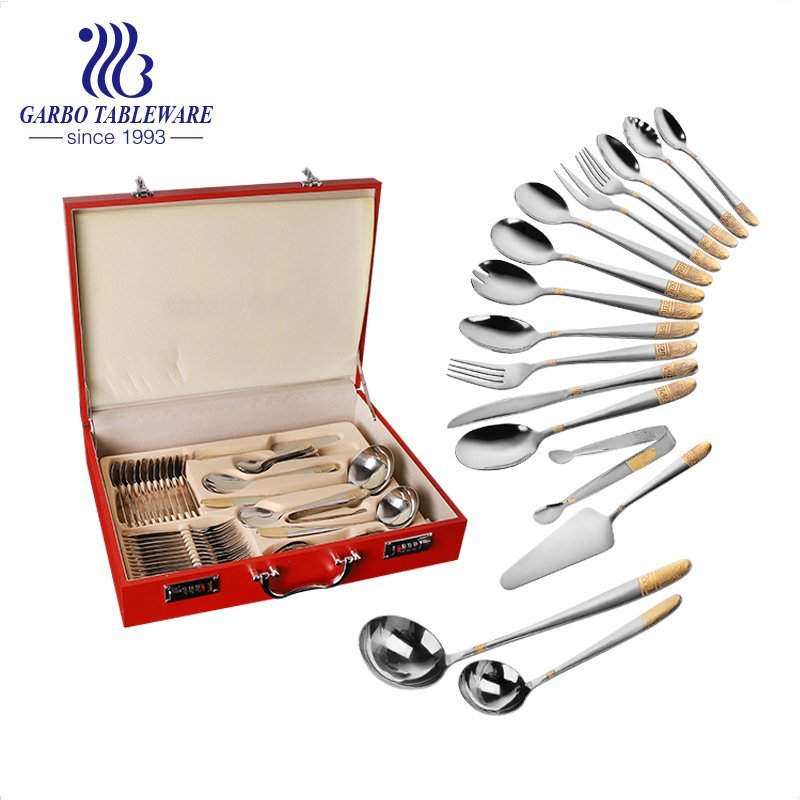 1.There are dust containing other metal elements or attachments of dissimilar metal particles on the surface of stainless steel kitchenware. In humid air, the condensate between the attachments and stainless steel connects them into a micro battery, which leads to electrochemical reaction and damage to the protective film, which is called electrochemical corrosion.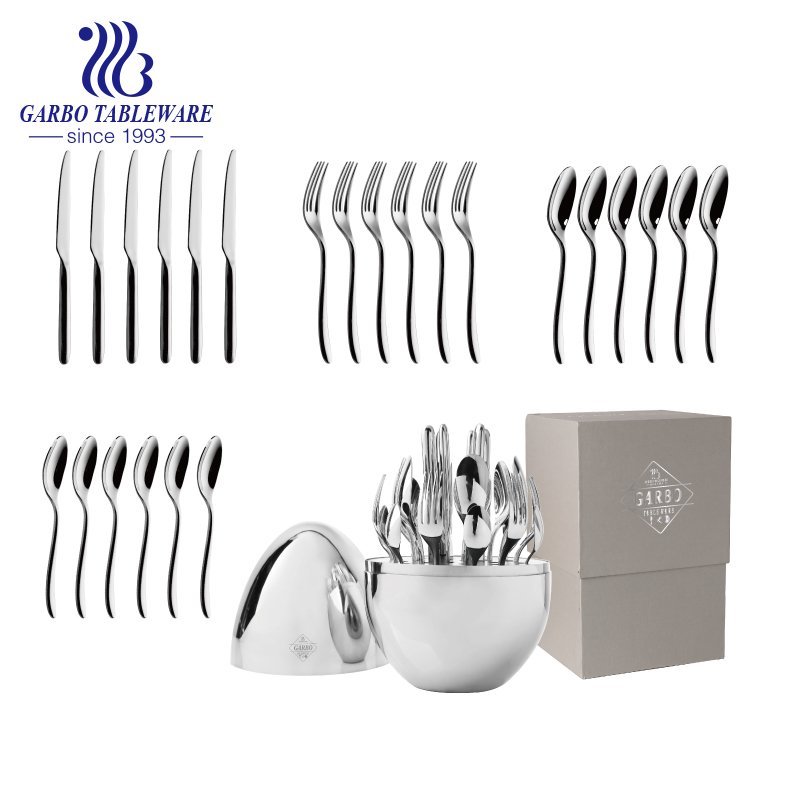 2.The surface of stainless steel kitchenware adheres to organic juice (such as melons and vegetables, noodle soup, etc.), which constitutes organic acid in the case of water and oxygen. For a long time, the corrosion of organic acid on the metal surface will be reduced.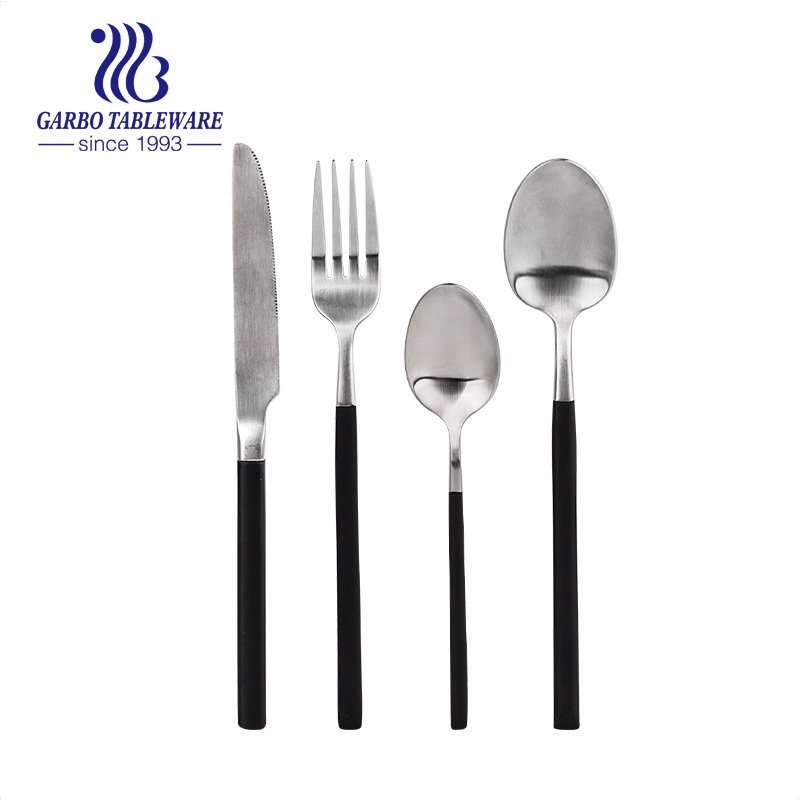 18/10 Stainless Steel factory 4PCS Metal Cutlery Set Black Handle Mirror Polished
Item No:SM027-1
Material: 18/10 stainless steel
Package:24sets per carton. Export safe package
Usage:  home, hotel, bar, pub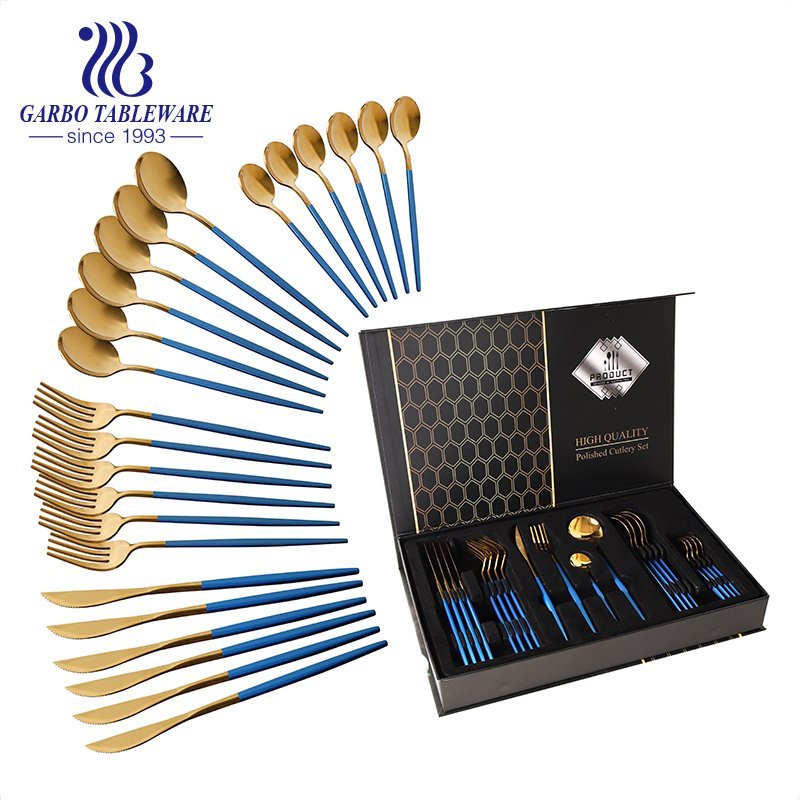 3.The surface of stainless steel kitchenware contains acid, alkali and salt substances (such as alkali water and lime water splashing on the decoration wall), causing local corrosion.
4.In polluted air (such as atmosphere containing a large amount of sulfide, carbon oxide and nitrogen oxide), sulfuric acid, nitric acid and acetic acid liquid points are formed in the presence of condensate, causing chemical corrosion.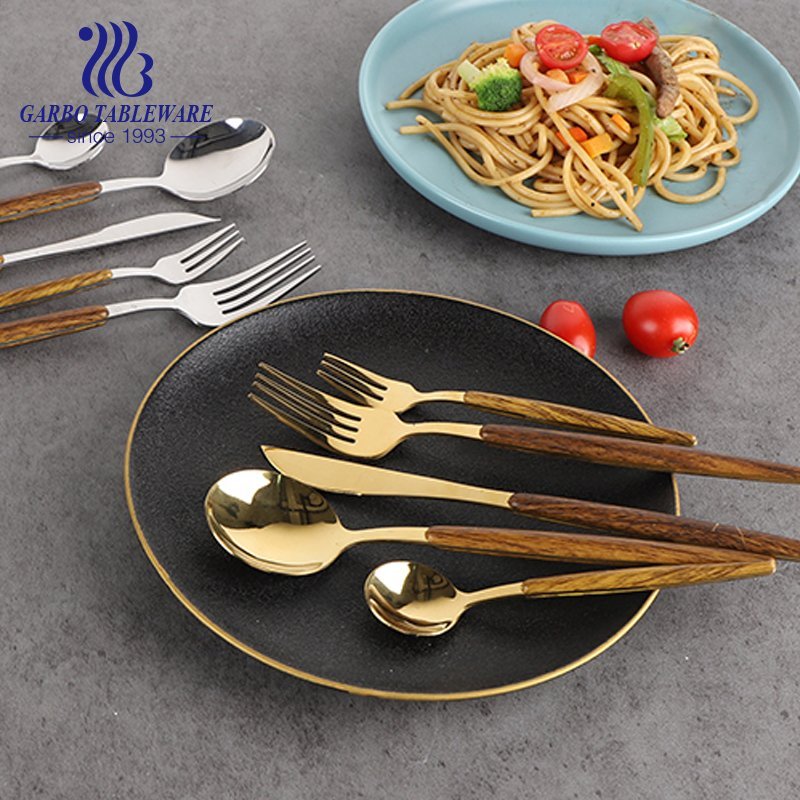 Why do stainless steel kitchenware rust so easily? That's because there is a passive film on the surface of stainless steel. In the kitchen, chloride ions are very active. Because salt is used for cooking, chloride ions will destroy the film of stainless steel and lead to rust, just like why stainless steel is easy to rust in coastal areas. Because chloride ions are active along Haiti, in order to prevent stainless steel kitchenware from rusting, it is necessary to wash it frequently, Just use a washer. After washing, wipe it with a dry cloth, which is the key point.
When buying kitchenware, you should look at the material of stainless steel, which is generally 304ss material . If you want to buy good kitchenware, you should buy 316ss material。Remember, don't be greedy for small things to avoid being cheated.
How long is the service life of stainless steel furniture?
Stainless steel furniture gives people the feeling that it is durable, but to be honest, it is not always rusty, so it also has its own service life.
Of course, it belongs to one type of stainless steel after all. Although it is easier to rust, its service life is still longer than that of iron or other metals, but the specific time should be known through the analysis of materials. The service life of stainless steel furniture will not rust in the normal environment within 4 or 5 years, but the surface will be blurred and the texture will become worse after a long time of use. If it is outdoors in some coastal cities, it will rust faster.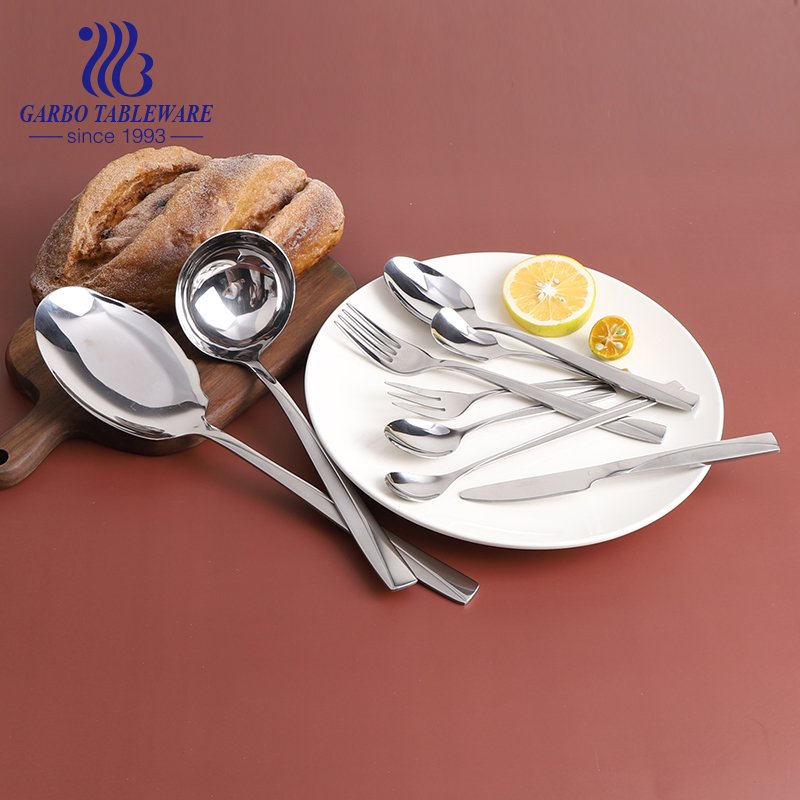 18/8 SS household use flatware set premium stainless steel cutlery set service for 6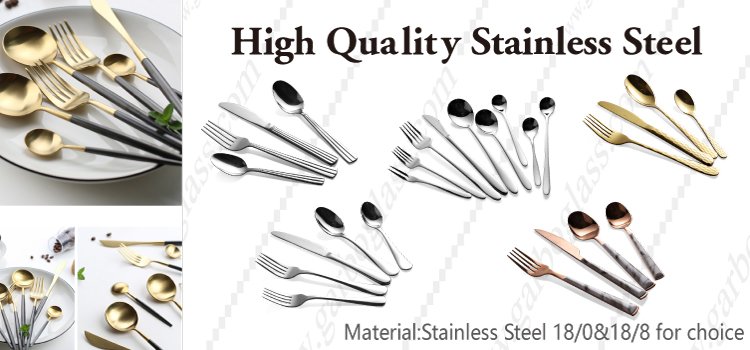 Details
● 18/8 SS means 304 stainless steel material, the best for mading of flatware set, rust free flatware, durable using.
● Different from the normal and classic flatware set, this stainless steel set adding small ladle, …
Because the air in these places is relatively humid, if placed on the beach and soaked by seawater, this seawater with alkaline corrosion components will cause rust of ordinary stainless steel furniture in a very short time. If you want stainless steel furniture to have a longer service life, it is recommended to place it indoors, and keep the product from contacting with some corrosive items such as vegetable soup and acid-base detergent in daily life.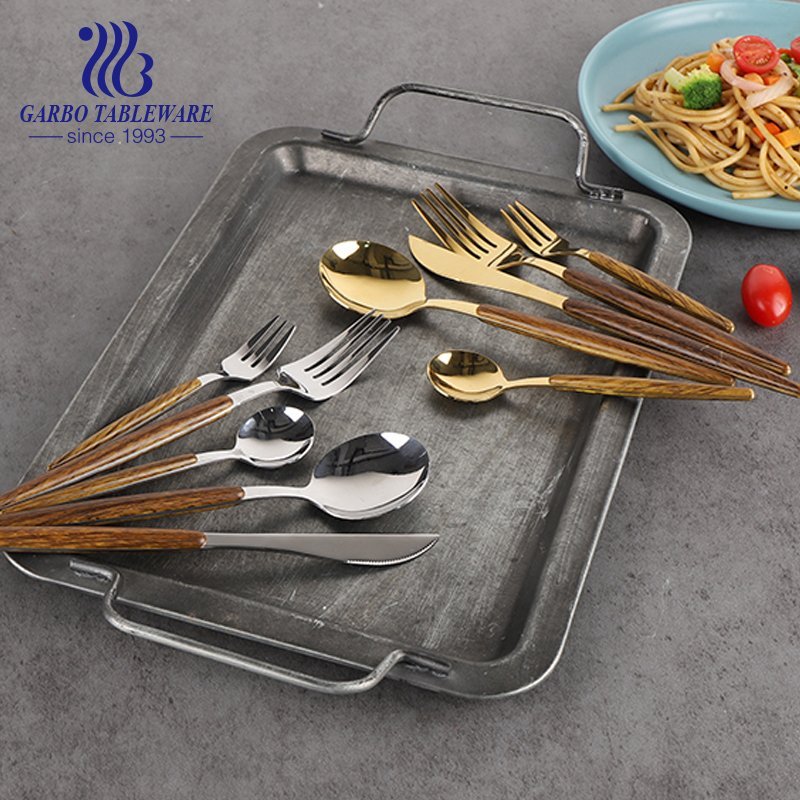 Generally speaking, the service life of ordinary stainless steel furniture is related to the service environment. The drier the environment is, the longer the service life will be without corrosive objects. Therefore, it is suggested that if you want ordinary stainless steel furniture to have a longer service life, you should try to put it in some good environment.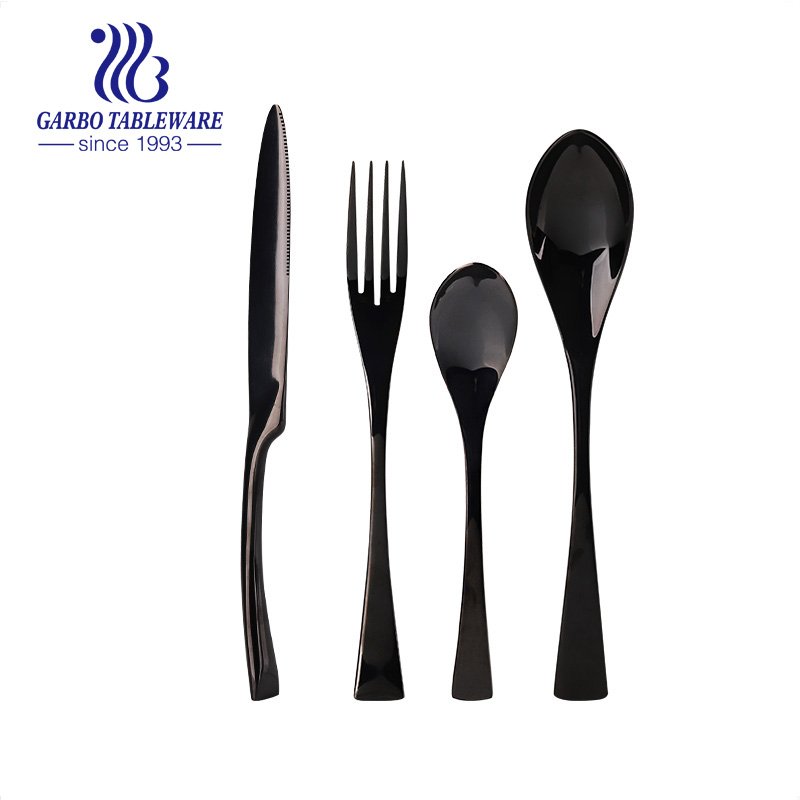 16 Piece Titanium Shiny Black Plated Stainless Steel Cutlery Set with Service for 4
Item No:SM022
Material: 18/0 stainless steel
Package:16 sets per carton. Export safe package
Usage:  home, hotel, bar, pub