Congratulation! Garbo 6rd showroom of stainless steel flatware finished. Guangzhou Garbo International Trading Company is a joint-stock industrial and trading enterprise that specializes in R&D, Production, Marketing and Brand management, the products range includes ceramic tableware, glassware, flatware and kitchenware. Among them, the flatware is one of the main section of our business.

First let us introduce our stainless steel flatware process flow chart. 1. softening metal material 2.forging press 3. cutting out blanks 4.piercing 5. punching patterns 6. polishing to shine 7.cleaning 8. inspecting 9. packing 10. transport. In order to ensure products quality, each piece of flatware must be carefully forged through dozens of processes. A brief summary is 25 processes. In actual operation, cleaning runs through the entire process, 4 times of grinding and 3 times polishing, 2times of quality inspection and so on. A product has to go through at least 31 processes. Garbo pay much attention to quality control.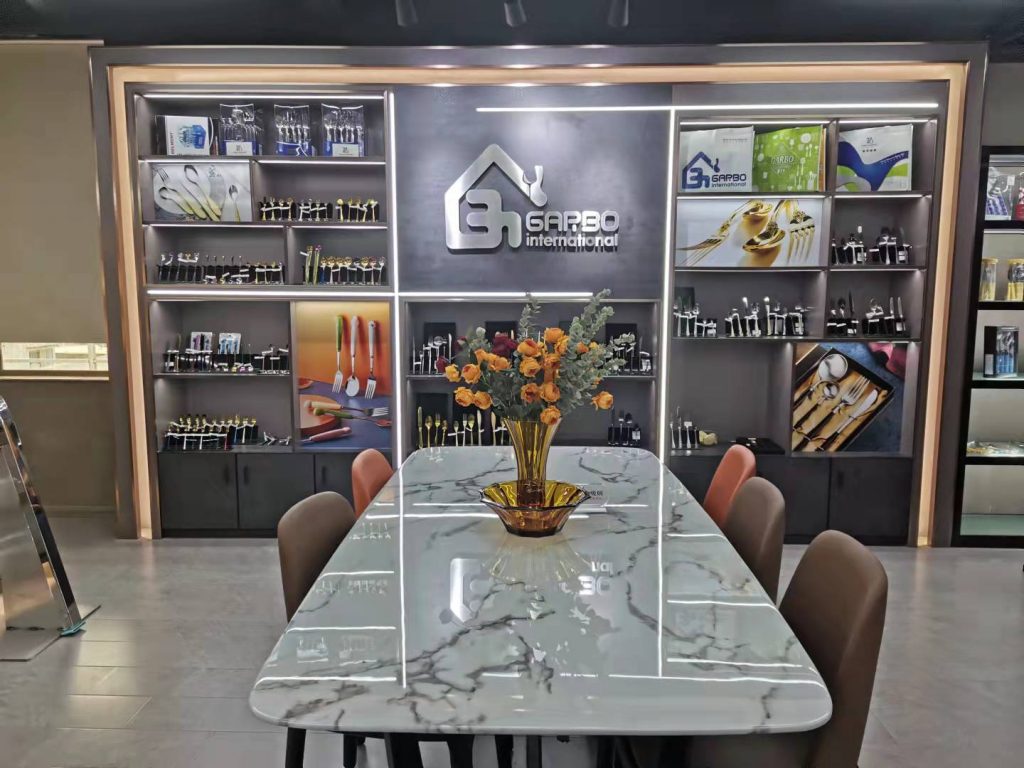 Our flatware showroom divides to 4 areas: stainless steel handle flatware area, ceramic handle flatware area, plastic handle flatware area and kitchen tools area, now let us introduce one by one.
1.Stainless steel handle area
This part is in the front and left of the door. We make a wooden wall to present our high quality branded flatware. Stainless steel handle material have 304,430,410 and 201. Except 201, other 3 material all can pass food grade test, but because 201 is similar to 304 which is the high quality for flatware, some persons will like it. The price from high to low is 304-201-430-410. Polish have high quality mirror polish, mirror polish, hand polish and tumble polish. We are not only do original silver color but also do colored products, such as golden, painting and PVD. Handle we can embossed your logo or laser your logo too.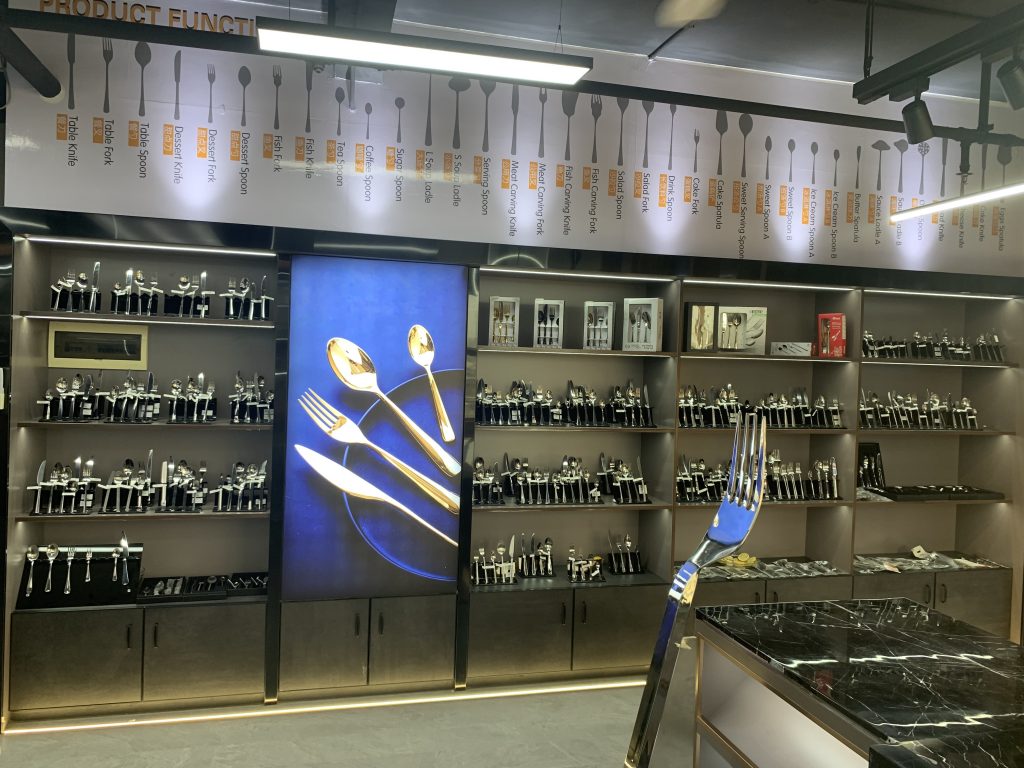 2.Ceramic Handle area
This part is in right of the door, ceramic handle flatware the shape and design is less than stainless steel handle, so we still have some empty space for more products. Ceramic handle flatware is popular in middle-east market, we can make different shape like round, square and so one. On the ceramic handle can printing your logo, or any designs you like. We can make color box package like set of 16 or 24 which is normal, also we can make 6pcs in a hang bag which is popular in super market and their price is cheaper.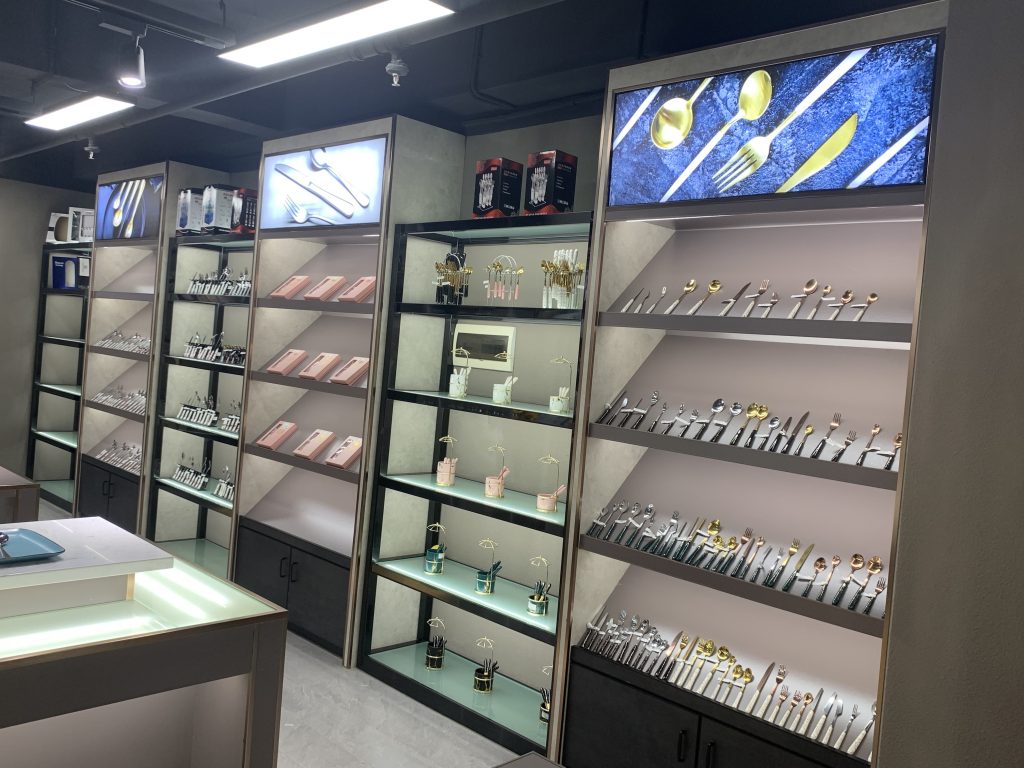 3.Plastic Handle area
Plastic handle flatware is on the opposite of ceramic handle, this kind we have many samples you can see from our photo. Plastic handle can made by PP, PS and ABS material. handle can make different designs just like bamboo which is hot sell in South America. We can printing your logo on the plastic handle too. Also can made various colors as you like. Plastic handle is cheaper than stainless steel handle and ceramic handle, it is very light.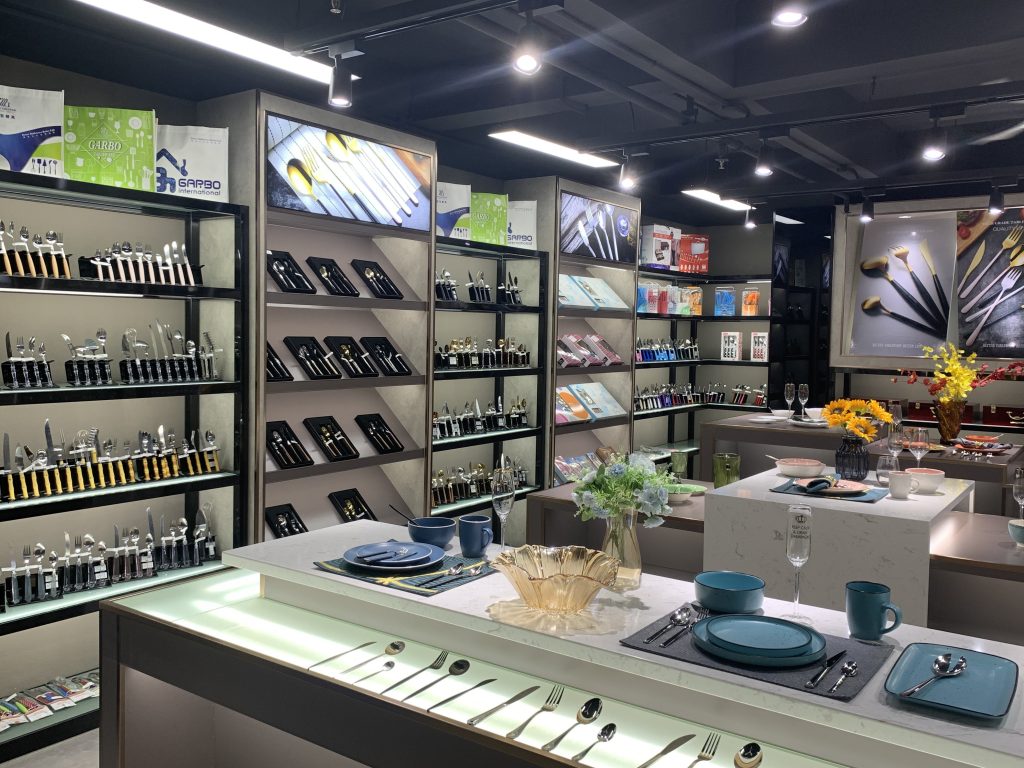 4.Kitchen tools area
Kitchen tools part is behind the stainless steel handle flatware, we put all the kitchen tools here, we have kitchen utensils(silicone, nylon and stainless steel material), kitchen knife, cutting board, food tong, peeler and so on.