For baking lovers, the most indispensable tool is the egg whisks, which can be used to beat egg liquid or light cream.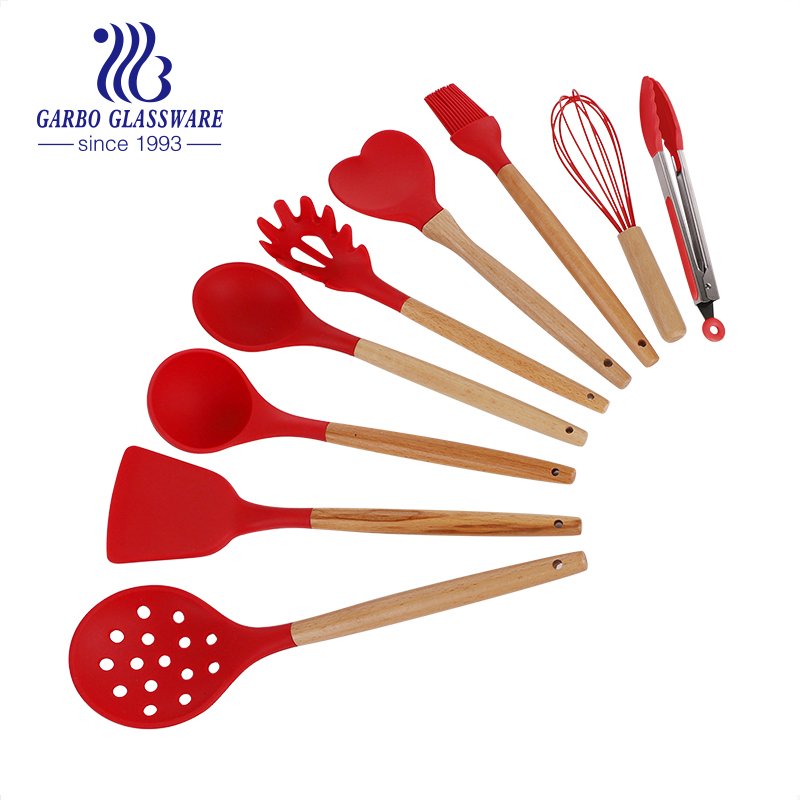 12 Pcs Silicone Cooking Utensils Kitchen Utensil Set Heat Resistant,Turner Tongs,Spatula,Spoon,Brush,Whisk. Wooden Handles
Item No: KWGJ002PK
Material: Silicone material
Package:  96pcs per carton. Export safe package
Usage:  home, hotel, restaurant.
Manual whisk is available in different sizes and materials (stainless steel and silicone&nylon). The stainless steel egg beater has high hardness. It can control the strength and direction well even when stirring thick batter. It is also convenient to clean.
Silicone whisk is very suitable for use with non stick pots. When the sauce needs to be continuously stirred, the stainless steel egg beater can easily scratch the bottom of the pot, and the silica gel will not cause this problem.
The silicone whisk has a relatively soft head, which makes it a little difficult to beat butter and cream cheese.
Durable 10 Nylon Stainless Steel Kitchen Supplies Non Stick and Heat Resistant Cookware set New Chef's Gadget Tools
Item No: KWNL014R-2
Material: Nylon+410 material+Bamboo
Package: 96or 144pcs per carton. Export safe package
Usage:  home, hotel, restaurant.
Compared with the nylon egg whisk, I think the silicone is good. It won't hurt the utensils, and there won't be a banging sound. Silicone is non-toxic and tasteless. It is made of food grade materials. Besides, the silicone egg beater on the market is made of stainless steel, but a layer of silicone is added outside. It is an improved, new generation product.
If you just use it to beat eggs and steamed eggs, it's enough to buy a manual one. If you need more eggs to make cakes, you'd better use the electric one. Otherwise, the manual one will be very tired, and the effect will certainly not be as good as the electric one. Especially in cake making, egg beater is required for egg whites and cream. The effect of printing will also directly affect the quality of finished products. If possible, of course, it is very convenient to buy an electric one, whic is normally less than USD20 for family use.
Now let's introduce the electric whisk!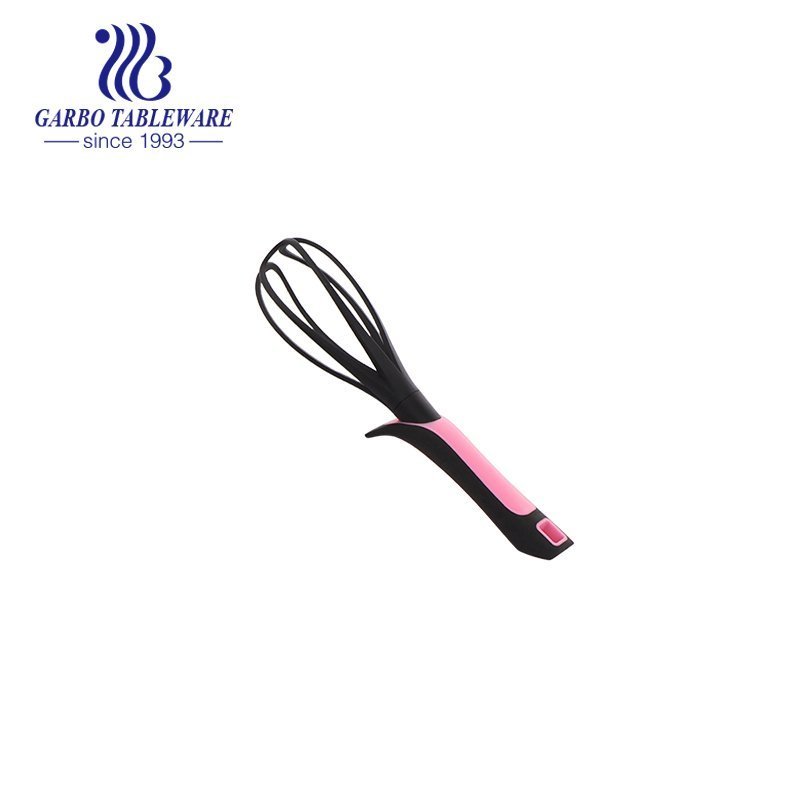 Heat Resistance Black color Nylon Whisksfor Cooking Durable Rubber Whisk
Item No: KWNL001
Material: Nylon+PP+430 material
Package: 96 pcs per carton. Export safe package
Usage:  home, hotel, restaurant.
Compared with the manual whisk, which takes a long time and has pain in the arm after beating, the electric egg beater saves time and effort.
It has a wide range of uses, such as whipping cream, butter, egg white and whole eggs, and so on. The electric egg beater is divided into hand-held type and table type. The electric egg beater in the photo is a hand-held egg beater, which is also more suitable for home use. Table type egg beater is generally used in pastry cakes, which is suitable for a large number of materials.
Manual whisk vs electric whisk.
1.Efficiency
It takes a huge amount of labor to manually kill cream and egg liquid. Before the egg white starts, the hand cramps first, which is not only time-consuming but also more laborious. Using an electric egg beater can get twice the result with half the effort, saving time and effort.
2.Effect
The manual whisk can not achieve the effect of continuous high-speed rotation of the electric egg beater, which may cause uneven egg protein mixing, affect the mixing effect, and ultimately affect the taste of baked products.
However, it should be noted that the two cannot be completely replaced, but complementary.
Which kind of egg whisk you will purchase?