Nowadays, people often need to use shovels as kitchen tools when cooking. In the past, shovels were almost iron, aluminum or stainless steel. However, now people will find that there are many nylon silicone shovels on the market. This kind of field is light and easy to use, However, relevant matters should be paid attention to when using this kind of shovel.
Can silicone shovel be used for cooking?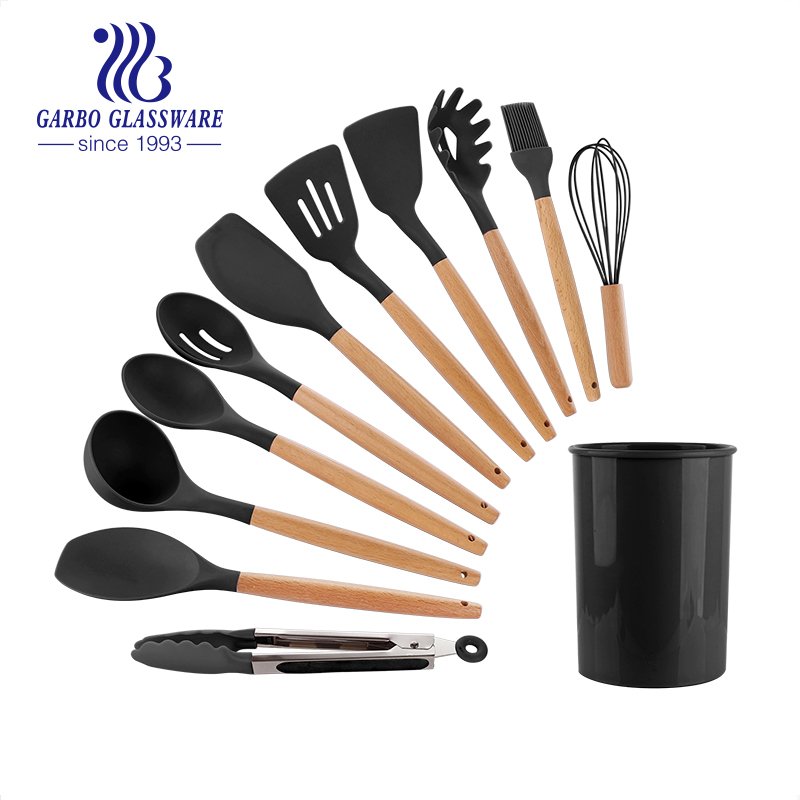 24Pcs Silicone Kitchen Cooking Utensils Set With Non-Stick and Heat Resistant Kitchen Tools Useful Cooking Gadgets Bamboo Handle
Item No: KWNL014
Material: Nylon+410 material+Bamboo
Package: 144or 96pcs per carton. Export safe package
Usage:  home, hotel, restaurant.
Yes, but silica gel kitchenware is made of food grade silicone collagen material in contact with human skin. You can try stretching the product to see if there will be white fog. If not, it is made of food grade raw materials, and white substances may be industrial grade silicone material.
Silicone gel kitchenware is that the whole product is made of silica gel material. Plastic coated silica gel kitchenware mainly includes hardware and plastic coated silica gel kitchenware. Pure silica gel material makes use of the advantages of silica gel material itself to give full play to its characteristics for direct kitchen operation, while rubber coated silica gel kitchenware makes use of the characteristics of silica gel material to assist other tools to protect and indirectly facilitate kitchen operation. In many western countries, silica gel products have penetrated into every corner of people's life, such as silica gel tableware, Kitchenware and daily necessities. Because they are daily necessities, they are welcomed by people in Europe and America, and some silica gel daily necessities are in short supply
What advantage of silicone material have ?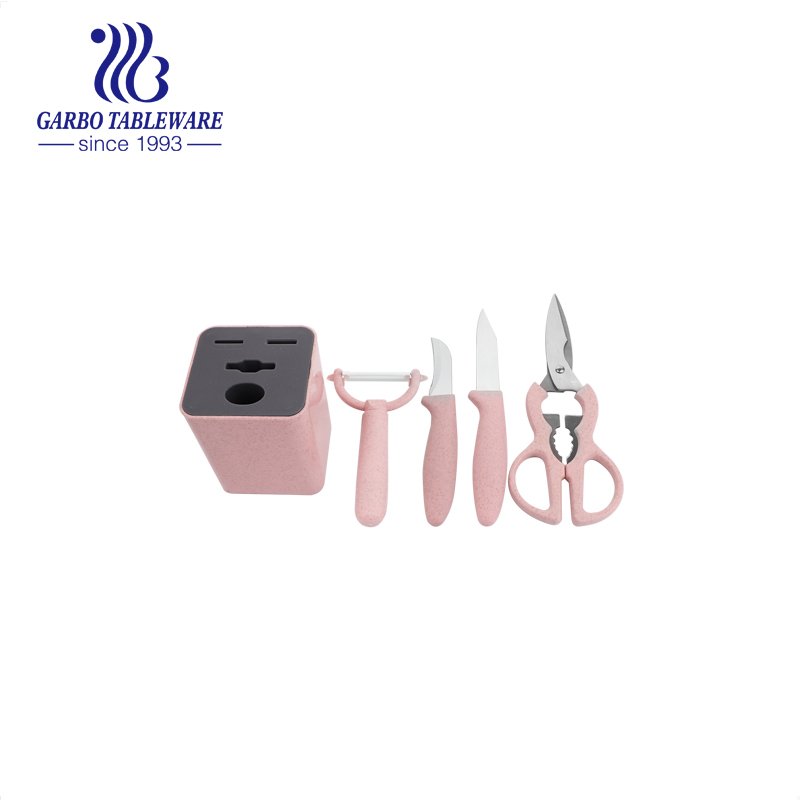 420 Material Customized Kitchen Knife Set Color Box Pack High Quality Kitchen Knife 5PCS Environmental-friendly Kitchen Knife Set with Wheat Handle
Item No: KWDJ004XC-1
Material: Stainless Steel  420+ Plastic: PP+wheat straw
Package: 24 sets per carton. Export safe package
Usage:  home, hotel, restaurant.
Silicone gel itself is non-toxic, but it is sometimes toxic when some substances are added to make special silica gel. For example, discolored silica gel is added with cobalt chloride, dried into blue, absorbed water and turned red.
1.High temperature resistance: applicable temperature range – 40 to 230 ℃. It can be used in microwave oven and oven.
2.Easy to clean: silica gel products produced by silica gel can be recovered after washing with clean water, or can be cleaned in the dishwasher
3.Long service life: the chemical properties of silica gel raw materials are very stable, and the products made have a longer service life than other materials
4.Soft and comfortable: thanks to the softness of silicone material, silicone kitchenware feels comfortable, extremely flexible and does not deform
5.Various colors: different beautiful colors can be deployed according to the needs of customers
6.Environmental protection and non toxicity: no toxic and harmful substances are produced from raw materials to finished products.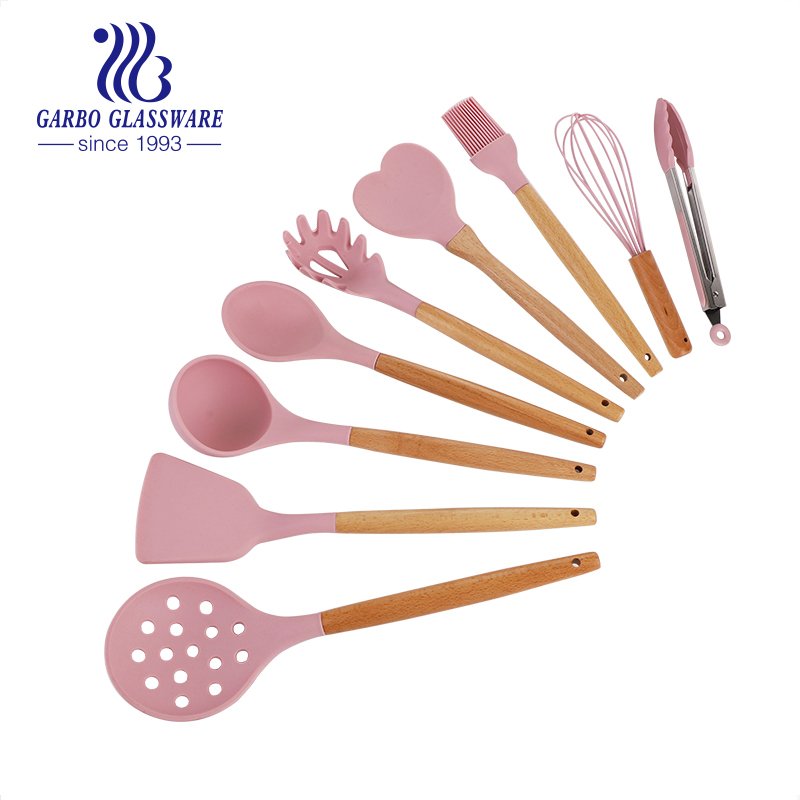 How about nylon kitchen utensil material?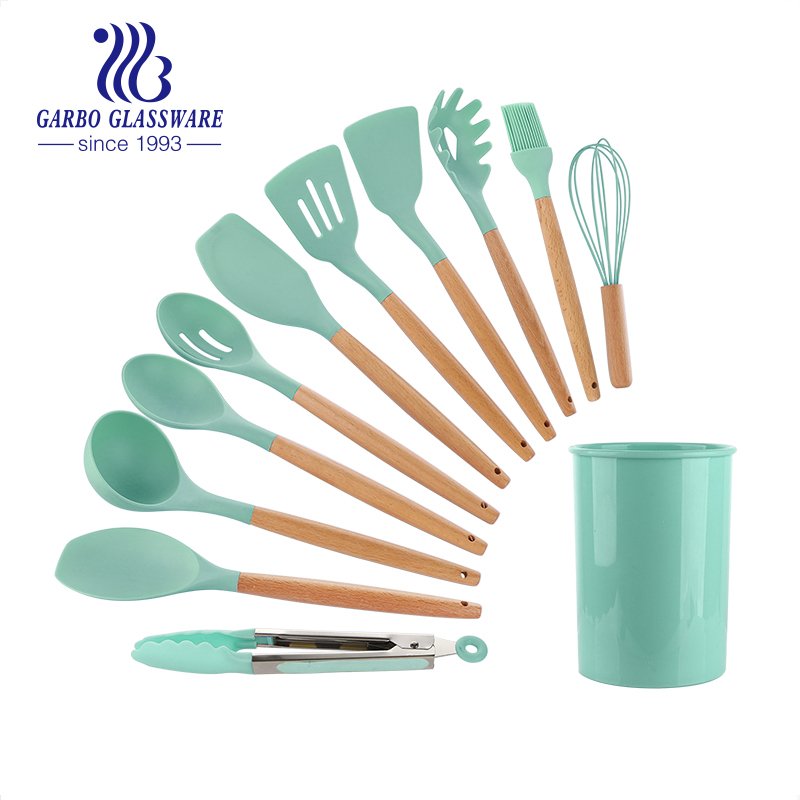 Nylon spatula is safe. Nylon plastic spatula is generally made of PA66 pure material and pp. it is a green environmental protection material.
The advantages of nylon spatula are as follows:
Nylon spatula is very suitable for home cooking. The ultra light nylon material is easy to operate.
The long handle of nylon spatula is designed to keep a safe distance between hands and high-temperature hot oil to avoid scalding; There is no leak on the spatula, and the soup in the pot can be easily filled.
Nylon kitchen utensil is not suitable for long-term use under high temperature, which will produce harmful substances.
Nylon is not food grade, and the melting point of nylon is 220 degrees. If the temperature of the iron pot is too high, it will melt.