Are you feeling bored with just a white or black opal glassware dinner in the market? Garbo can bring more colors to the opal glassware, not just the white, and black, but the milk-white, green, khaki, pink, or other colors as your demand.
The opal glassware dinnerware has a lightweight, favorable price, heat resistance, and different shapes and sizes, which is becoming one of the most popular mainstream tableware.
The pink color opal glassware dinnerware is one of our top-rated products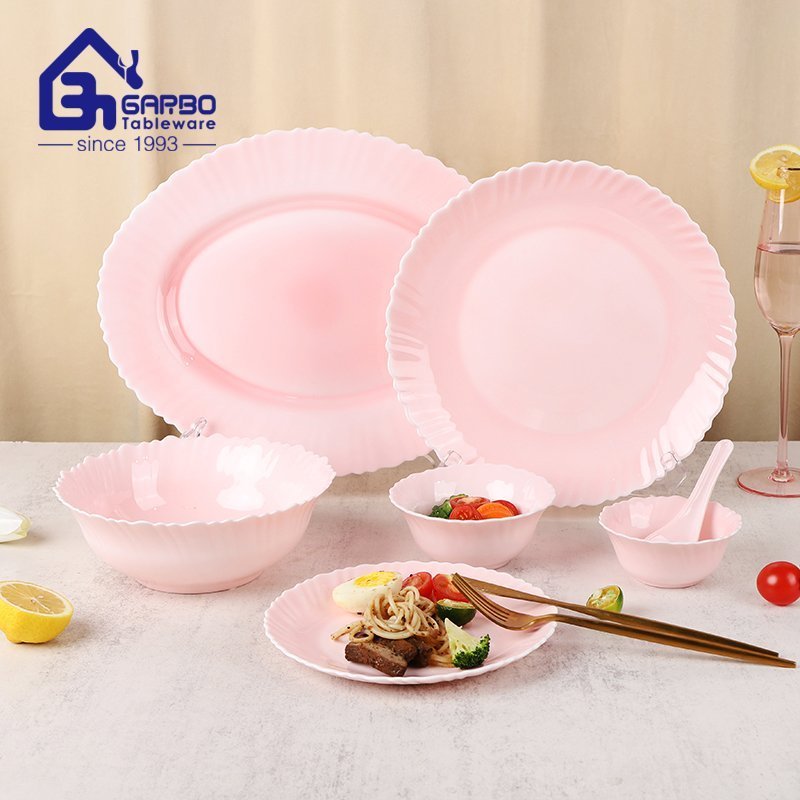 When we design the color no for pink, the sakura pink color comes into our designer brain. The Sakura pink makes the opal glassware with a cute romantic sweet atmosphere. It is quite a suitable gift for family and lovers. These sakura pink opal glassware also can bring the vivid to your table and as a decorative collection.
2. The green color opal glassware dinner is another good choice for you.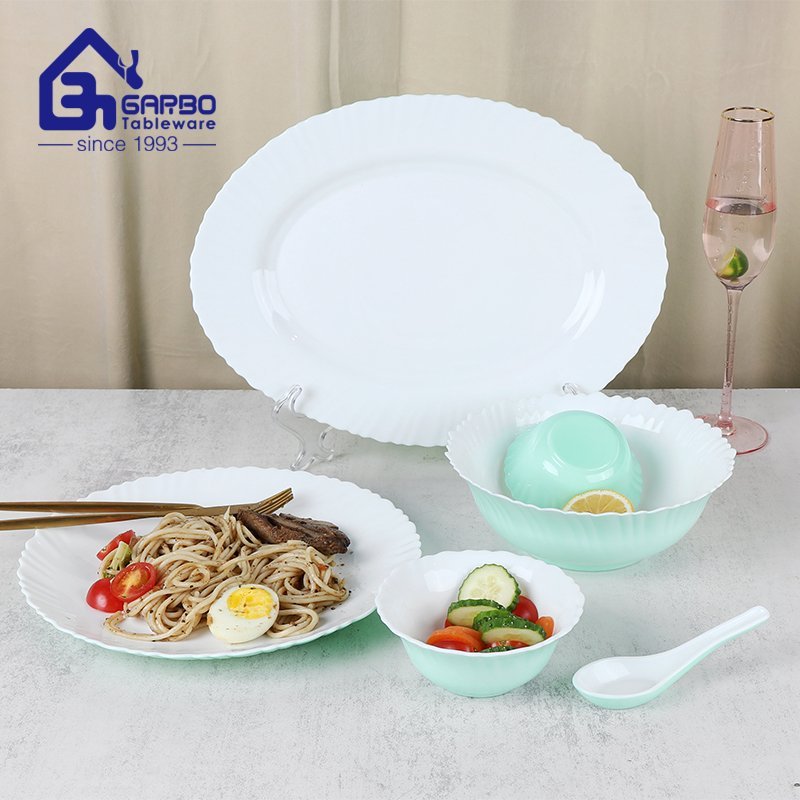 This tender green just like the green color of the new young leave in the springtime, which is represented hope, life, vitality, and conformation. With this unique green color, you can just add it just outside of the opal glassware or cover the inside and outside surface of the opal glassware. If you add the green color just the outside surface, you can get two colors opal glassware dinnerware, white and green colors. It is also a very charming or special choice for the colorful tableware market.
3. The khaki opal glassware dinnerware with fake golden rim is the luxury fashion style.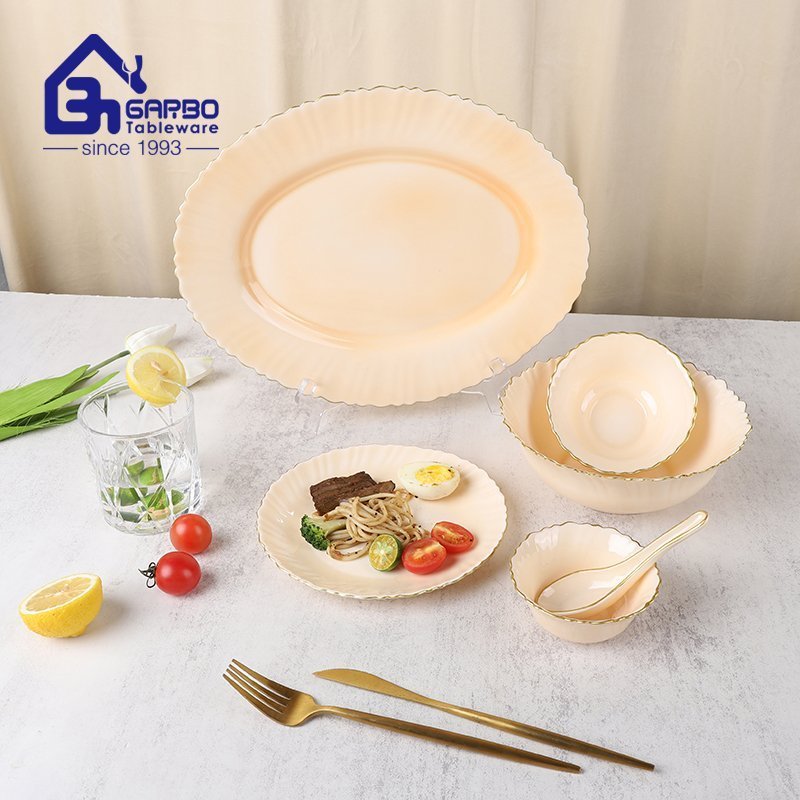 Khaki is a color between fawn and medium fawn, Khaki is like the color of cocoa and coffee, It's all about love. When you use this khaki opal glassware you can feel the warming, and concern of your family, friends, and lover. The khaki opal glassware is quite low-key but connotative. Our khaki opal glass plate, bowl, and cup can almost match all the different colors of the food and drink. We're proud to bring you these elegant Gold Rim opal glassware bowls, plates,s, and cups. Each piece of opal ware is masterfully hand-painted of a golden rim and the delicate bowl and it has a flawlessly modern profile.
4. Milk-White opal glassware dinner tableware is just like your old friend, tender but steady. This milk-white color is not pure white but just the color looks like milk, it is one of the tender white colors. They will appear softer or less stiff than pure white, which is quite a popular color of tableware. All shapes and the size of our opal glassware can be sprayed with this milk-white color, including the round-shaped, square-shaped, and irregular-shaped products.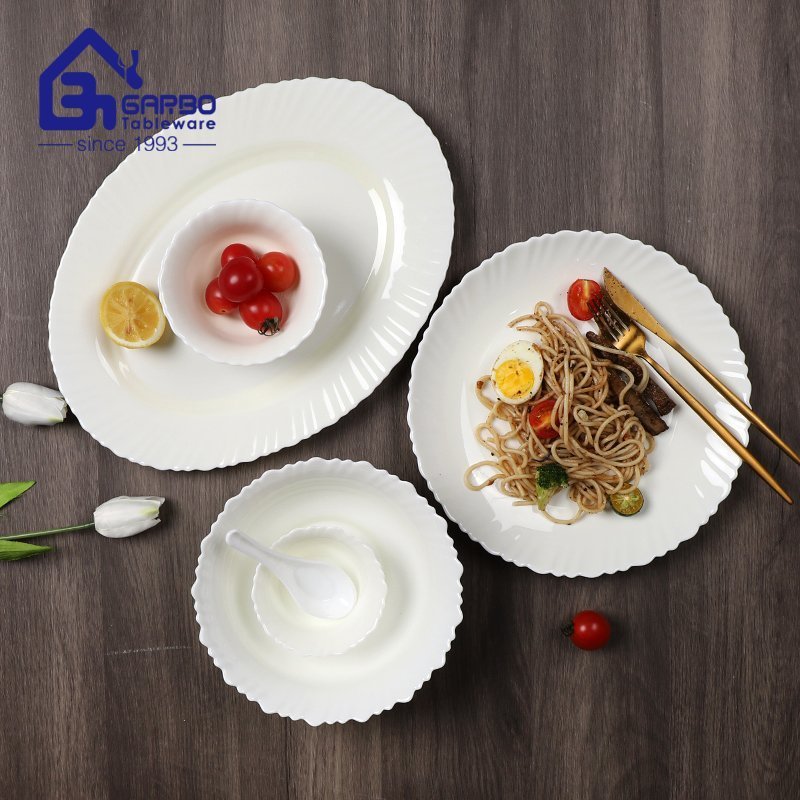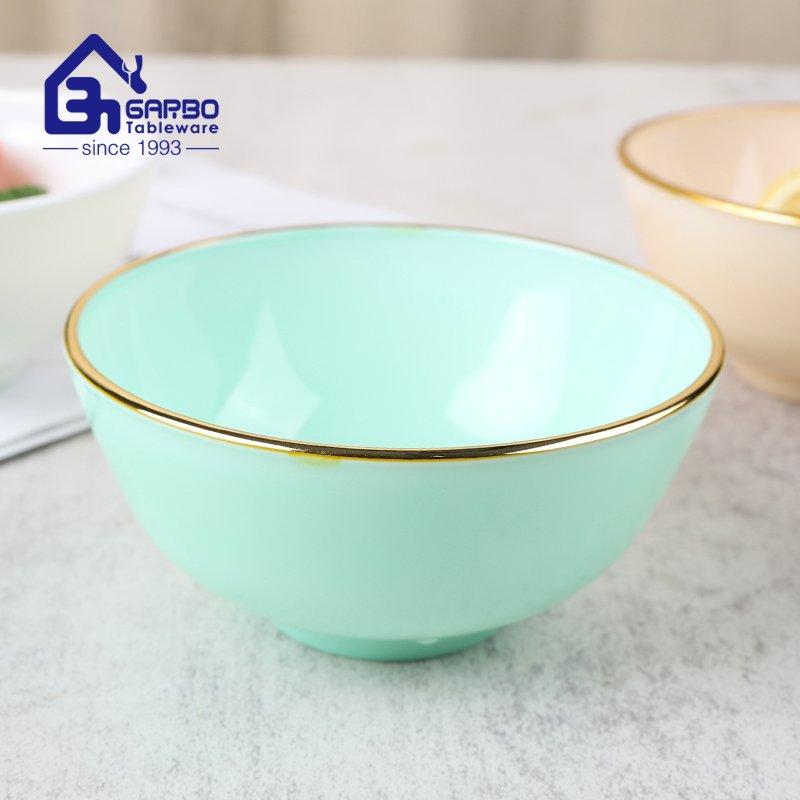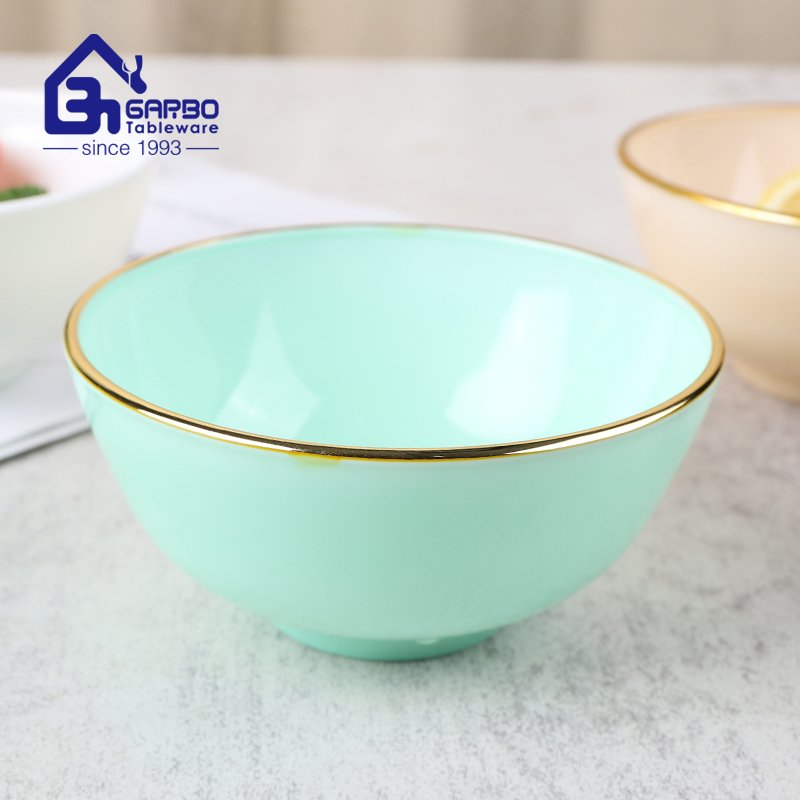 For opal glassware dinnerware, we can accept the OEM color spraying, such, as red, purple, orange, yellow, sky blue… or custom colors on different opal glass bowls, plates,s, and cups, or dinner sets. We are always here for help, pls just feel free to contact us.