A good dinner should have a healthy flatware, except for delicious food. With the development of society, we pursue higher and higher live's quality. So now there are many new and fancy flatware appearing throught different technologies. For example, they are with different colors and with different materials handle, OEM designs. Nice flatware is a good investment every family should have. Here are our 5 nice and beautiful flatware sets for dinner.
FOOD GRADE CLASSIC 16PCS SILVERWARE CUTLERY SET
This set is perfect for formal occations, like restaurant, party, wedding, hotel and home. Very nice, practical and attractive. This dinner set has standard weight and thickness, not too heavy and not too light, mirror polished, with smooth surface. So they will not hurt your mouth.
They can past food grade test and dishwasher safe, heat resistant, sturdy, anti-corrosion, ensuring use for many years. The classic shape and contemporary design let it match other flatware very well and have a good dining experience.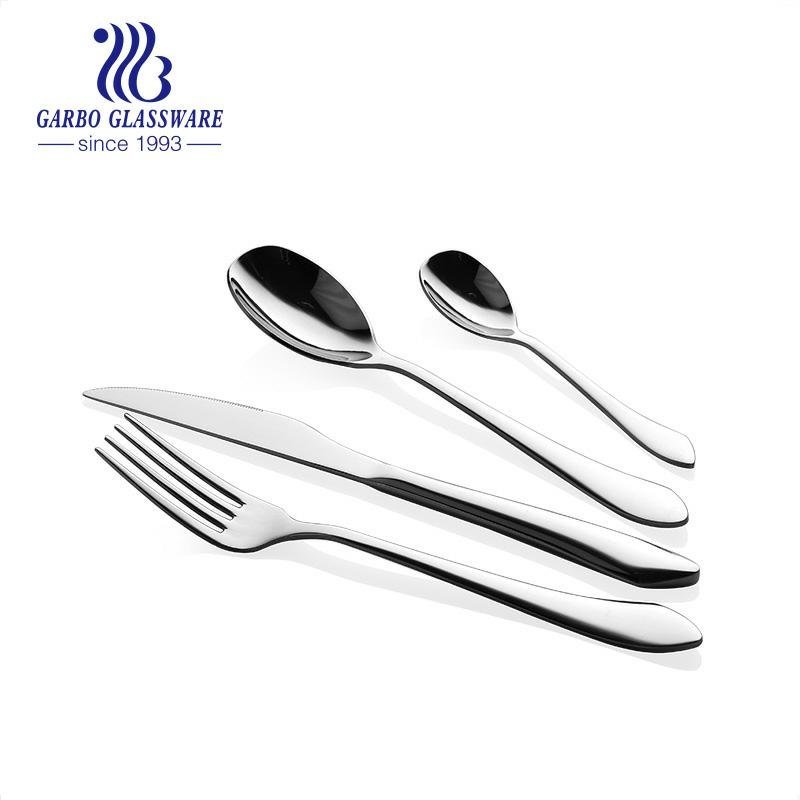 COLORFUL RAINBOW 16PCS FLATWARE SET
All the handles and spoons of the rainbow tableware have a smooth edge without rough spots. Each meal will be effortless and pleasant with this multicolor flatware. Made of permium quality, colored by titanium plating technology, aging resistant, no color fading. The rainbow mirror of these flatware feel pretty smooth in your hand. It enhances the look and style of your meals with a modern and sophisticated look and feeling. They are also sturdy, rustproof, anti-oxidation and can past the food grade test. Colorful flatware can let our life become more colorful.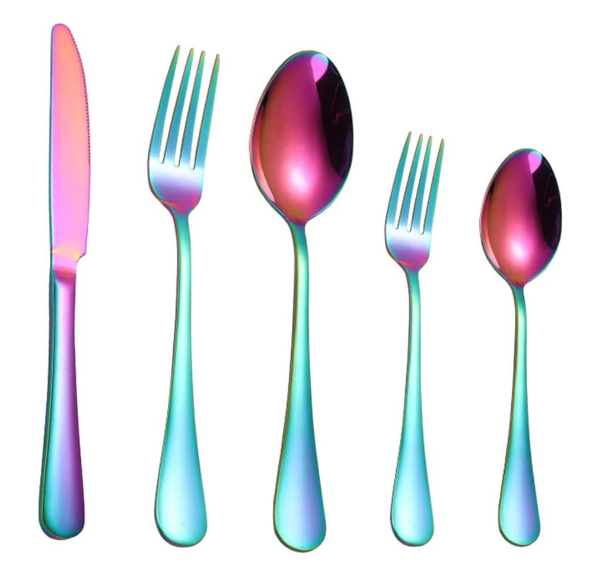 LUXURY 24PCS GOLDEN CUSTOMIZED HANDLE CUTLERY SET
The handle is with gem customized shape, unique and electroplated golden, nice design. This gem design blends with any decor, creats an attractive visual contrast. It can be your design on the handle. We provide OEM service. Elegant design and superior quality makes this silverware set suitable for kitchens,restaurants, events, and everyday meals.
The solid and durable construction will perfectly prevent the utensils from snapping even when used for hard applications. It is also designed to provide firm grip for children and adults alike. It can satisfy your needs for special occasions as well as an intimate dining experience with loved ones!
ELEGANT 24PCS GOLDEN SMALL CUTLERY SET WITH PP HANDLE
These small dinner cutlery sets are with gold plated and green handle, very elegant. It has short length and welly-weight, also suitable for children. Specially designed for little hands with safety in mind. These flatware is designed with rounded tines and a lightly serrated knife blade that is not too sharp, allows children to learn cutting food. Dishwasher safe. It can packed in a gift box as a gift for some festivals, like Valentine's Day, Thanksgiving day, Mother's Day, Father's Day, Birthday, etc.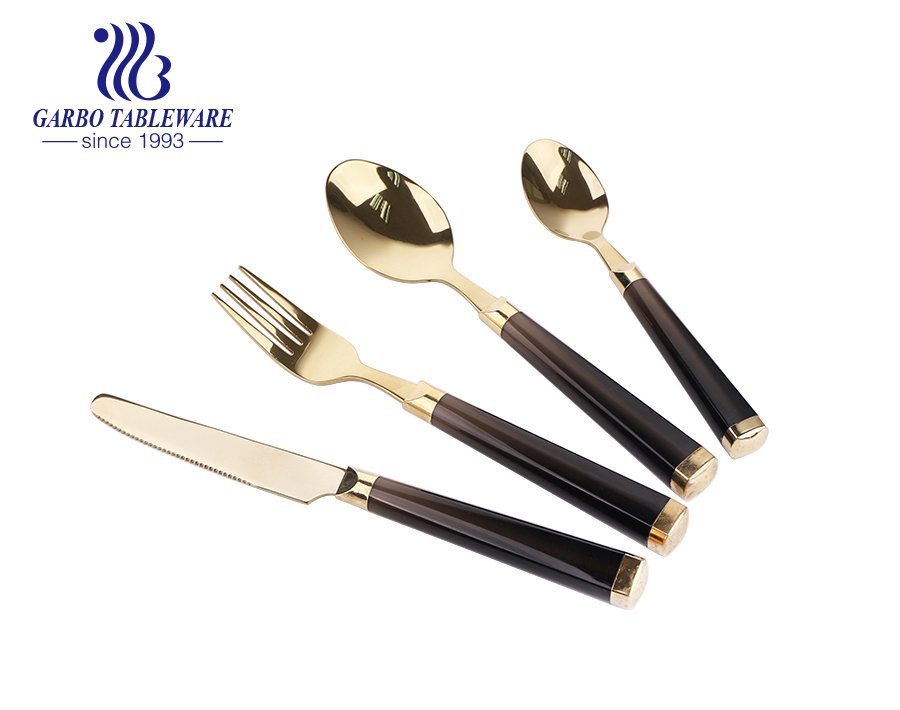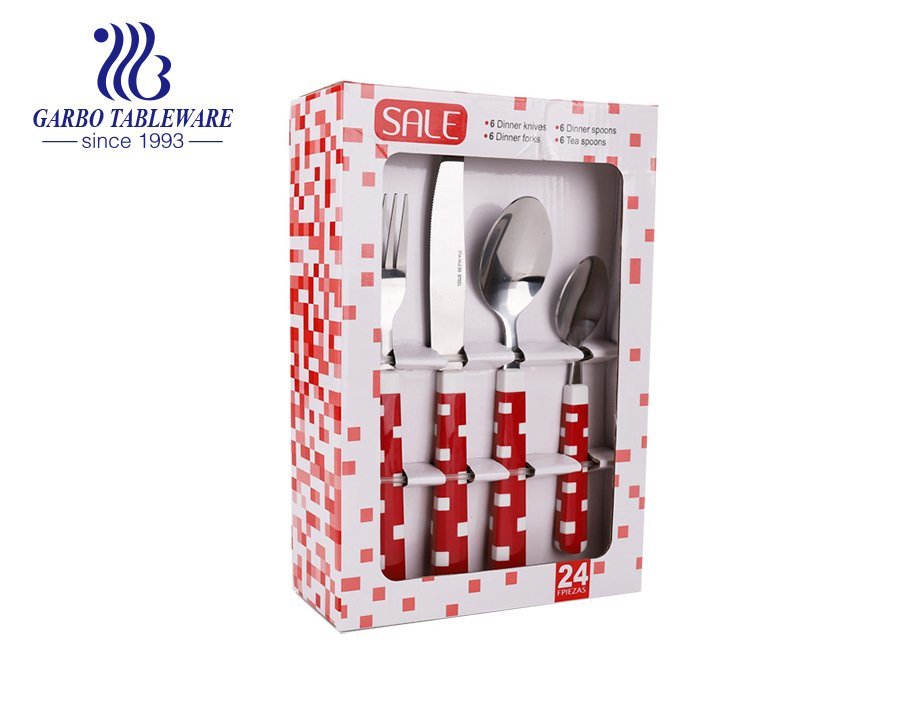 MODERN FLATWARE WITH CUSTOMIZED CERAMIC HANDLE CUTLERY SET
Complete with 16 pieces of long lasting stainless steel silverware, made up of four knives, four forks, four table spoons and four tea spoons.
The flatware are with ceramic handle and also can customize design on the handle. Usually we do some flowers designs on it, which offers an added style feature for a comfortable grip during handling, looks very warm and let us have a good mood enjoying our meals. It also makes a great gifting option, and is perfect for both formal and casual meals.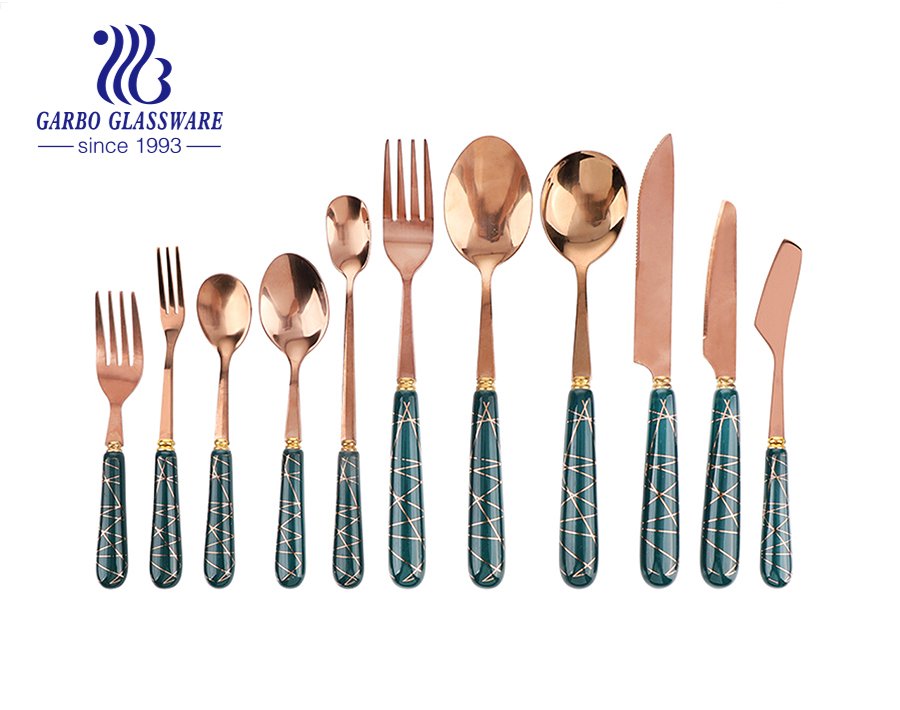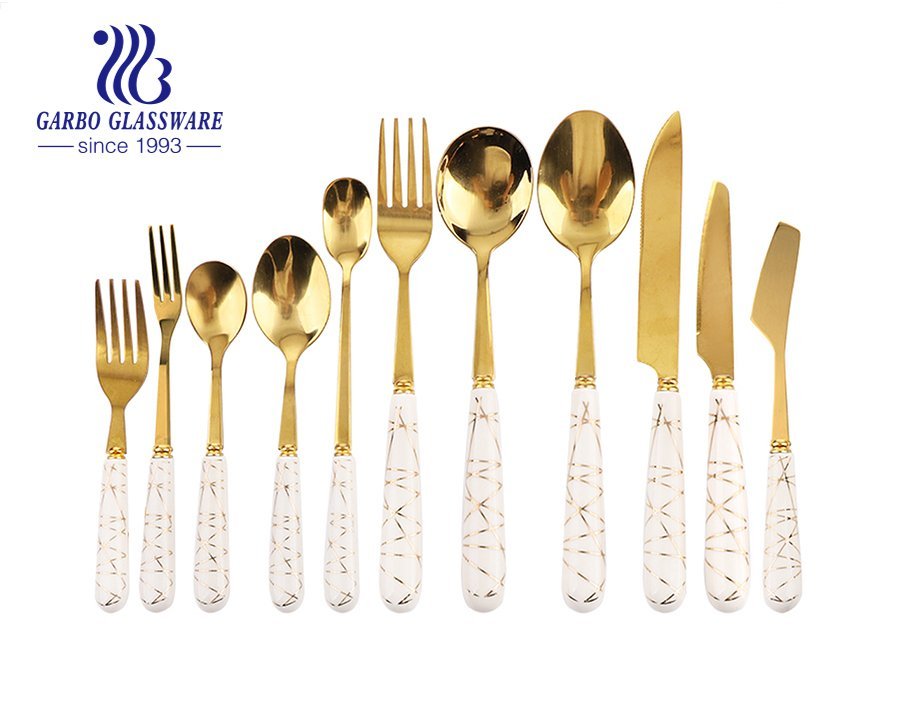 Lastly, if you want to customize your flatware, pls feel free to contact us. Garbo always welcome you!