Garbo Tableware is one of the professional supplier in China. We have been specializing in producing and exporting glassware more than 28 years, and we have also developed the ceramic, flatware, and kitchenware rapidly in recent years and served many customers of our product lines.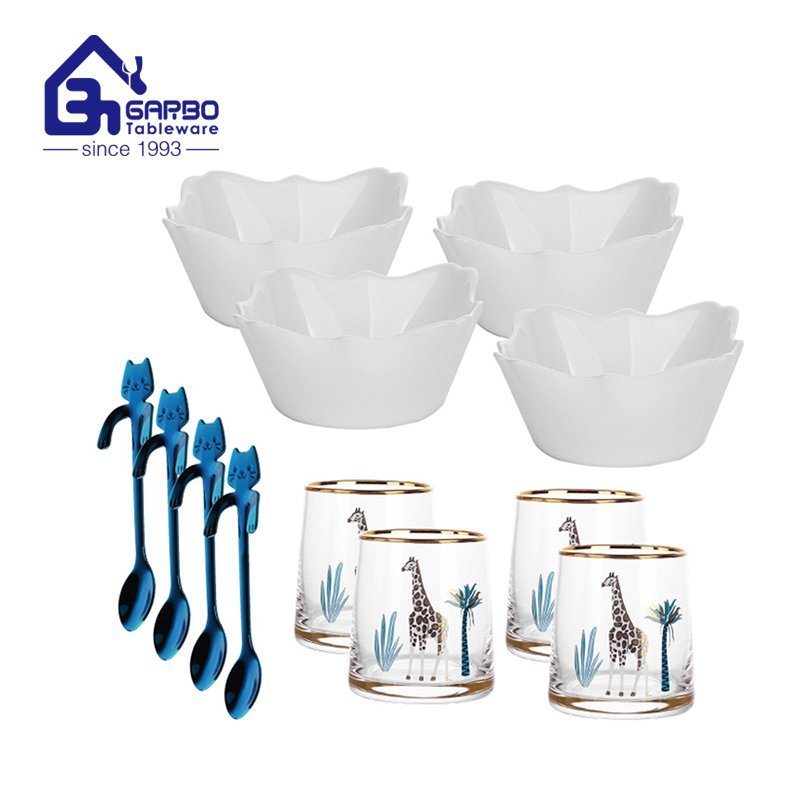 Now we are promoting some new dinnerware sets that are including glass cups, cultery, and ceramic plate or bowls, opal glass plates and bowls etc. So our clients could choose the different dinnerware sets from us with many choices!
Let's see what kind of newest dinnerware sets we have!
Ceramic Dinnerware Sets with Cutlery
This series is including a ceramic dinner plate, a salad bowl, and one cup. Total is 12pcs dinnerware sets.
It's suitable for a family of 3 persons. There are different shapes, designs for choice.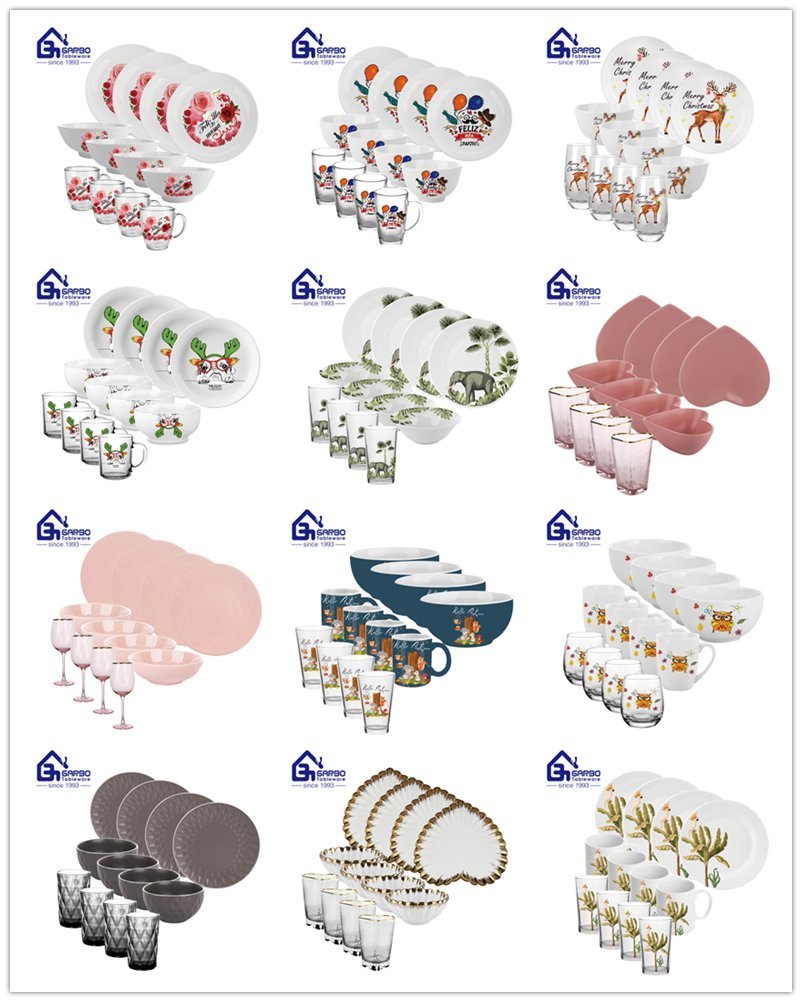 And we also have another ceramic dinner set and cutlery set, and the most popular set is marble designs dinnerware sets. We have the same designs in ceramics and flatware. Pls see below.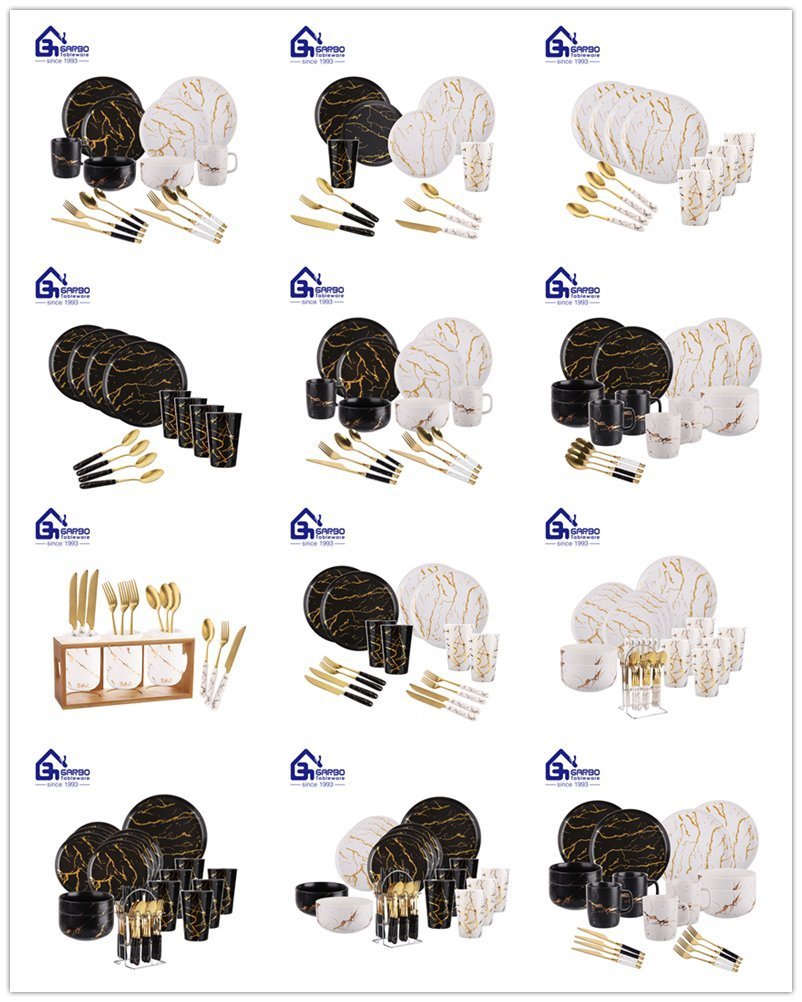 Dinner Plate with Glass Cup and Spoon Set
This dinnerware sets are including a dinner plate, a water cup and a spoon. It's suitable for breakfast serving even hotels and restaurants. There are totally white set, colored dinner set, or with vivid decals for your choice.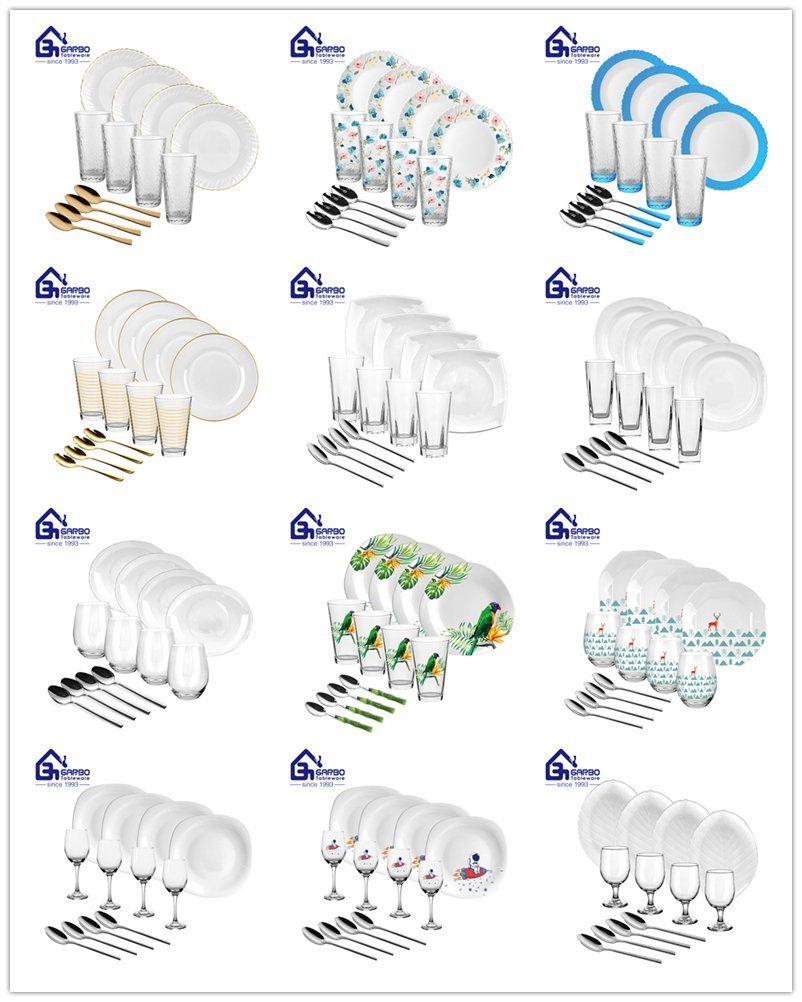 Bowls, Cups and Cutlery Set
There are two series for our composition: one is use ceramic bowls, and another is use opal glass bowls. The opal glass dinnerware sets is a new trend for tableware, it has a good demand in the market. Maybe you will be interested also.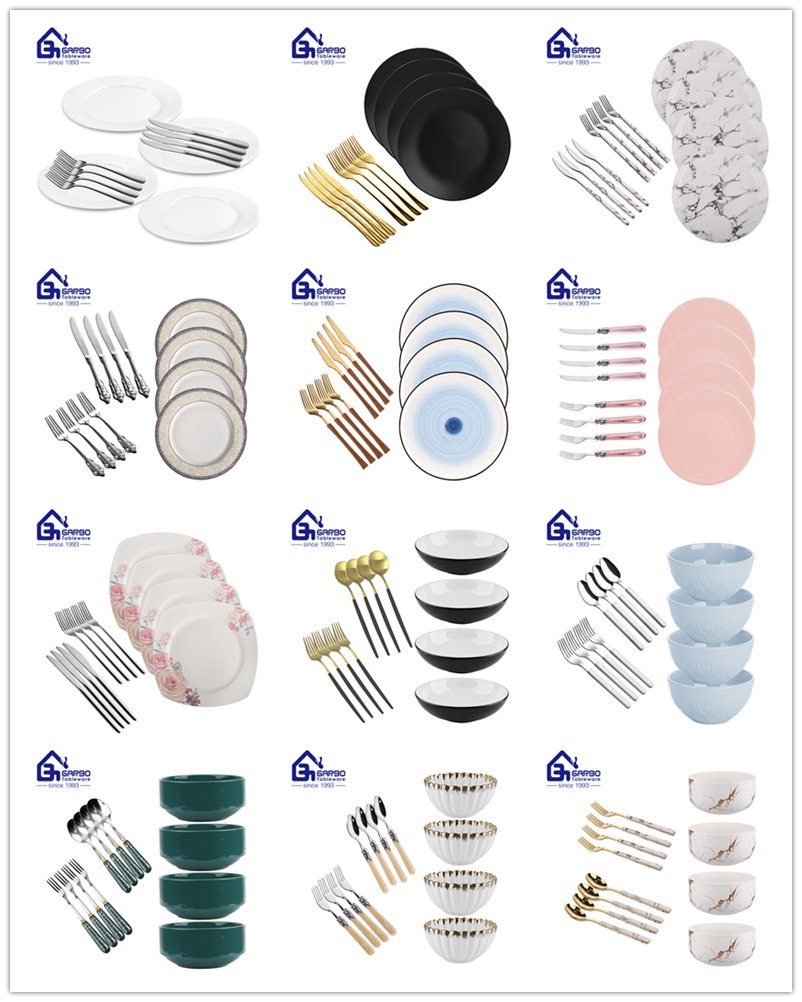 Opal Glass with Cutlery Set
The opal glasses are also beautiful, and we have made many new designs on them, you could choose the white opal glass, black opal glass, or with gold rim, or with decals. There are many choices for you.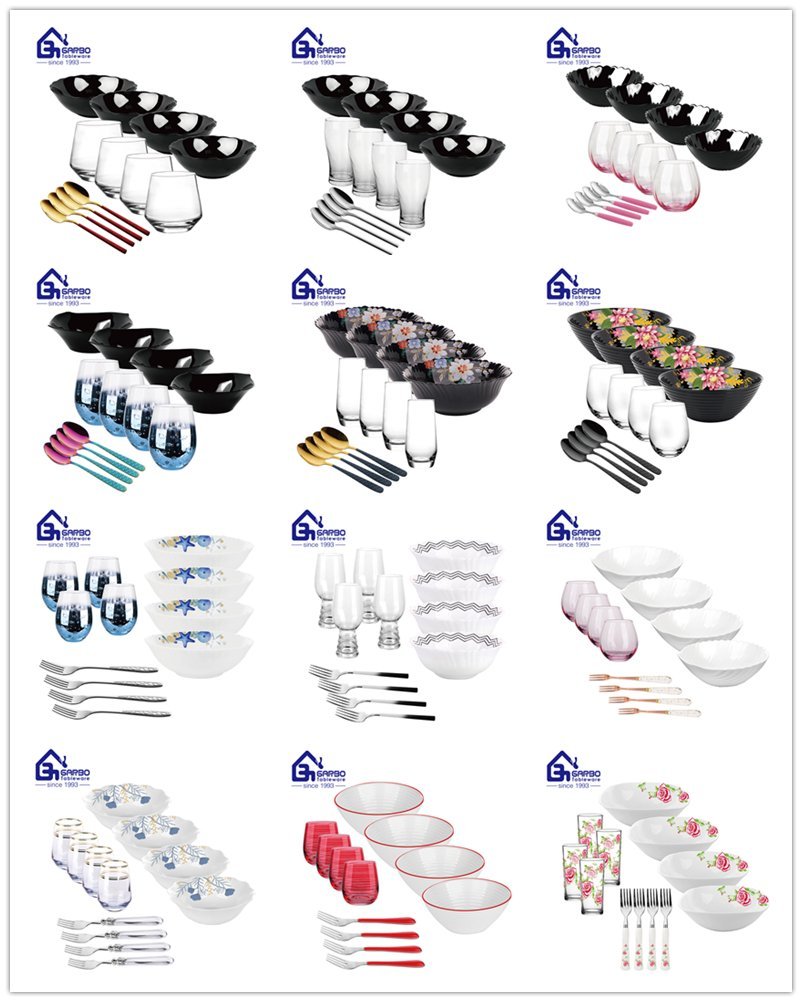 Decorative Glass Plate with Cutlery Set
This series is handmade glass plates and bowls, which are lovely and beautiful, and combine with the cute cutlery set, you deserve to have it.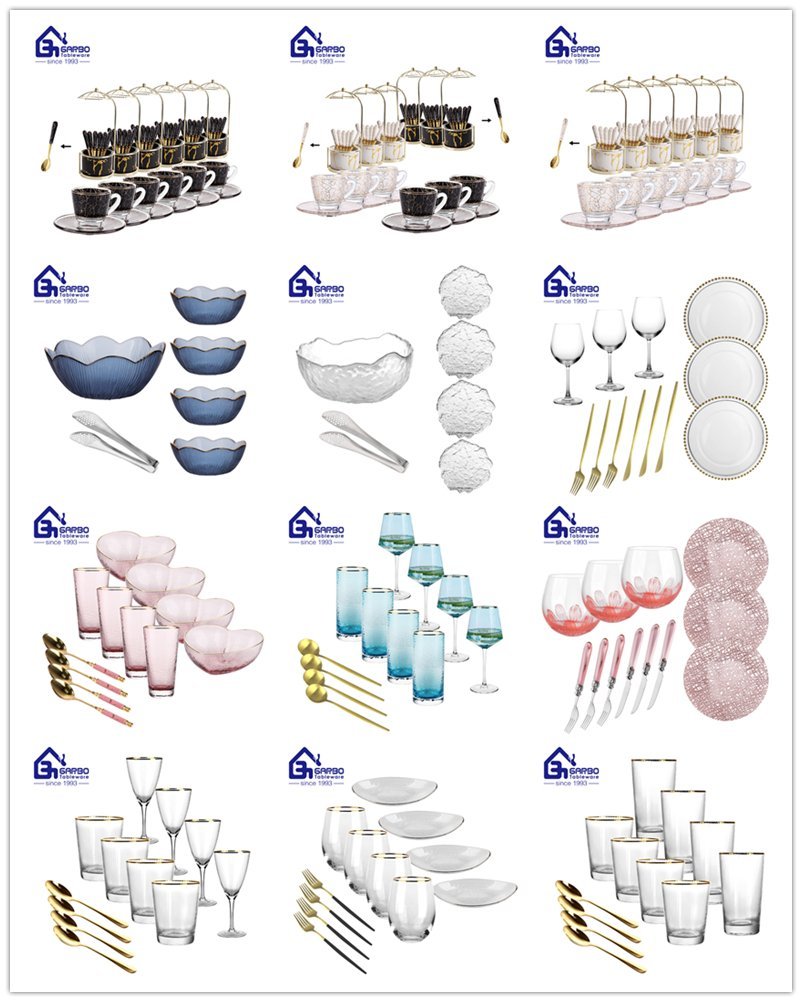 A beautiful dinnerware sets is popular and necessary for a family, and also hotels, restaurants. It will make you feel enjoyable when dining. And as we all know, for a table, it should have dinner plates, bowls, and cups, and wine glass etc. Garbo Tableware has a full range for them, and we are willing to help customers to make different compositions for the dinnerware set. Just share your ideas with us, and we will help to make. Also, just keep following us, and we will update you more and more new items.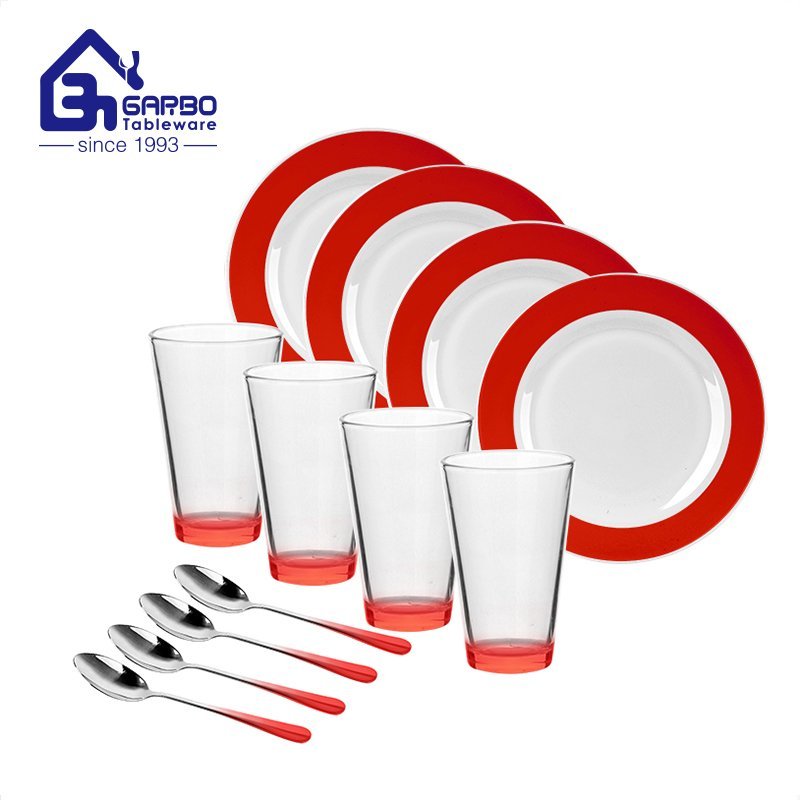 Pls contact us if you're interested in glassware, ceramic, flatware and kitchenware. Pls send to our sale email: sale@garboglass.com. Thanks.