About the cutlery, We recommend getting stainless steel, as it is safe and strong enough to withstand daily use. Silver flatware is an elegant but costly choice and requires more maintenance although it is great for special occasions. There are some best cutlery sets for every meal serving you and popular in every markets.
Silverware hammered 20 pieces cutlery set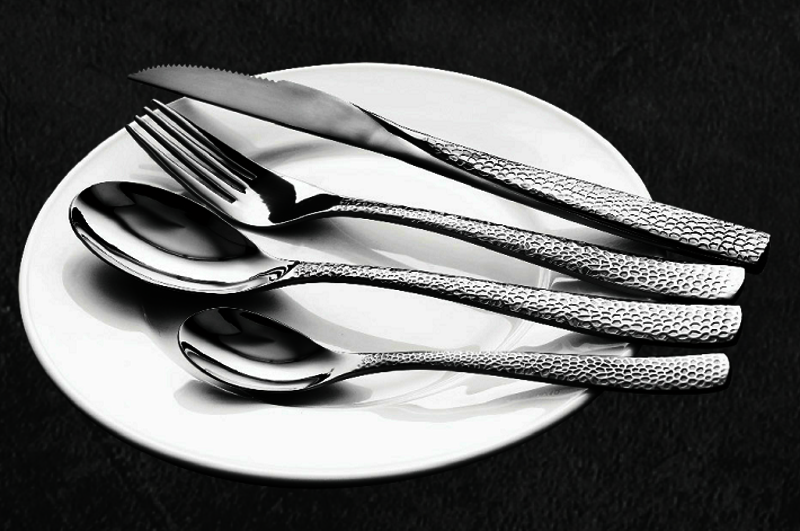 The hammered silverware set of cutlery—comprised of 20 pieces—is among the most modern on our list. This set is ideal for serving four people in a contemporary dining room setting where it is sure to complement similarly sleek dishes and glassware.
The heads of each utensil are polished to a mirror finish. Its design is very fantastic as its handle is given a hammered effect pattern, which is a pleasure to grasp and impresses your guest and you don't get tired of it. This stainless steel silverware prevents corrosion and rusting, making it ideal for every day use. Silverware is suitable for every occasions.
2. 24 Pieces household Cutlery Set with customized PP handle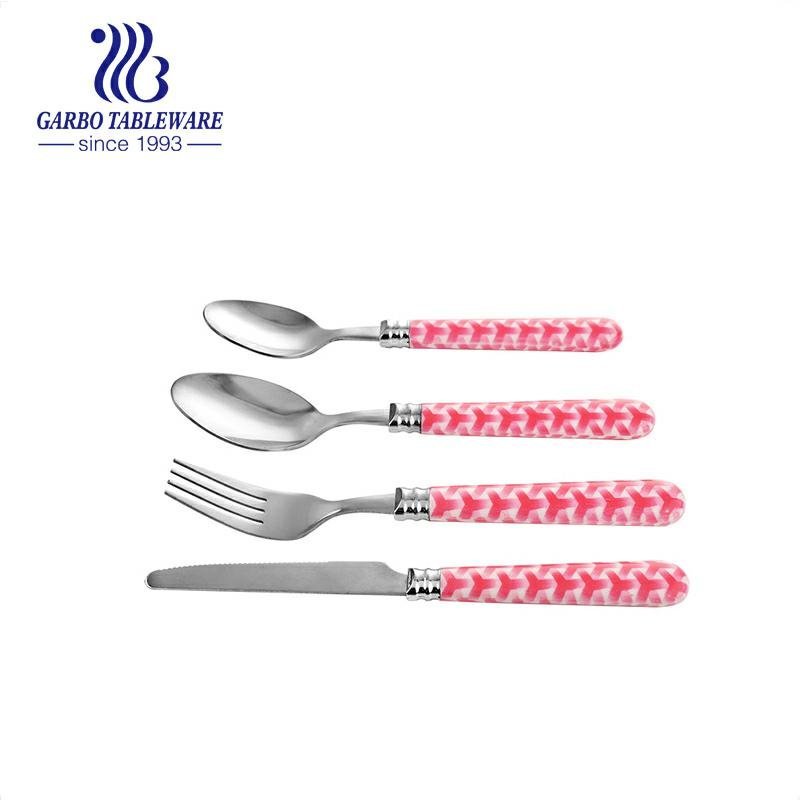 This cutlery set is with colourful PP handle and eye-catching enough to appeal to people, which is very suitable for every meal serving you at home. And if you want to customize other fancy designs on the handle, it is available for us to do. Also, for those looking for a fun cutlery set to encourage their children to eat their veg, this design is a great option. 
3. Best for parties – 16-Pieces Stainless Steel Rainbow Flatware Set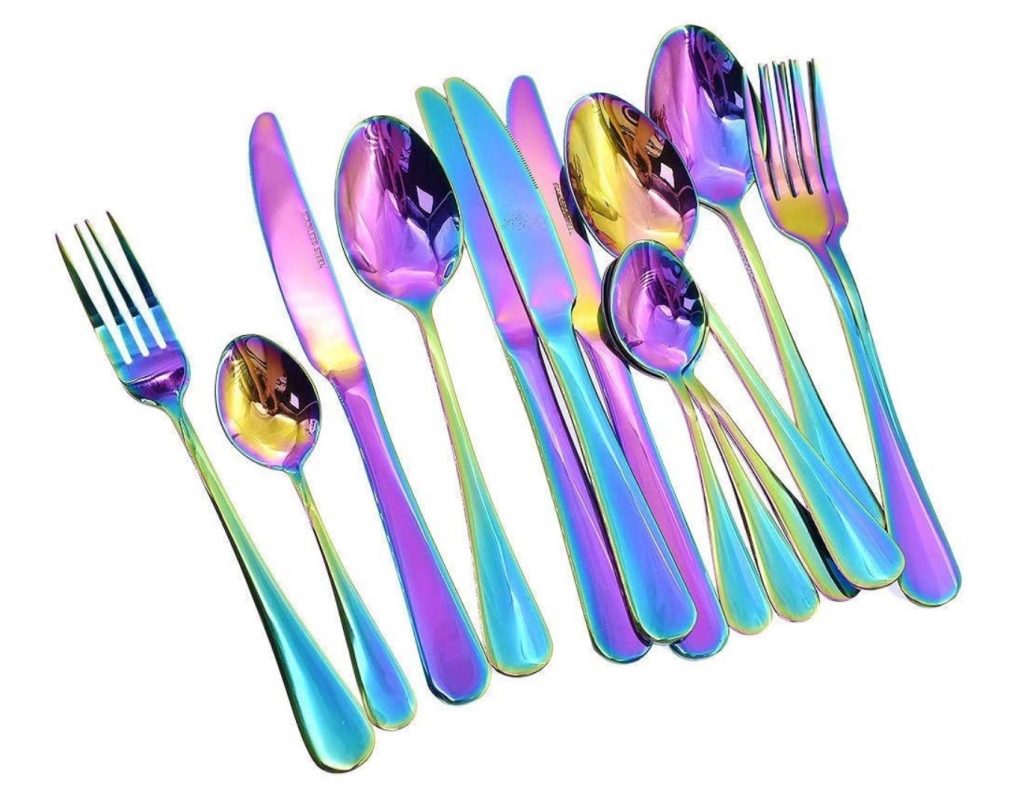 This rainbow color cutlery set contains 16 pieces, including four knives, four forks, four dessert spoons and four teaspoons. It is made made of high quality stainless steel and it is durable, although it is best to wash it by hand.
Though it is with rainbow color, it is with food grade and safe to serve you. This eye-catching set is sure to leave an impression on your guests and let your guest have a good dining experience.
4. Best for restaurant – 410SS Cutlery set with bamboo design PS handle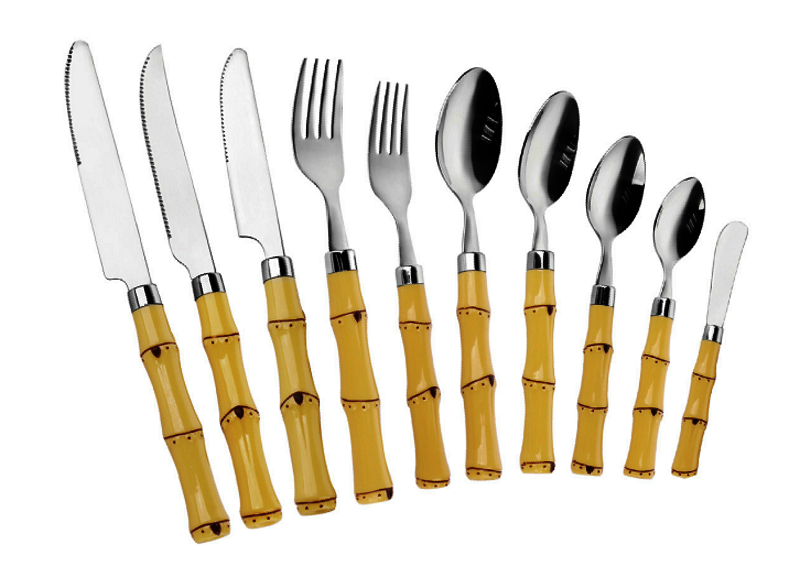 The cutlery set is very funny for its handle like a bamboo effect pattern. This handle is PS handle, printing bamboo design on the handle. It is very popular in some markets and many customers would like to buy it as it has a bamboo pattern handle and with a good price.
5. Vintage Kings 24 Piece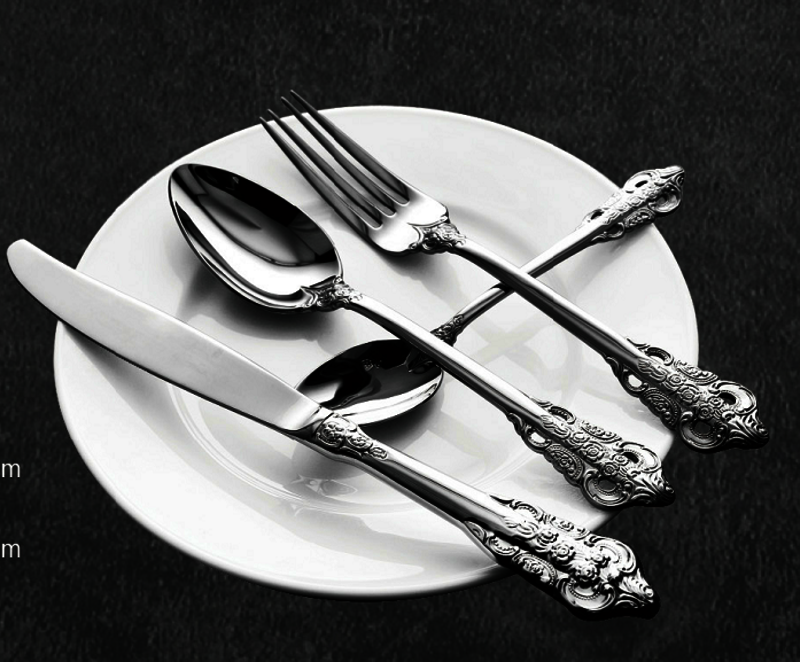 For those who want special and unique pattern, this delightful vintage set should do the trick. They are with high quality stainless steel 18/8 material that shows very elegant and royal. Forged from stainless steel blended with chromium and nickel, they have a glistening mirror finish that will withstand years of regular use.
It contains 24pieces so it's a great option for those looking to ensure they always have a spare fork or spoon for a family member or guest.