In order to build up deeper understand the production process of stainless steel flatware, my colleague and I went to Jieyang cutlery factory last week. Through continuous learning and rich product and other professional knowledge, we can better convey professional information to customers, which promote potential customers to place new orders and old customers to make repeat orders. Most importantly, it can enhance cooperation with clients.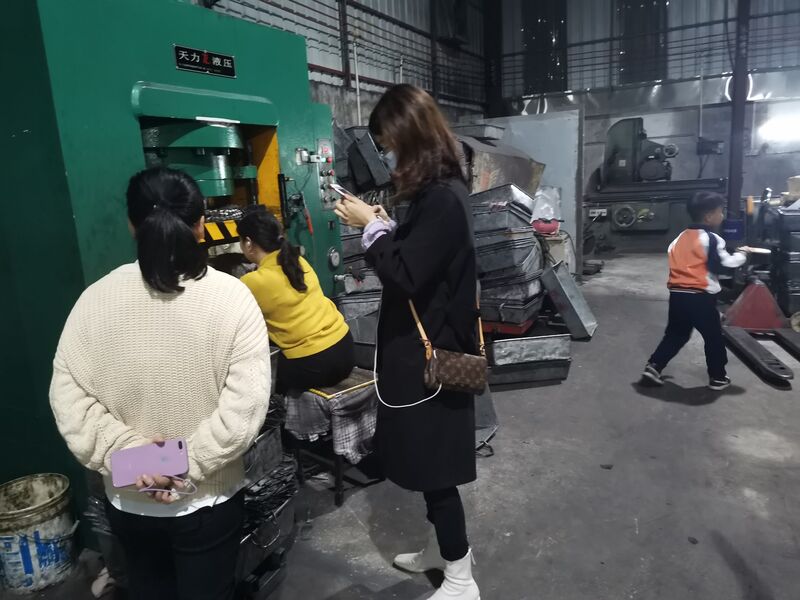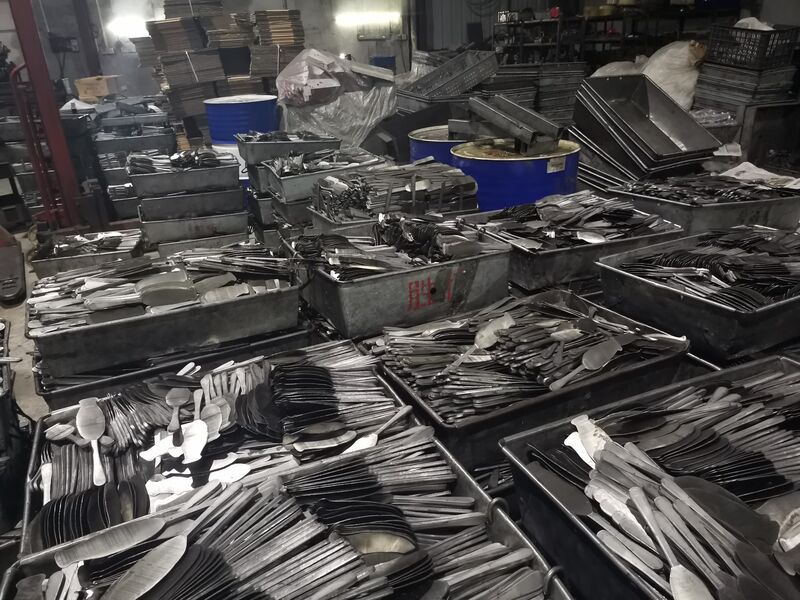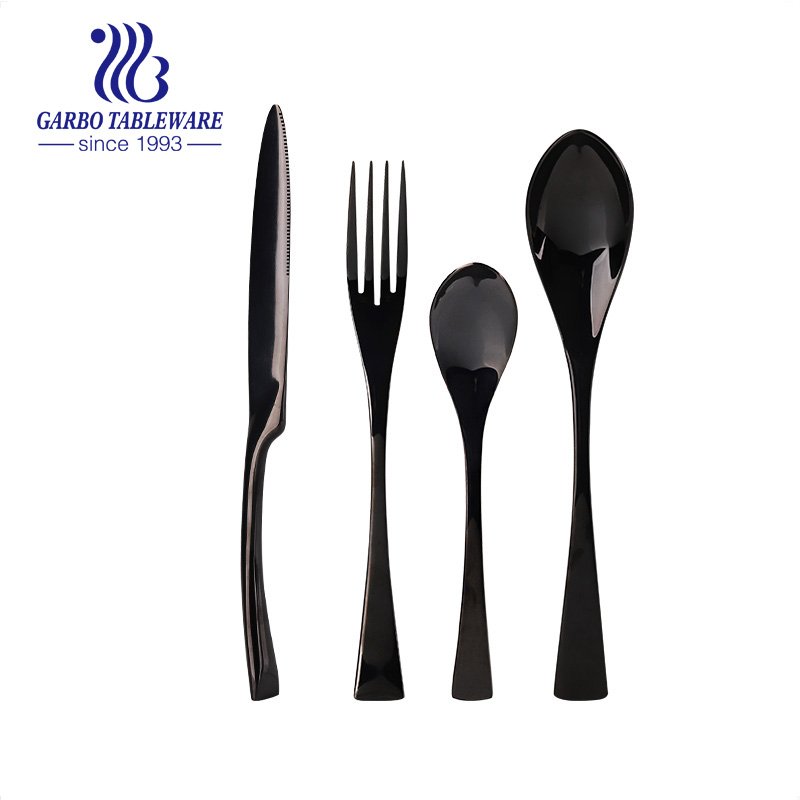 16 Piece Titanium Shiny Black Plated Stainless Steel Cutlery Set with Service for 4
Item No:SM022
Material: 18/0 stainless steel
Package:16 sets per carton. Export safe package
Usage:  home, hotel, bar, pub
Learning makes us more professional!
This time, we will mainly explain the production process in detail from the post-processing of cutlery set.
The post processing of stainless steel tableware is divided into four sessions : titanium plating (PVD), painting, laser and sand blasting.
Titanium plating (PVD vacuum titanium plating process)
1.Clean and dry all products.
List them one by one and hang them on the splint.
Then send the whole splint to the electroplating instrument for vacuum electroplating (gold plating, magic color, rose gold, etc.), and the color is well controlled in the machine. (adjusting color by machine current)
4.After plating, take it out for packing into the box.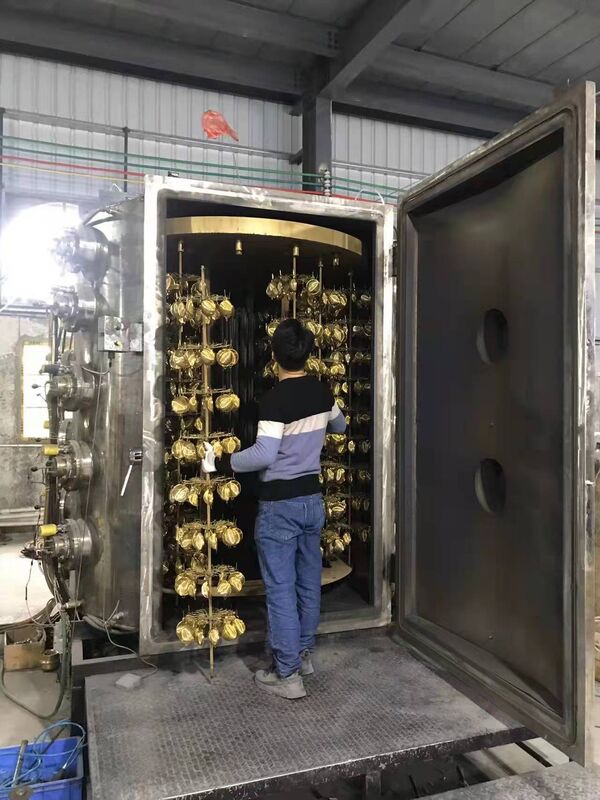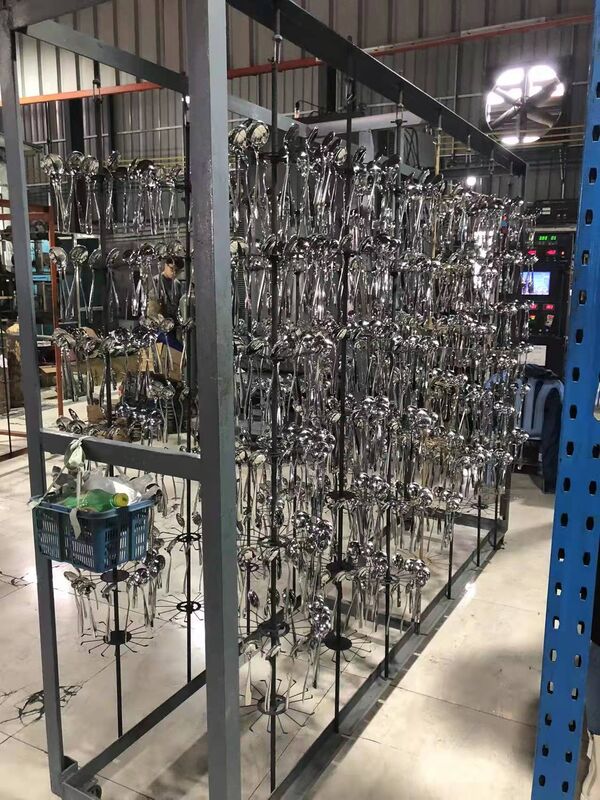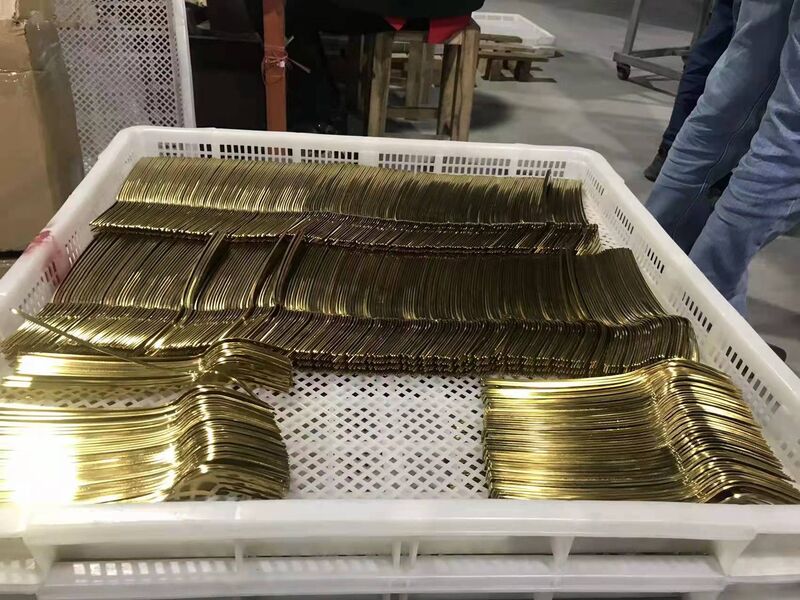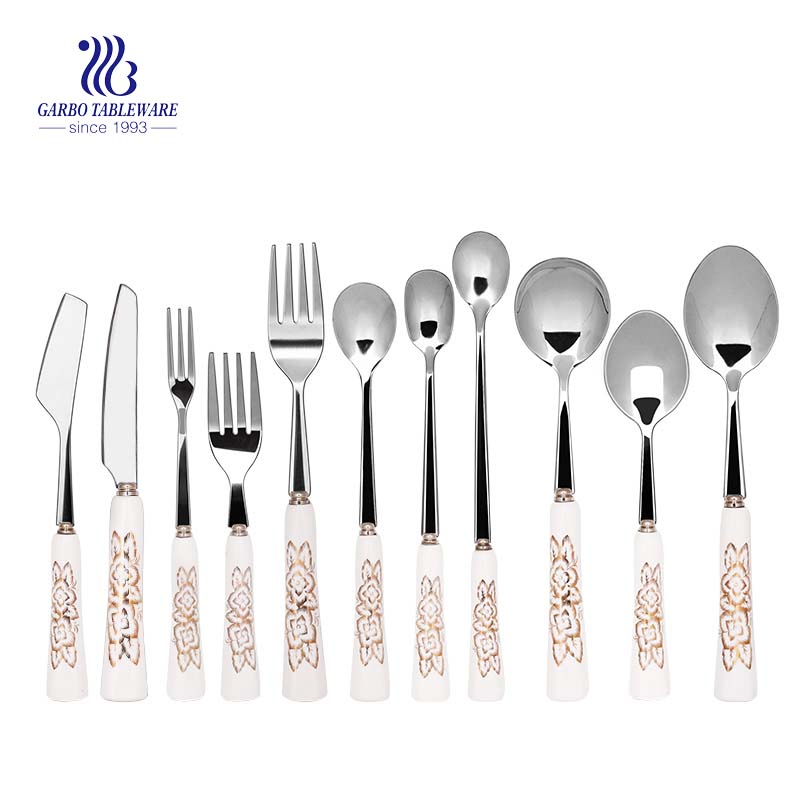 11 Pieces Flatware Set With Printing Ceramic Handle Cutlery Set For Wedding
Item No:SC009
Material: 18/0 stainless steel
Package:24 sets per carton. Export safe package
Usage:  home, hotel, restaurant.
Painting (handle painting)
Workers first put plastic tape on the products one by one to fix the position of handle painting.
Next, arrange and fix it on the splint, and then send the splint to the painting machine in a row.
Manually rotate the splint for painting. Dry at room temperature after painting.
After drying, the worker will tear off the plastic tape first, and then pack it into the box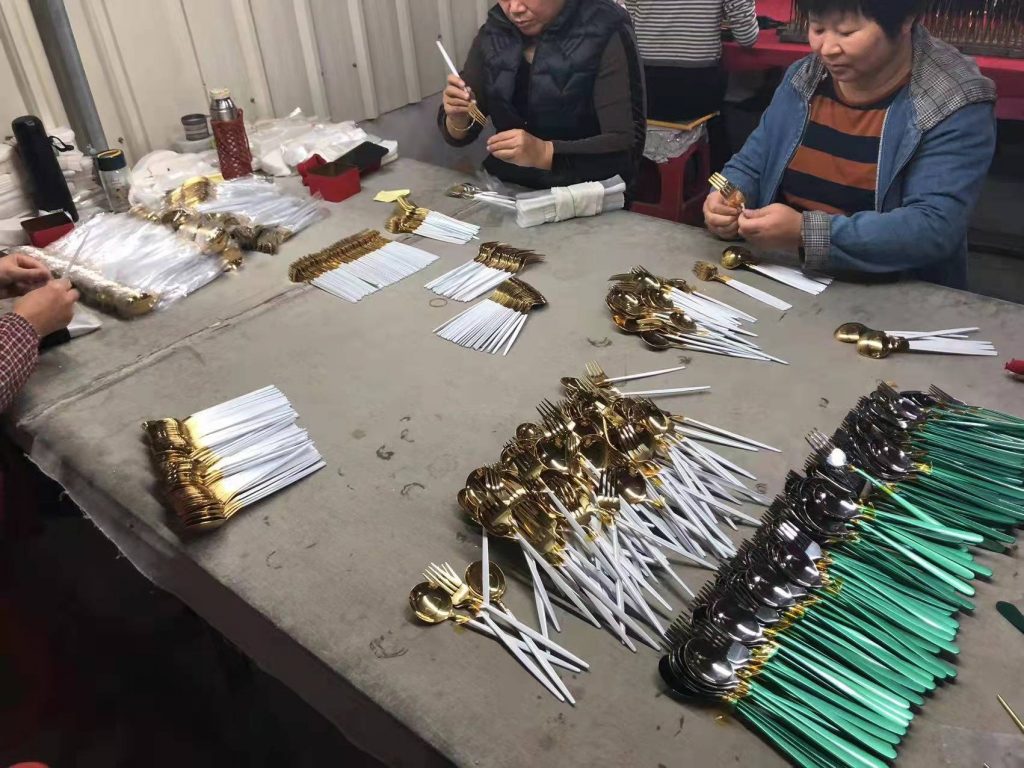 Laser
Laser technology has only two colors, black and white. There are no other colors.
The process is simple. After bagging, the laser logo is made directly by laser.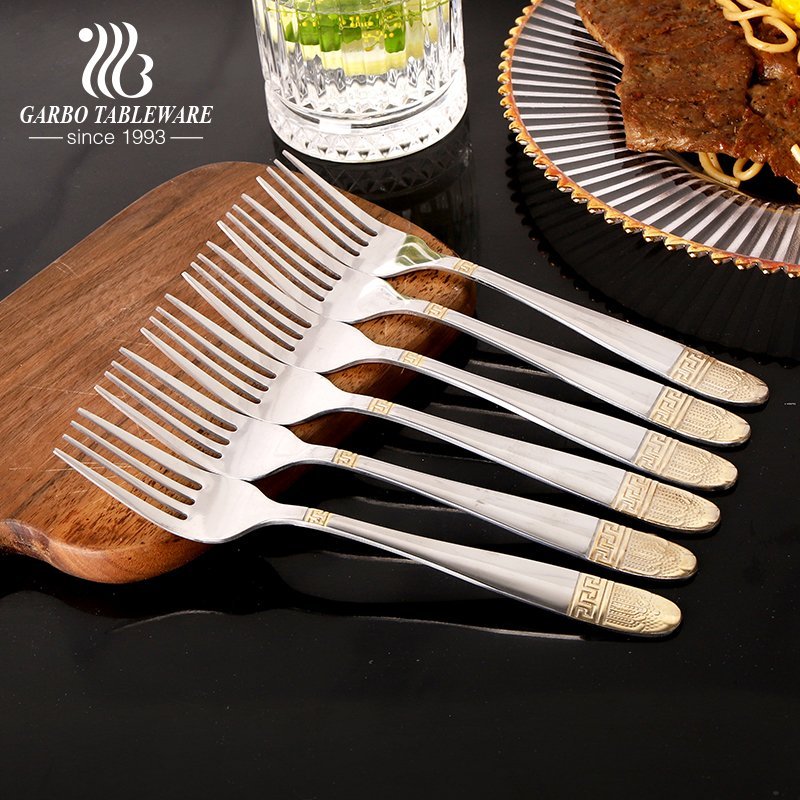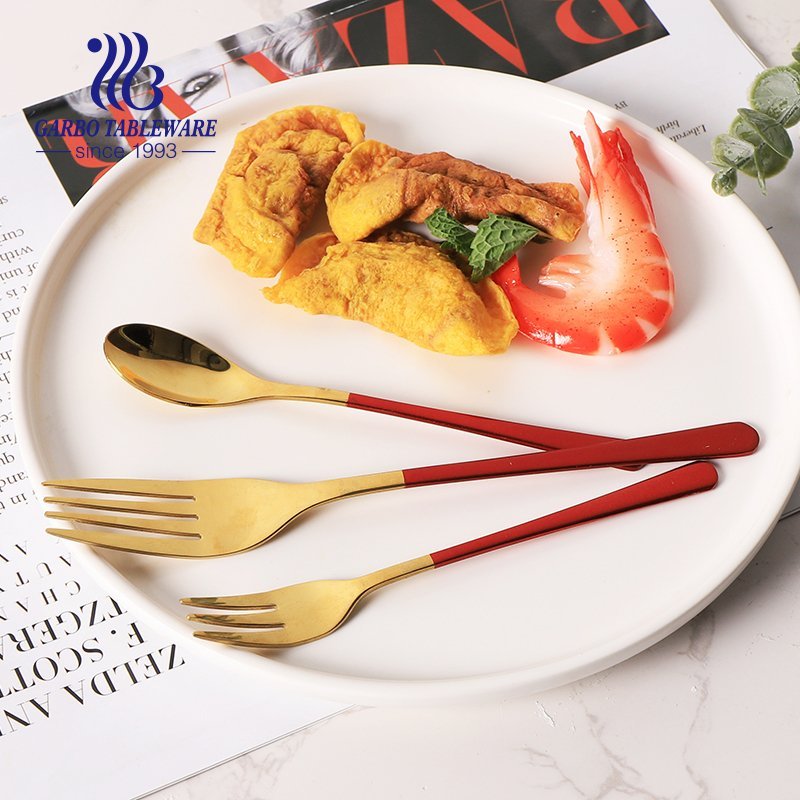 Sandblasting
After polishing, re-enter the machine for sand blasting, and the operation process is the same as painting.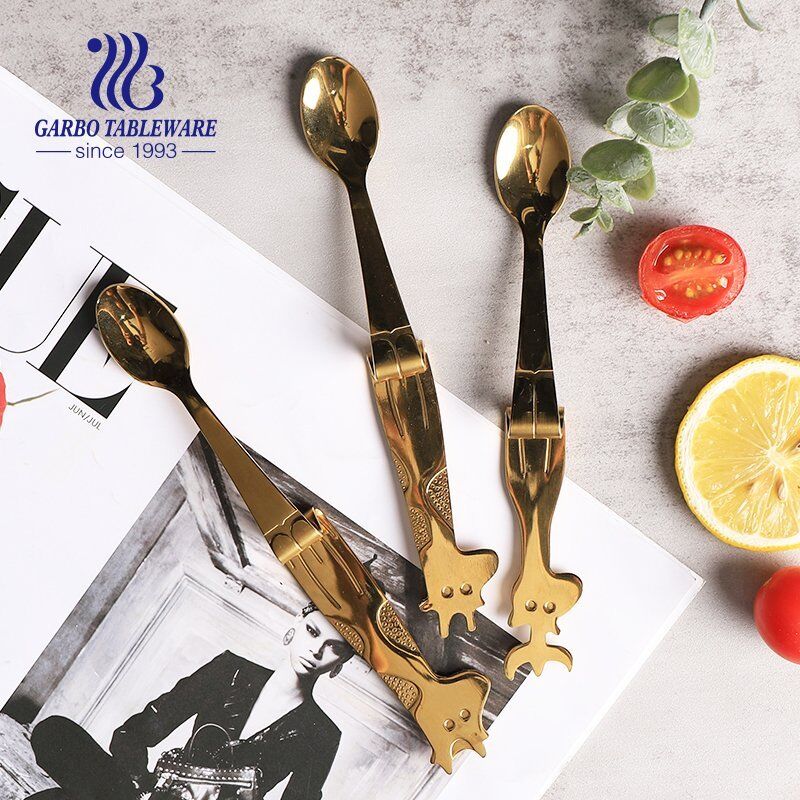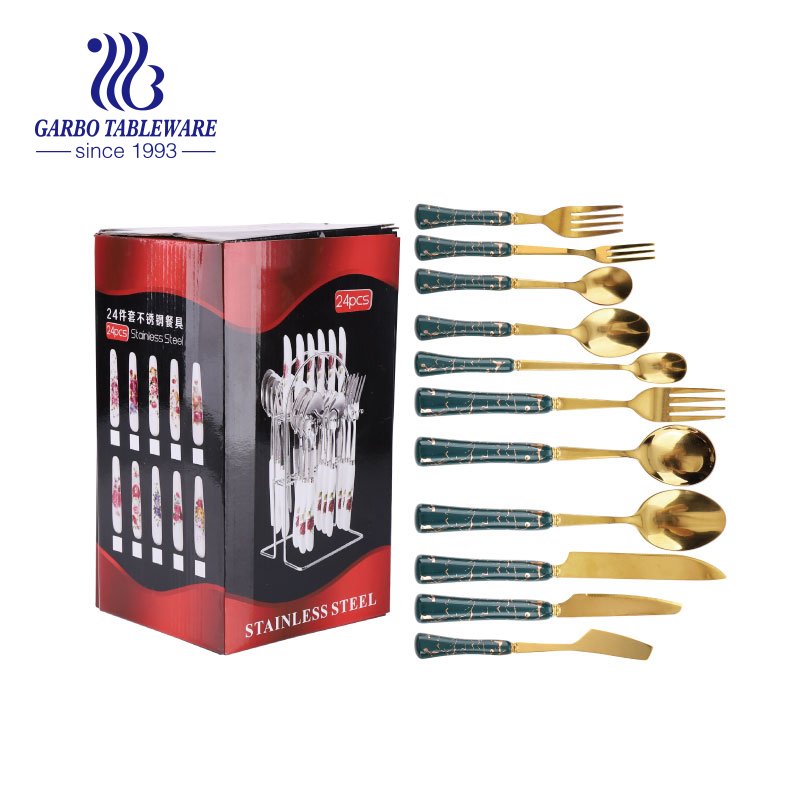 From this learning, we not only had a pleasant talking with factory workers, but also deepened our understanding of stainless steel technology. In the future, let's look forward to more technical learning, and welcome more customers to place orders with GARBO to create better cooperation.