For the stainless steel cutlery, some customers would like to buy flatware with plastic handle to save cost and win the markets. Do you know plastic handle has many types? Such as PP handle, Ps handle and ABS handle. Let me show you the distinction on these thress different material.
PP handle
This material of handle is PP, which can do many color, not including transparent color. And colors are not very bright. The greatest advantage is its cost is very cheap and very good for customers who want to buy cheap flatware set. PP material is a common and normal plastic material in our daily life. Here show you a cutlery set with PP handle.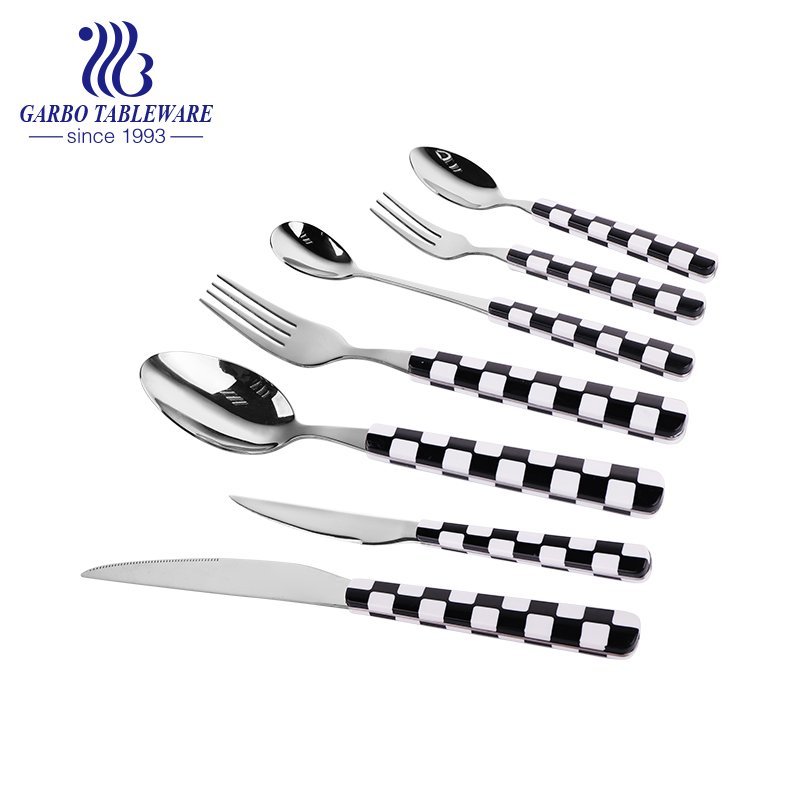 This cutlery set is with black and white color PP handle, including dinner fork, dinner knife, dinner spoon, tea spoon, ice tea spoon, cake fork, bread knife. It is very complete set for dinner on the table. This stainless steel silverware set comes with smooth & precisely machined edges to make it easy for you to clean without irritating your hands with unneeded scratches. On top of that, the smoothed out edges on this cutlery set makes it easy to eat without hurting your mouth.
PS handle
About PS handle, it is with a good viscosity and crisp but easy to break. Compared with PP handle, PS handle can do bright colors and aslo can do transparent color, which is very flexible and convenient for customers to do some eye-catching colors.
Like Bamboo Natural 20-piece plastic handle flatware set. Do they look like bamboo? The dark color close to brown color is the PP handle, and the bright color is PS handle. Perhaps but they do not FEEL like bamboo because there is such a heavy plastic coating on them. They look pretty and they are somewhat functional. Each piece features a plastic handle that imitates the look and feel of a bamboo stalk. Certain to be an eye-catching addition to any traditional table setting.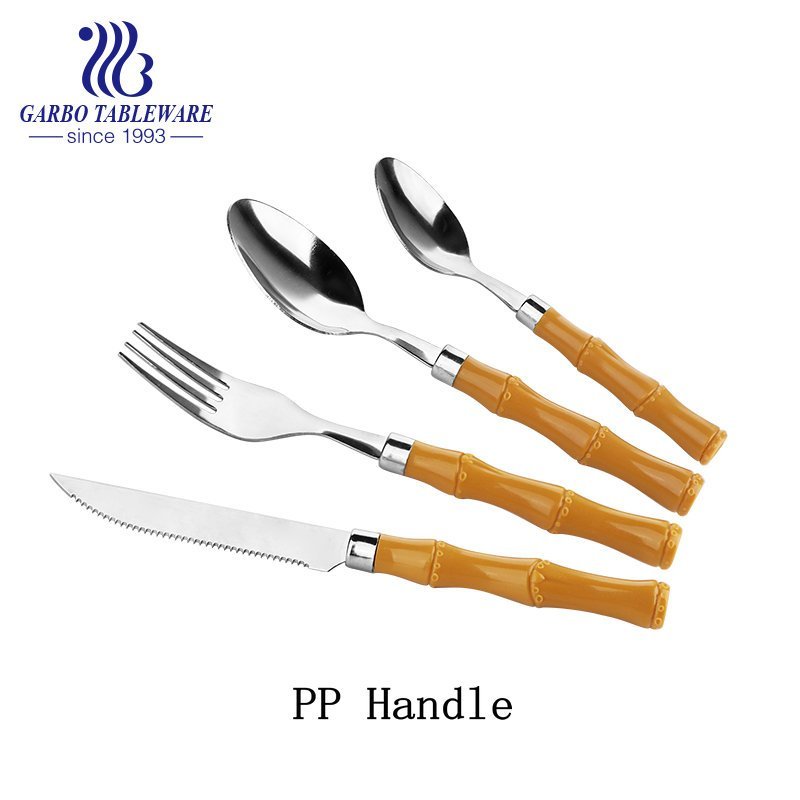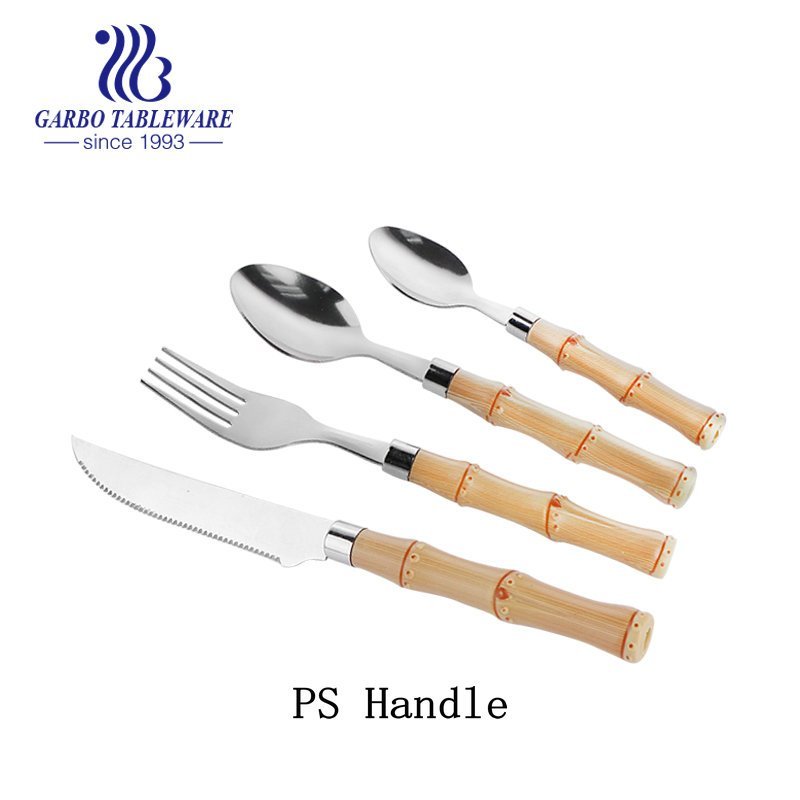 For the transaprent color one, you can see this 16-piece flatware set, features easy-to-grasp and easy-to-use plastic handles, perfect for any table setting.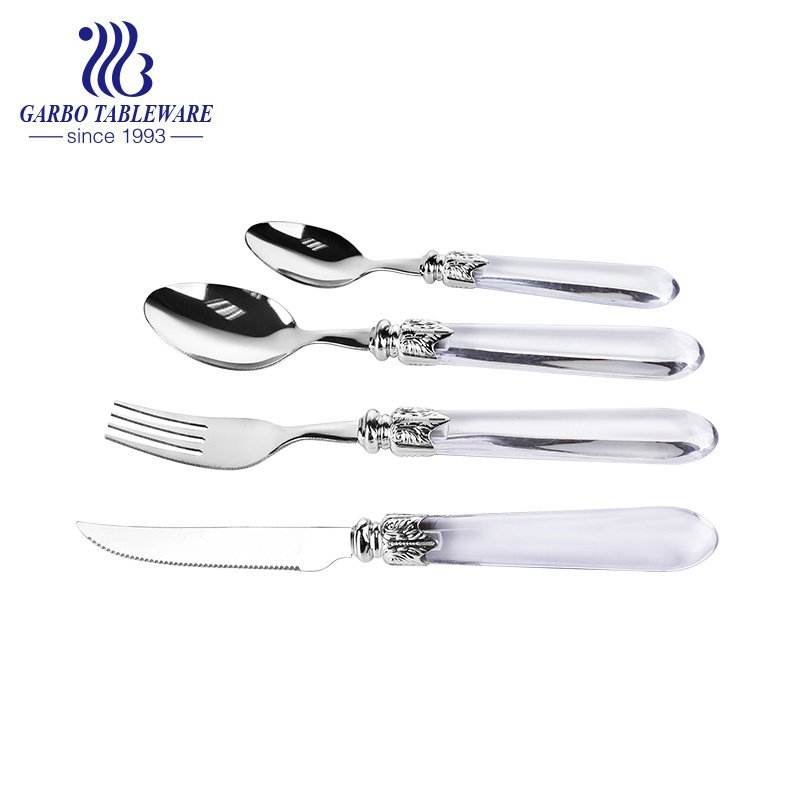 There are also many colors one. Bright and beautiful colors add a class of its own on this Flatware Set. High grade of Stainless Steel with premium quality plastic covers of the blue finish of handles will add a bright touch on your serving table. Finely made with a delightful colour handle, sturdy, and comfortable to hold. This flatware set was designed with the young, bright, and pure-spirited soul in mind, say goodbye to boring meals forever.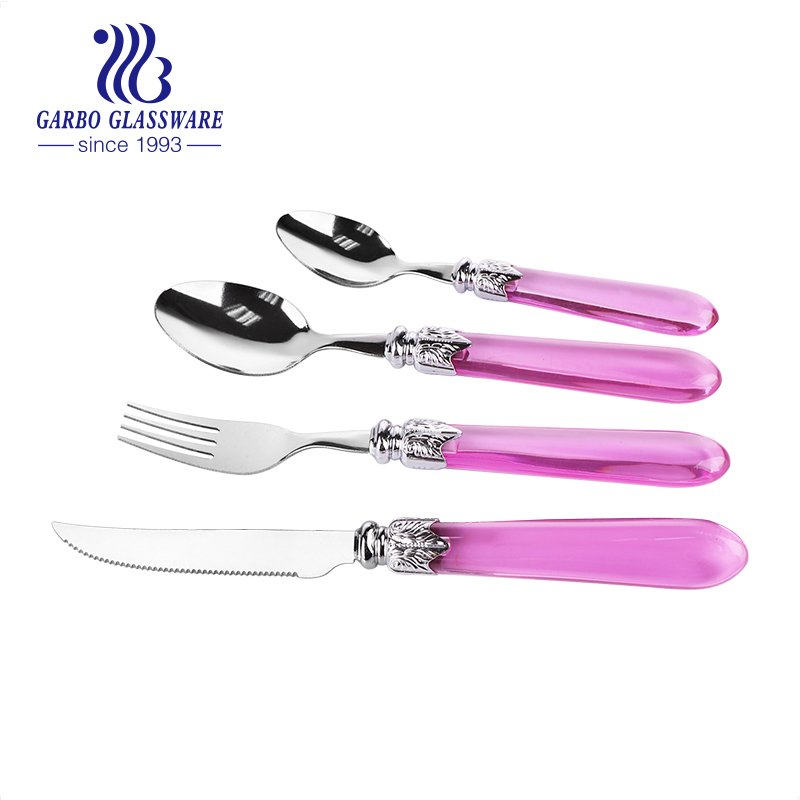 ABS handle
Compared with PP and PS handle, ABS handle is the most crisp. You can recognize it by beating it and listening to the sound. If the sound is more crisp and resonant, it is the ABS material. It has the same functions with the PS handle, with multiple colors and transparent color. In these three material, ABS handle is the most expensive as its material is the best in platsic material.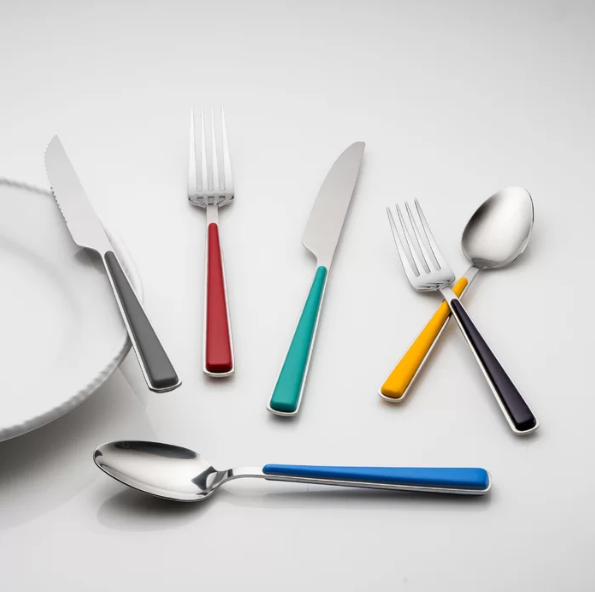 Add vibrant color to your tabletop with this Flatware Set accented by bold colored ABS plastic accents on the handles. Durable, well-balanced, and dishwasher safe, this Flatware Set is perfect for everyday use and makes an excellent addition to any Fiesta collector's tabletop. Never needs polishing.
In a word, each plastic material has its own advantage and can satisfy your different needs. If you want cheap price, we suggest you choose PP handle. If you want to make your flatware add some bright colors and designs, you can choose PS handle. Lastly, if you want the best quality, ABS handle is your best choice.
Any inquiries on flatware with plastic handle, pls feel free to contact us!