Have you been upset when you go into your bathroom when all kinds of things were jumbled up on the cabinet? Like liquid soap, shampoo, cosmetics, cotton ball, etc? Even you place them one by one very well, you may still feel uncomfortable in such a mess. I hate mess, so I have to know how to style my bathroom. Then question is HOW? Absolutely the answer is to have a right storage way in your bathroom cabinet. Therefore, I will recommend you the related products which can play important roles.
As you may know, Garbo International is not only selling home daily tableware but also kitchen tools, storage jars etc, no matter they are made of glass or ceramic. So you can buy some products from the below lists.
Multi-color Glass Bathroom sets
Included: Soap Dispenser,
Toothbrush holder,
Tumbler and Soap Dish Holder
These glass bathroom sets with different colors and practical designs, make your bathroom become a modern and stylish one. Also, glass material is healthy and non-odors, can be last for a long time for home use.
Warm tips: Glasses are easy broken. Please careful when you use them.
The price is more competitive than other materials.
Popular in South American markets such Brazil, Peru.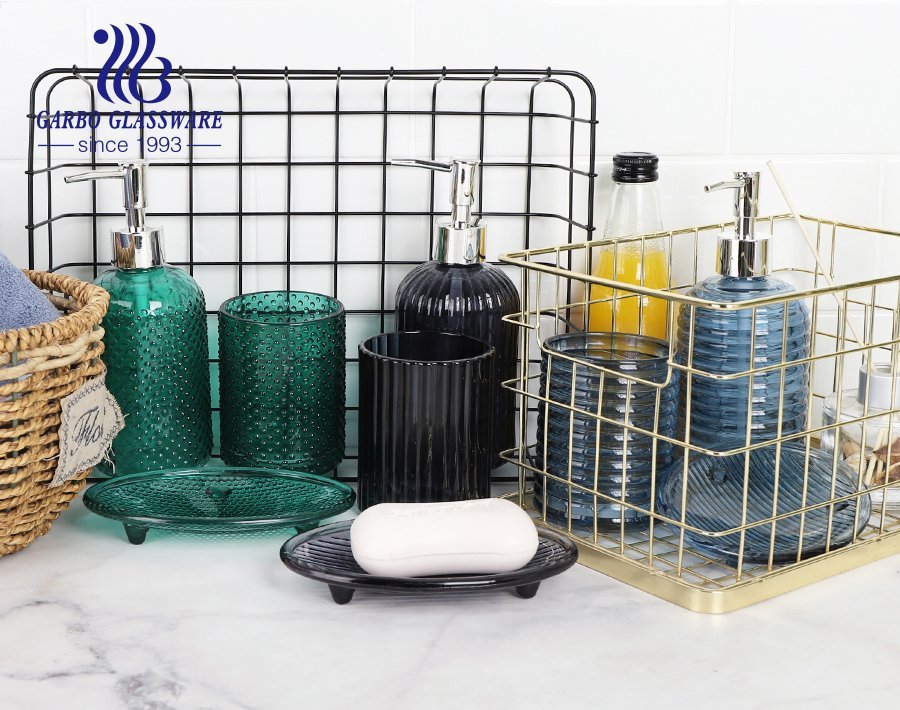 Luxury Ceramic Bath Accessory Sets
Included: Soap Dispenser,
Toothbrush holder,
Tumbler and Soap Dish Holder
Fine white ceramic bathroom set with the simple and elegant design will enhance the overall looking of your bathroom. It can be with gold pump or sliver pump. The body can be white, yellow, green, grey or black. For pattern designs, beside the popular marble design, we can also provide other elegant design like lines, dots or flora and so on. You can use it by yourself or with friends, family or couples, or as a business use.
Warm tips: Dishwasher safe and easy clean by hand
Very suitable as a gift for friends or families
Another option to buy a set with serving tray which made of same ceramic, bamboo or plastic.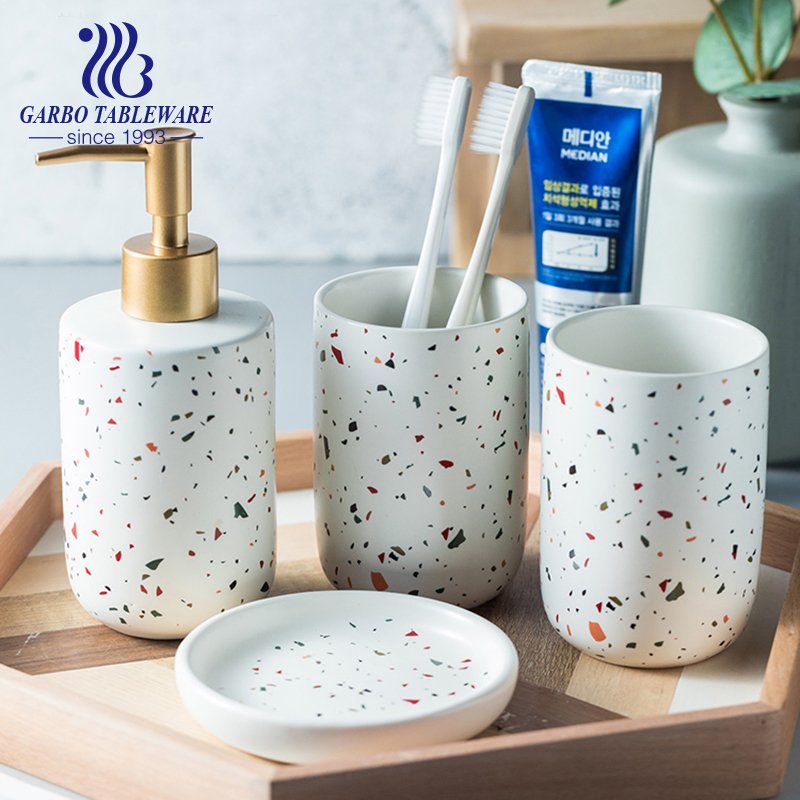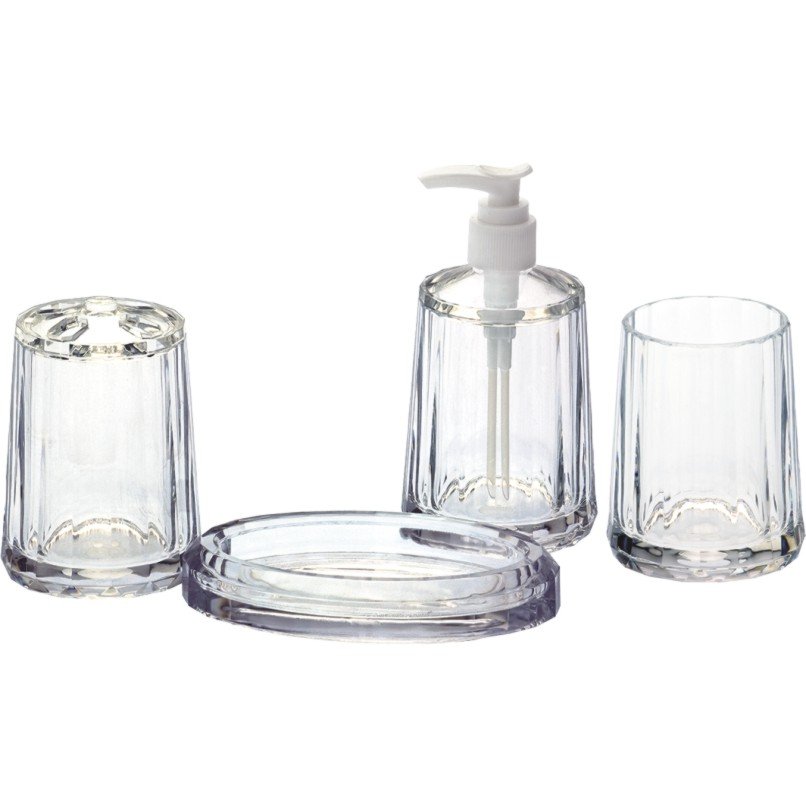 Acrylic bathroom set plastic hotel balfour bathroom accessories
Item No: 622
Material: plastic
Package:72pcs per carton. Export safe package
Usage: home, hotel
Product Size: TD:90mm H:150mm BD:90mm
All-purpose storage jars
Storage jars not only for food but also can used for cotton ball, cotton swab, cotton round pads and all other small items in your bathroom. There are lots of options for storage jar like glass storage jar, borosilicate storage jar and plastic storage jar. They can be covered with glass lid, wood lid or metal lid. With these vanity countertop storage organizers, your cabinet will be very neat and they add a decorative touch to your room.
Shape: Round/Square/Irregular, the most common shape is round.
Size: 710.5cm, 9.5cm11cm, 12*14.5cm
Lid: glass, metal, plastic, lid with any designs
Warm tips: innovative jars to store, stack, and sort in your bathroom and even kitchen room
Airtight lid to keep dirty away and no odors even long time stay in the bathroom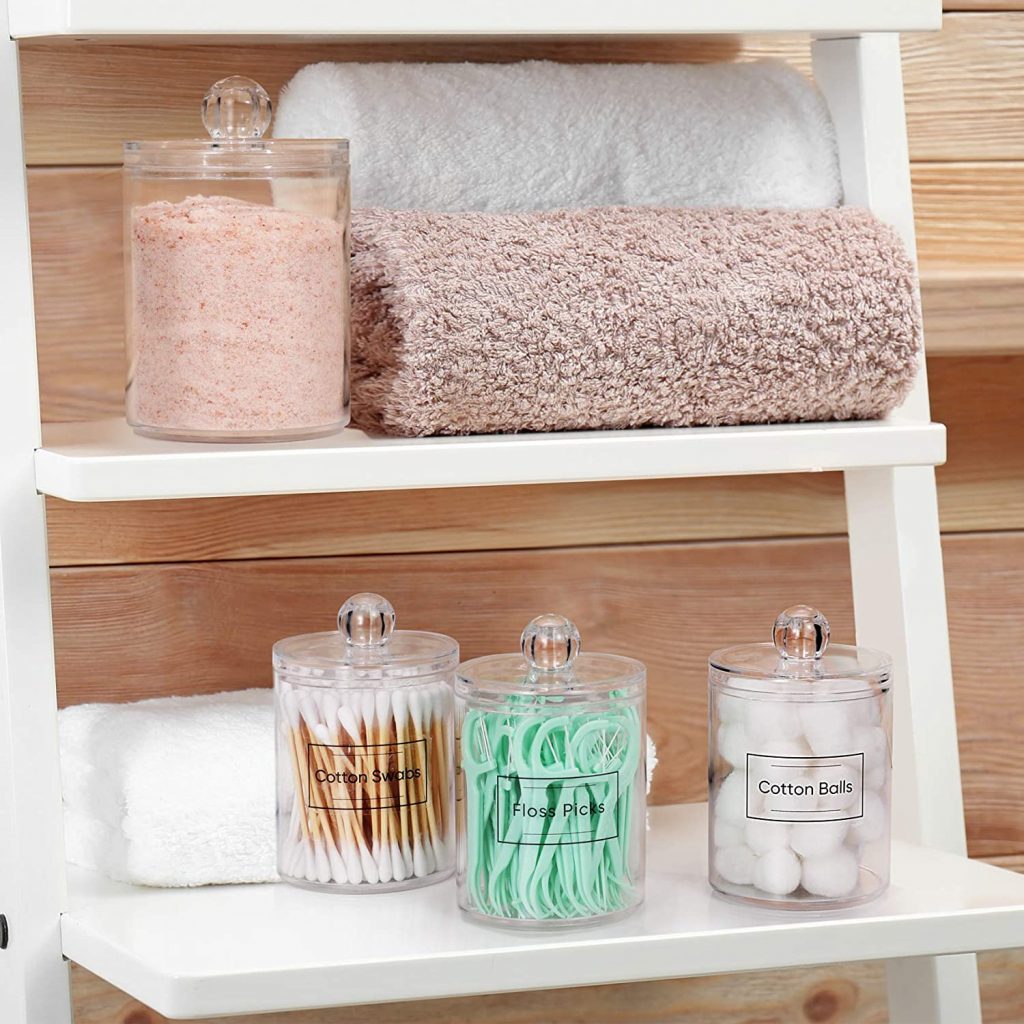 Imagine your life organized with above ordinary products but creative usage!