Now is the end of November. The 2021 is going to be finished. Time goes very fast. Hope every client has a happy 2021 and has already achieved their gold.

Garbo develops in the difficult 2021. Every one know that during the epidemic, 2021 is the most difficult year. Many industries go down. Including industry, clothing, consumer goods, etc. As the top 3 of Chinese daily use tableware, Garbo is affected also. But facing the difficult situation, we seize the opportunity of the network platform to develop more customers and get more orders. Still achieved good sales performance.

Recently, we sort out the most popular items of glassware, ceramic, cutlery and kitchen tool in 2021. Today, I show you with the top 10 cutlery in 2021 below. Many new and old customers asked this cutlery through online and offline.
1, Item No.: SM050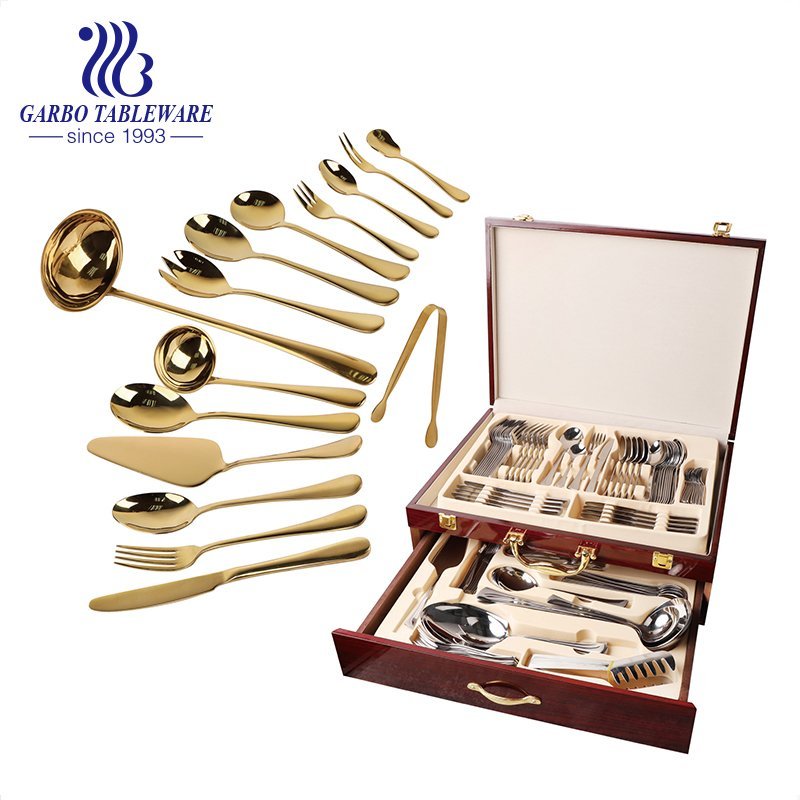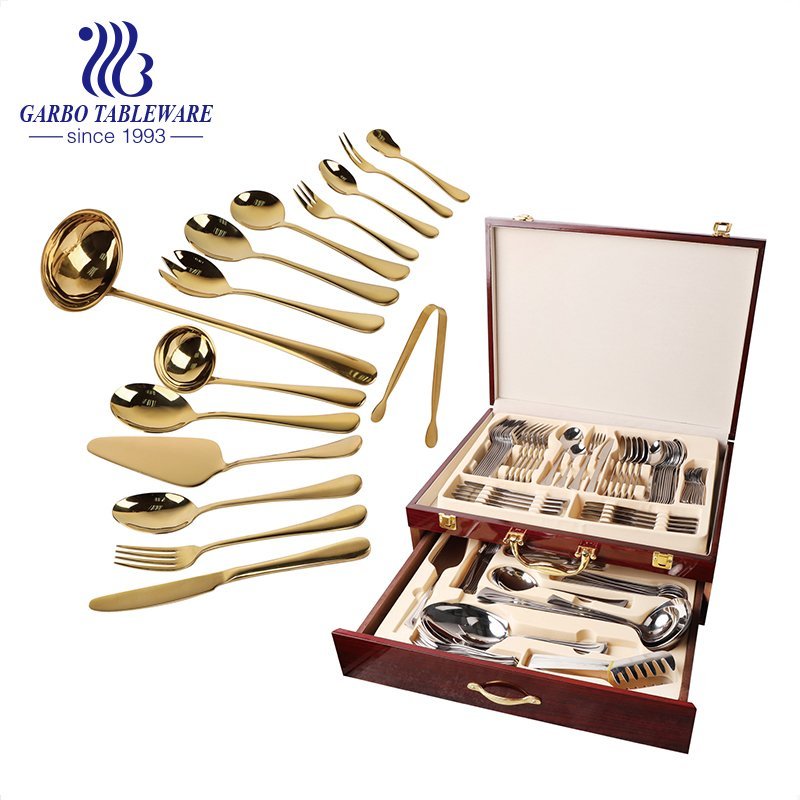 As you see, it is a very large component. There are all kinds of flatware. All products are with full gold plating. Pack with luxury and premium red wood box. Each product has their own separately room and each cutlery fix well. It won't fade out when you open or shake the wood box. Full of The Middle East style, people from Saudi Arabic, the United Arab Emirates and so on like the large cutlery set so much. They like to use this gold large cutlery set as a wedding gift when their daughter got married. Gold cutlery and represent their family situation and status.
2, Item No.: SM200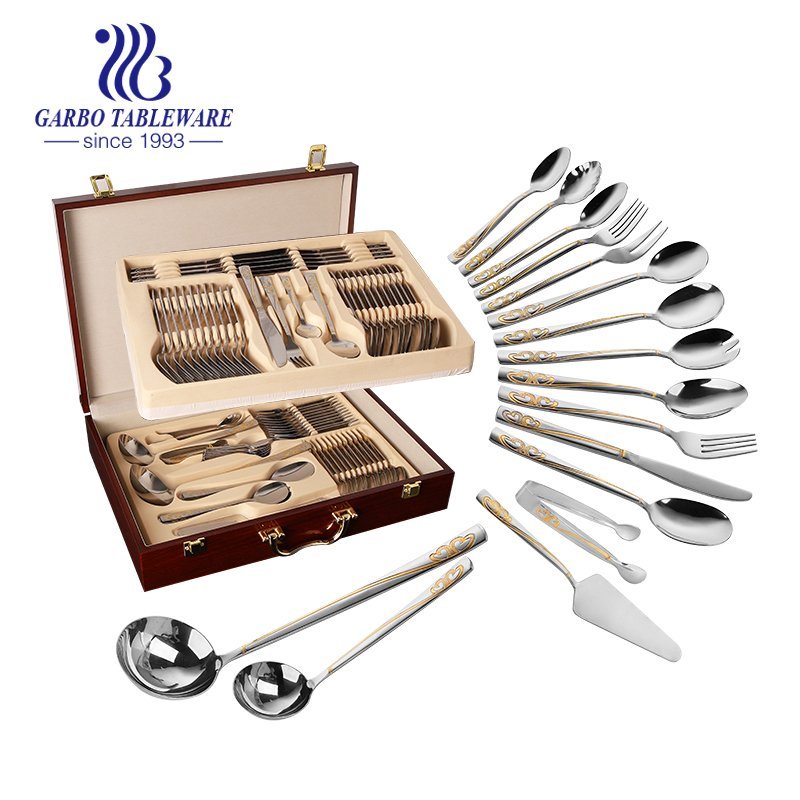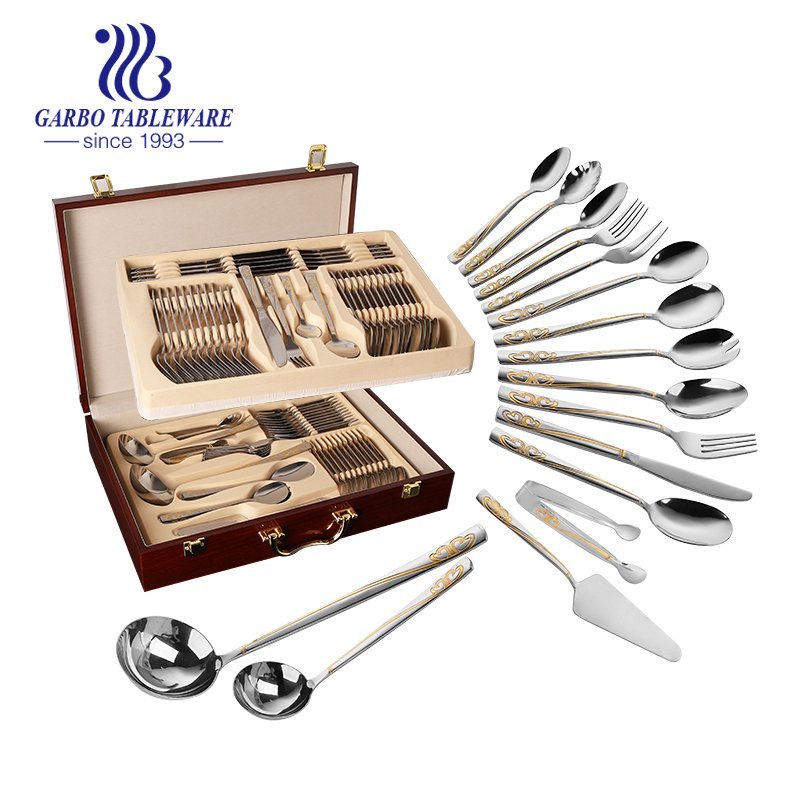 Also is a big cutlery set. Because really a lot of customers sent inquiry of this kind of flatware. We averagely received 5 to 6 inquiry of this set a day. This cutlery set is made of 201 stainless steel material. With mirror polish. There are gold double sweetheart shape engraved on the handle. The component is 84pcs set. One set one wood box. Middle East people like to select 201 material because this material is too shinning after mirror polish finish. Looks almost no flawless. Just like a clean and bright lake.
3, Item No.: SM177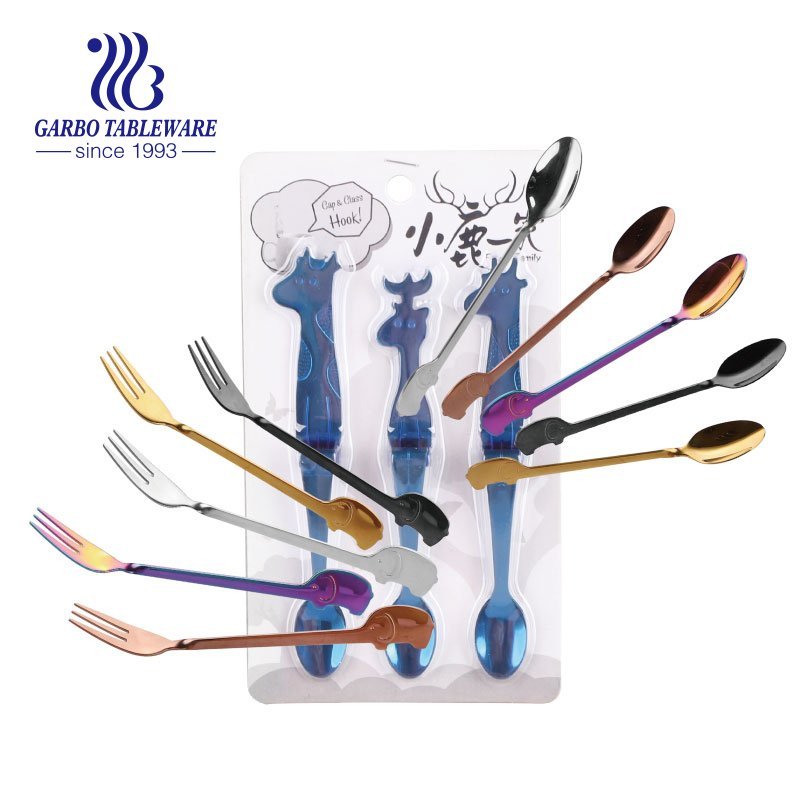 The first thing you see is a lovely set of knifes and forks. Cute small fawn pattern on the end of the handle. All kinds of animal shape is decorated on the handle. Lots of colors: rose gold, gold, rainbow, black and so on. Normal package is color cardboard with pvc cover. Can be use as a children cutlery.
4, Item No.: SM203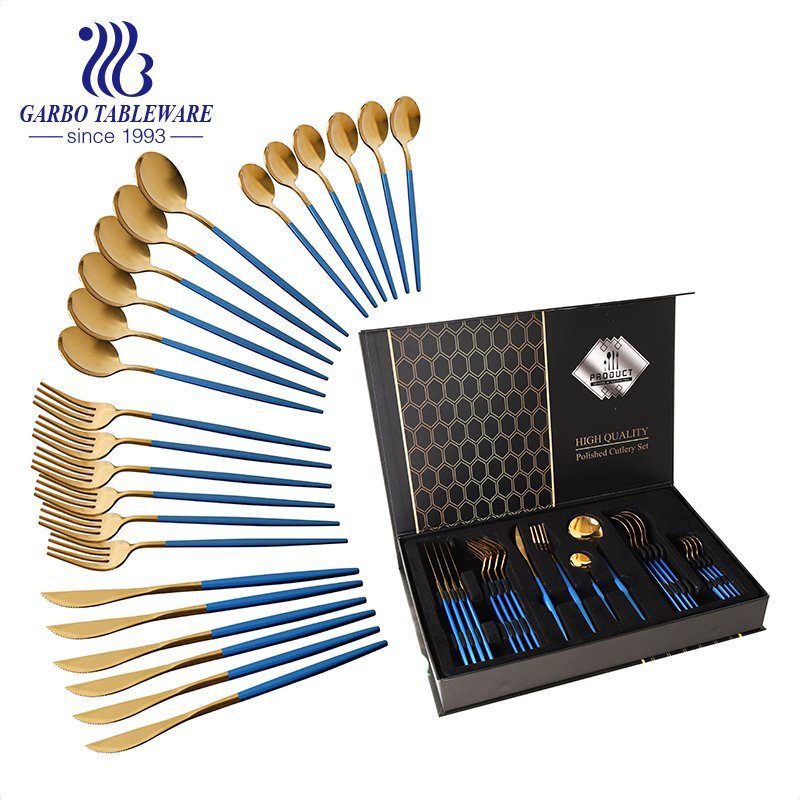 This cutlery is more European and American style. Regular cutlery of 24pcs. Table knife, tablespoon, table fork and teaspoon. Each single item 6pcs. With gold head and blue color paint handle. With gift box pack. Most use 410 and 430 material. Suitable for serving 6 people.
5, Item No.: SM205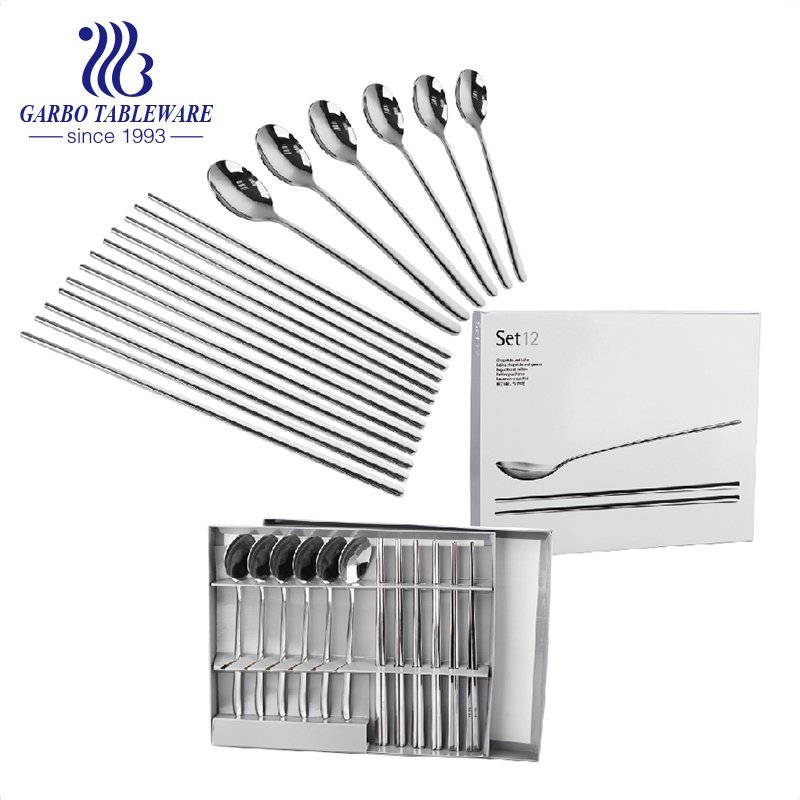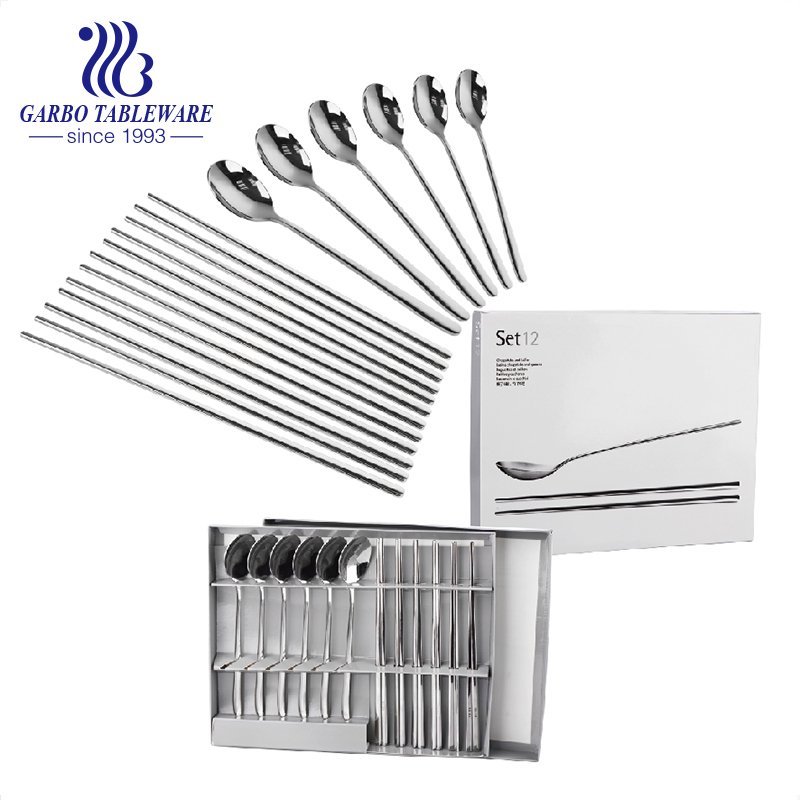 Silver cutlery set of 12pcs. There are only two items. 6pcs dinner spoon and 6 pairs of chopsticks to compose a set. This high-end and simple style. Korean and Japanese prefer this type. That relate to the habit of diet.
6, Item No.: SM208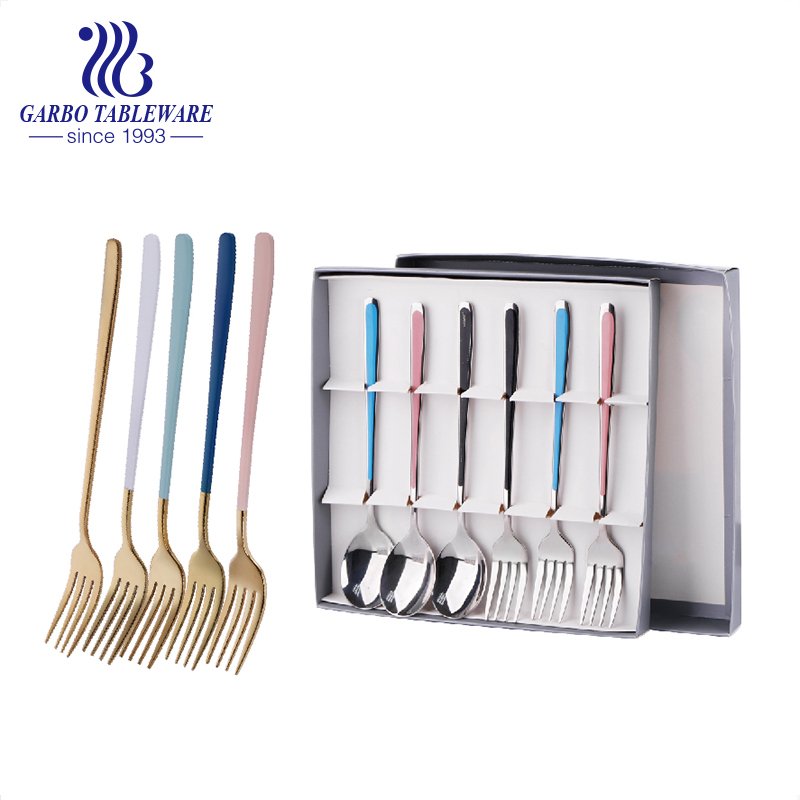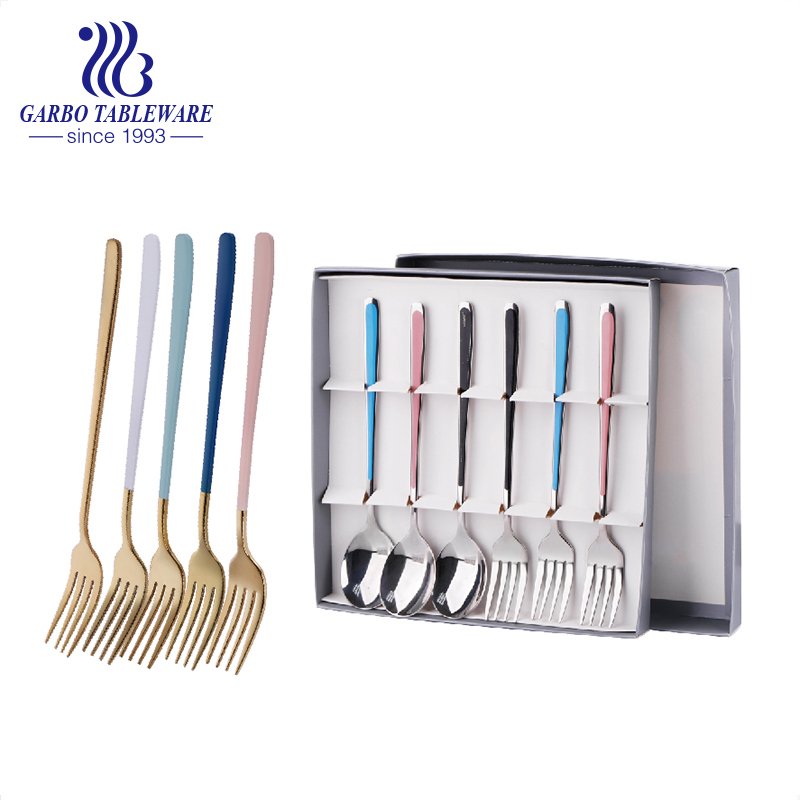 Dinner spoon and dinner fork set. Each item 3pcs in a set. For the head, can keep the original silver color. Also can do gold color to cover. Handle has more option. Can paint sky blue, pink, purple, black. A set inset a universe box. East Asian market like this set more.
7, Item No.: SP027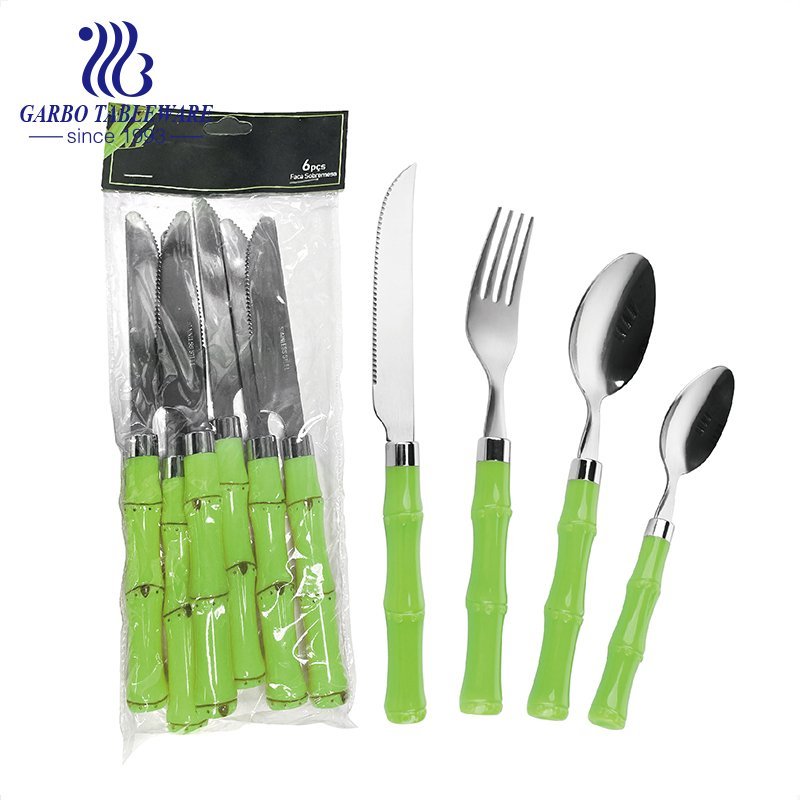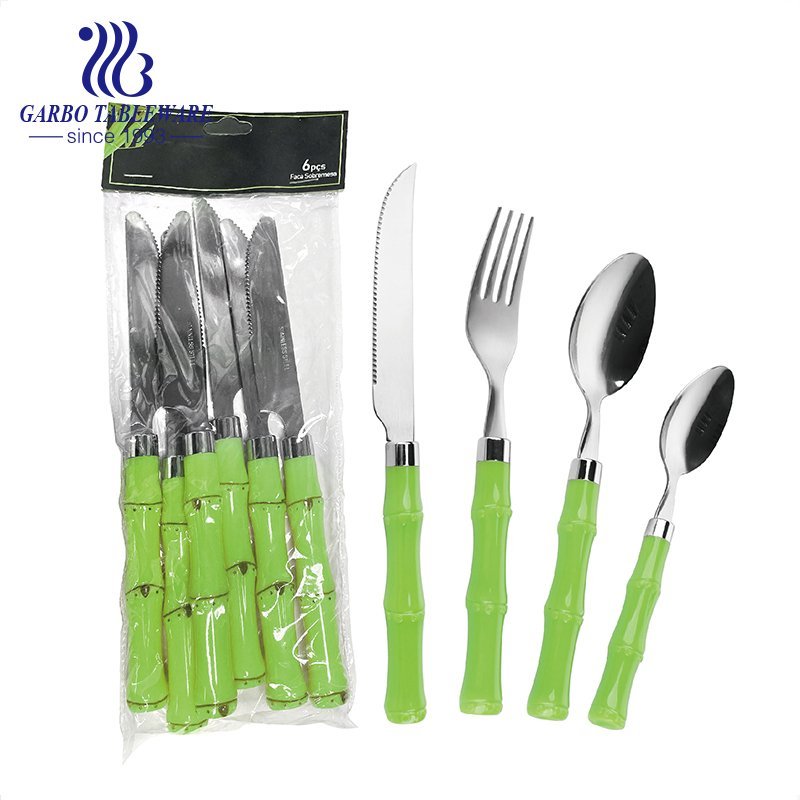 The cutlery with pp handle of bamboo design, super popular at Latin American. We have orders to produce and ship several containers every month. Especially for Brazil people, use 410 material and tumbler polish. Separate package. Each item 3 to 6pcs into a pvc bag with header card. Perfect to hang up and show the cutlery in supermarket shelves.
8, Item No.: SP030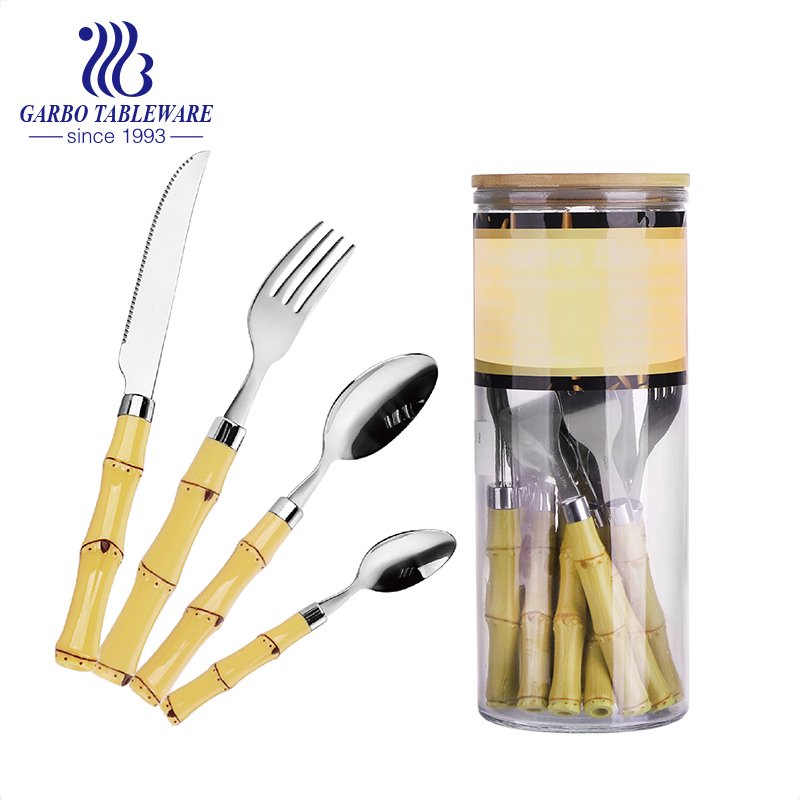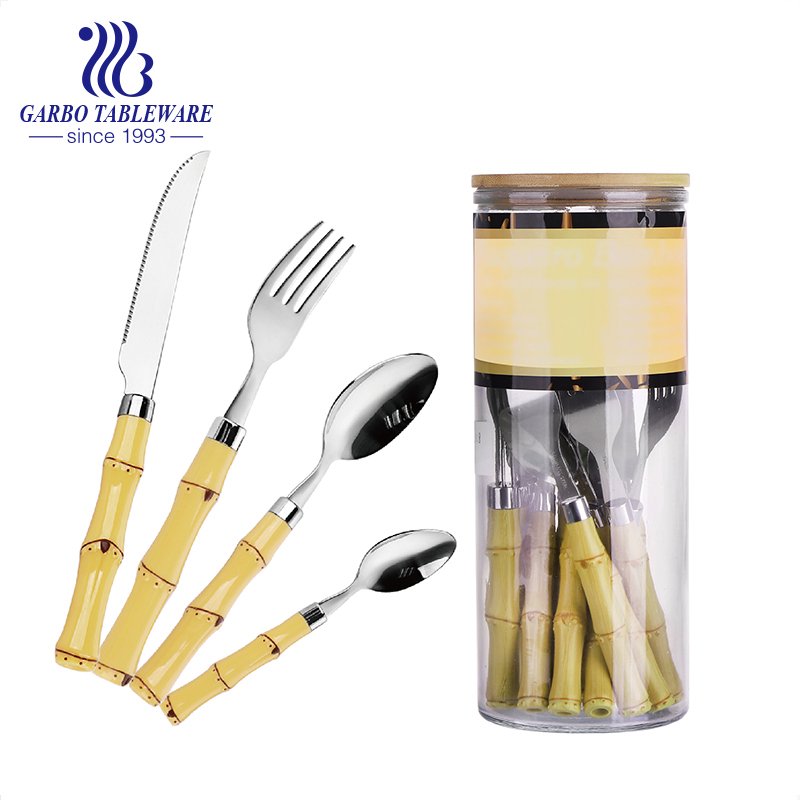 This is another pp handle of bamboo design cutlery set. Just the different color of handle of last set. The bamboo design on the handle is creative. Pack with a transparent plastic bucket. Store the cutlery well and save the storage.
9, Item No.: SM185DK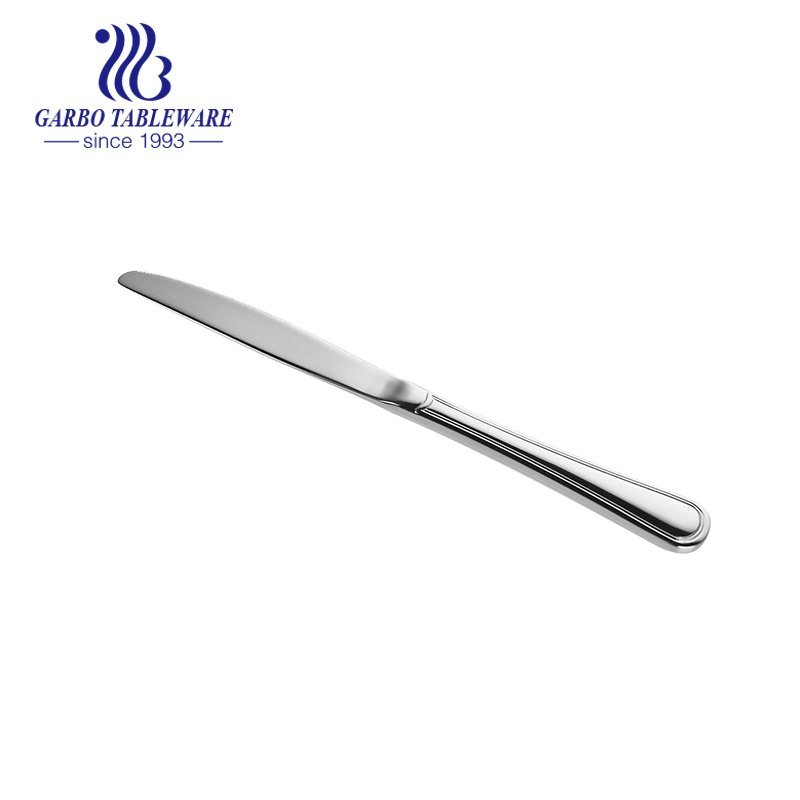 Single dinner with the length of 230mm, thickness of 6mm and weight of 101g. Made of 430 stainless steel material which can pass food grade test and France test standard. Through super high quality mirror polish. With engraved pattern on the handle. From the blade to handle, all are stainless steel material. Simple and generous style is suitable for European and US market.
10, Item No.: SC032DK-10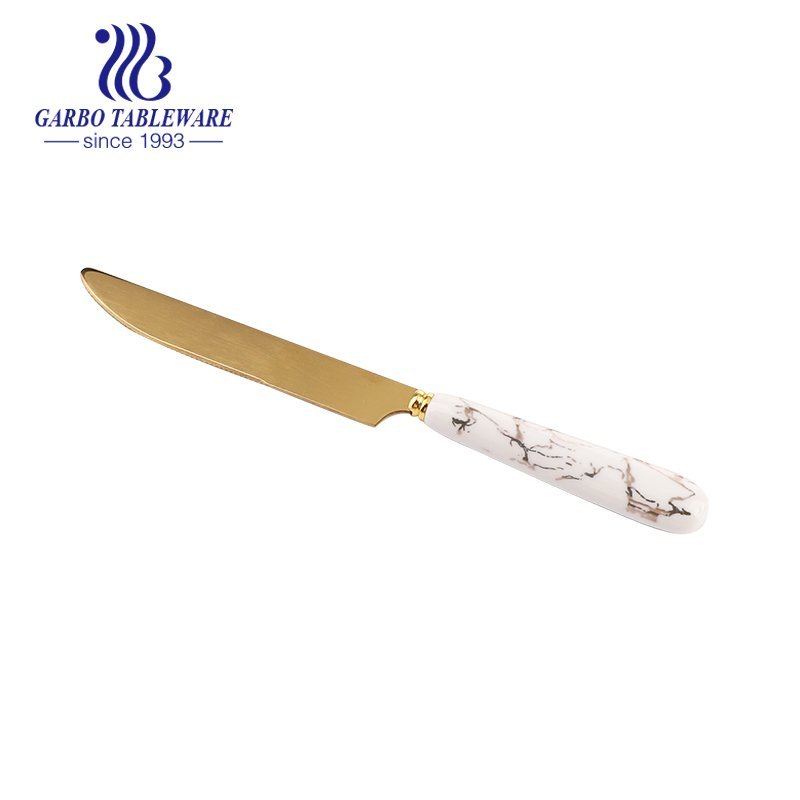 Elegant 410ss dinner knife with ceramic handle. As surface cover by pvd gold. So the polish is hand polish only. The ceramic handle is smooth. Give you relax and smooth feeling. The minimum order qty is 30000pcs each. If you have purchasing qty request, pls contact us for further talk.

Above, just the simple introduction of 10 cutlery. Still have many popular cutlery doesn't be introduced. If you have interest to ask more details, welcome to subscribe us. THX!