Custom 3D lovely cat ceramic drinking mug with porcelain cover and stainless steel spoon
For this ceramic mug,it is creative and fashion design in the market recently.The lovely cat is embedded the outer of the mug is very cute and creative,so this ceramic mug is a wonderful gift for girl friend or female friends.They will fall in love with drinking using such a lovely drinking mug.Color can be custom choice and we make it a single gift box pack that is more attractive and high end.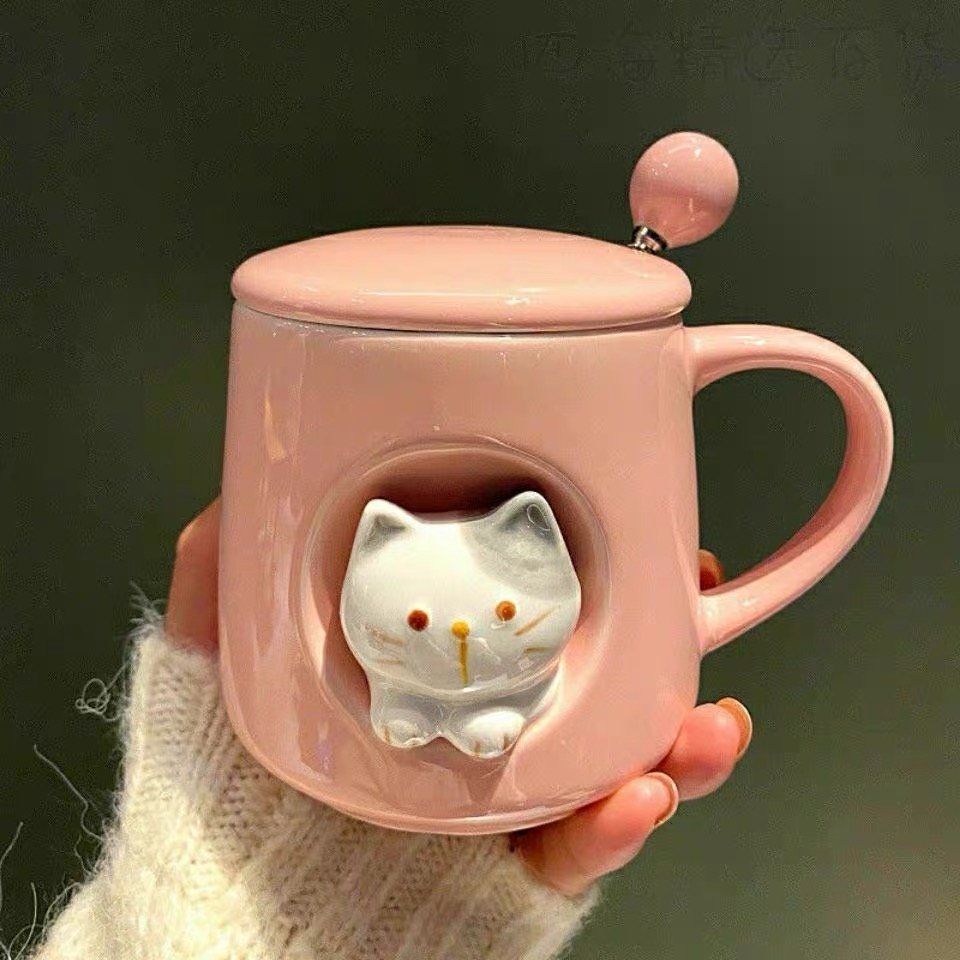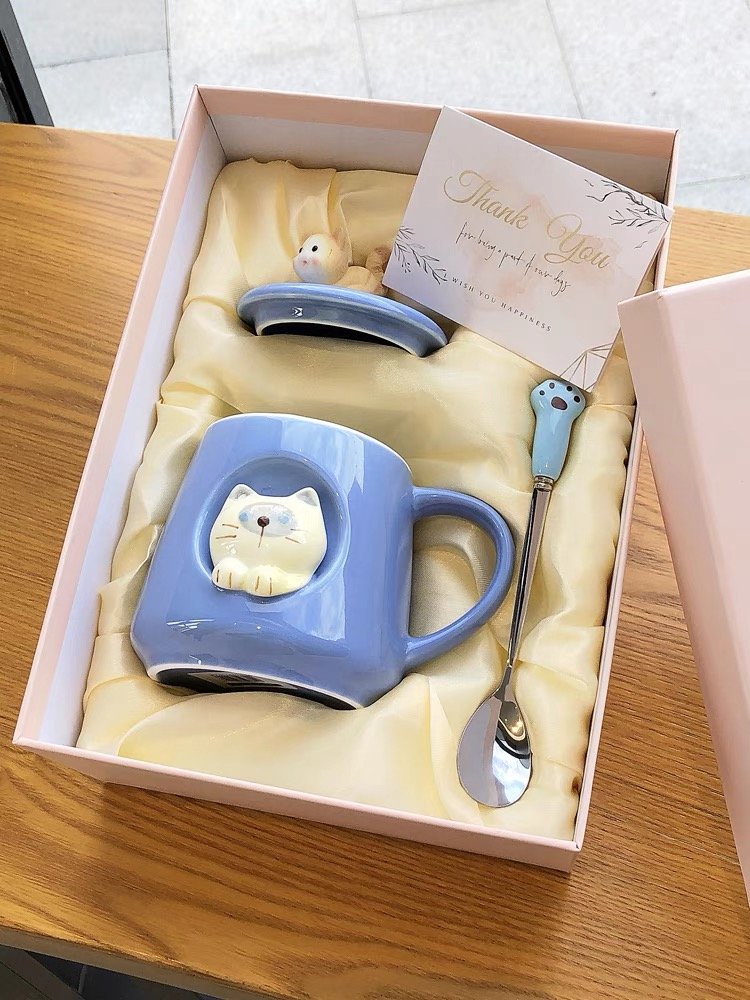 Pink unicorn ceramic coffee mug with cover and stainless steel spoon couple mug set
Do you want present a warm and attractive but practical and functional gift for your girl friend or female friends?So this 3D pink unicorn ceramic mug is the best choice for you.Because it is good looking and you will enjoy using it for your daily drinking time.And it can also be a couple drinking mug,which is romantic and atmospheric.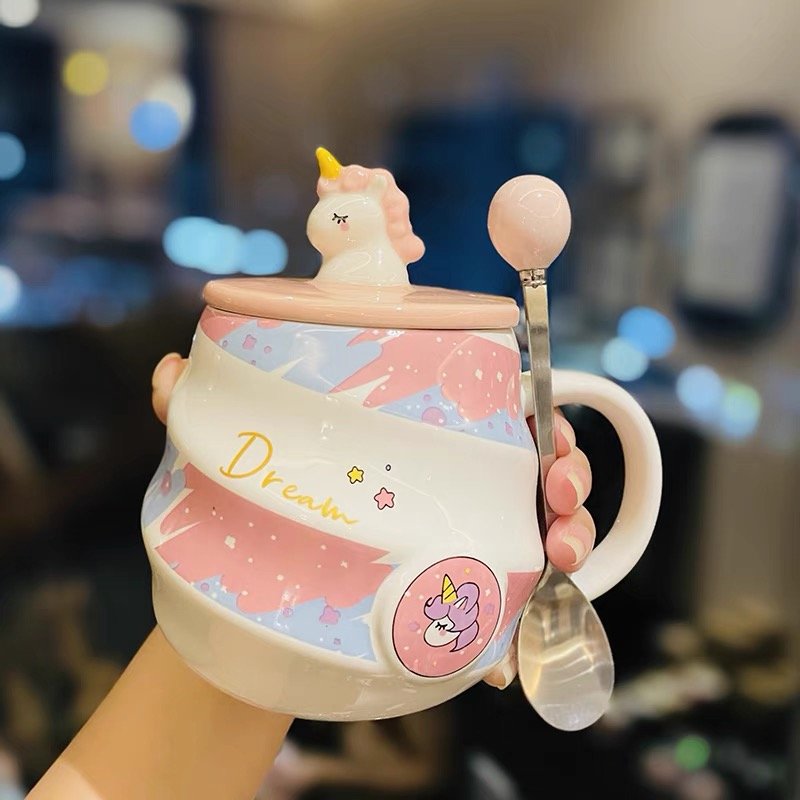 Animal handle design ceramic drinking mug with various models
We have giraffe, gorilla ,elephant, deer ,horse and koala,etc.Custom design handle is available and we can make sample first to you for checking first before your order confirm.So you can check quality and model of the ceramic drinking mug first.As you can see it,they are very creative that can also be used for a pen holder or a decors item on your desk.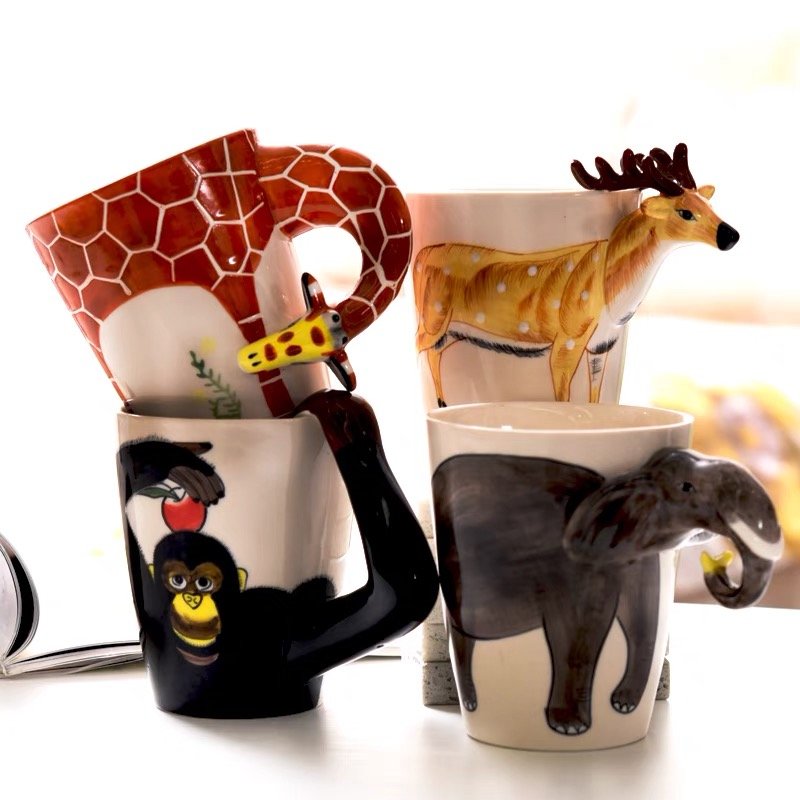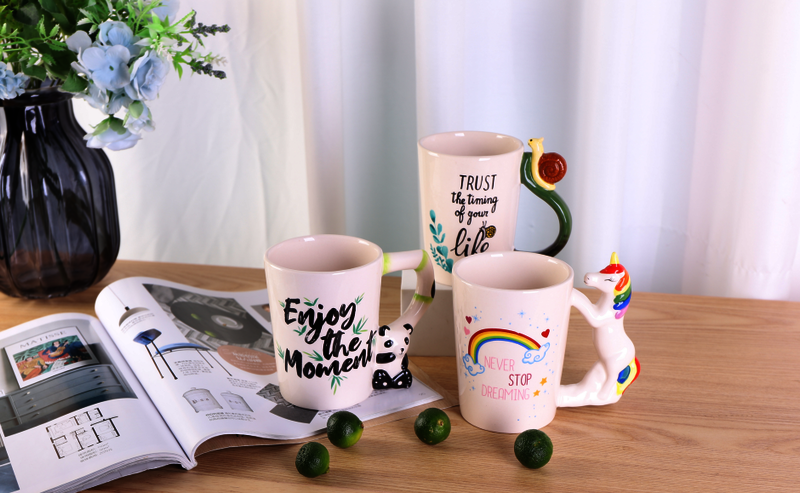 Santa Claus round model ceramic mug for Christmas gift
The whole set is round model with round handle and there is a Santa Claus on the ceramic lid,which is very lovely and creative.And you can open the lid easily with holding the Santa Claus.The lid is almost perfectly integrated with the mug that they will look like as a whole set.The rim of ceramic mug is smooth that you can drink the water or coffee smoothly with a comfortable feeling.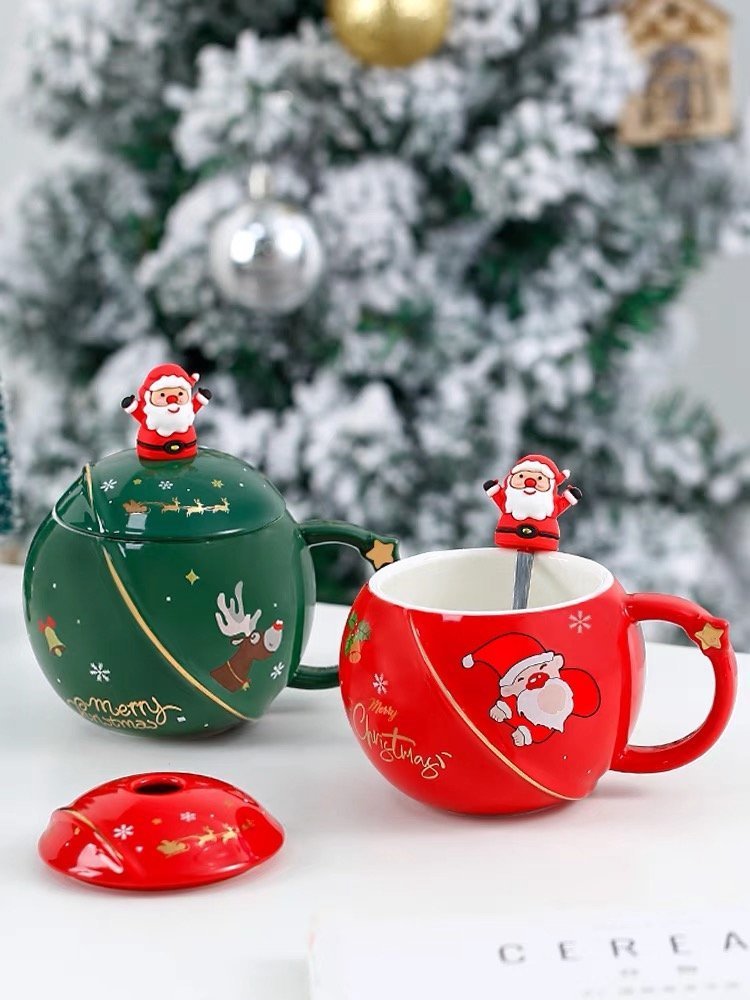 Fresh feeling pink tulip irregular engraved 3D ceramic coffee mug
This style drinking mug is very perfect for using in a coffee shop and you can take some atmospheric and fresh photos.This is a very beautiful drinking mug that everyone wants to have one for coffee drinking.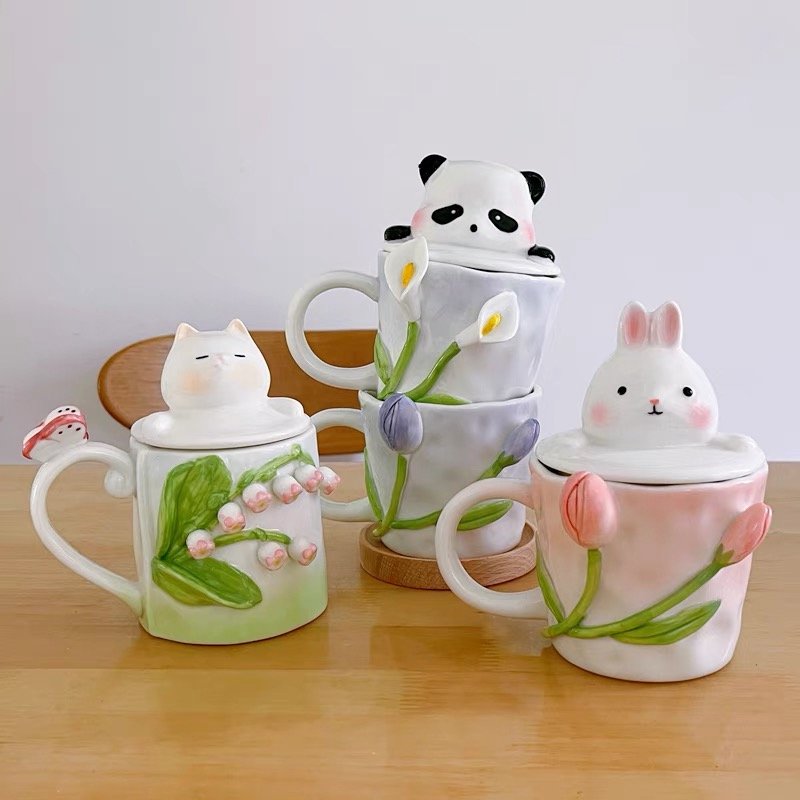 Cartoon dinosaur children water mug with crown lid
Hand painted with 3d design makes the mug much cute and children will love it at at first sight.So it is very perfect for children or people whom is childlike.Children will drink much water with this lovely cartoon dinosaur ceramic mug.The handle is not big and the mug is not heavy that children can hold it easily.So it can be used for drinking by your children without any worries.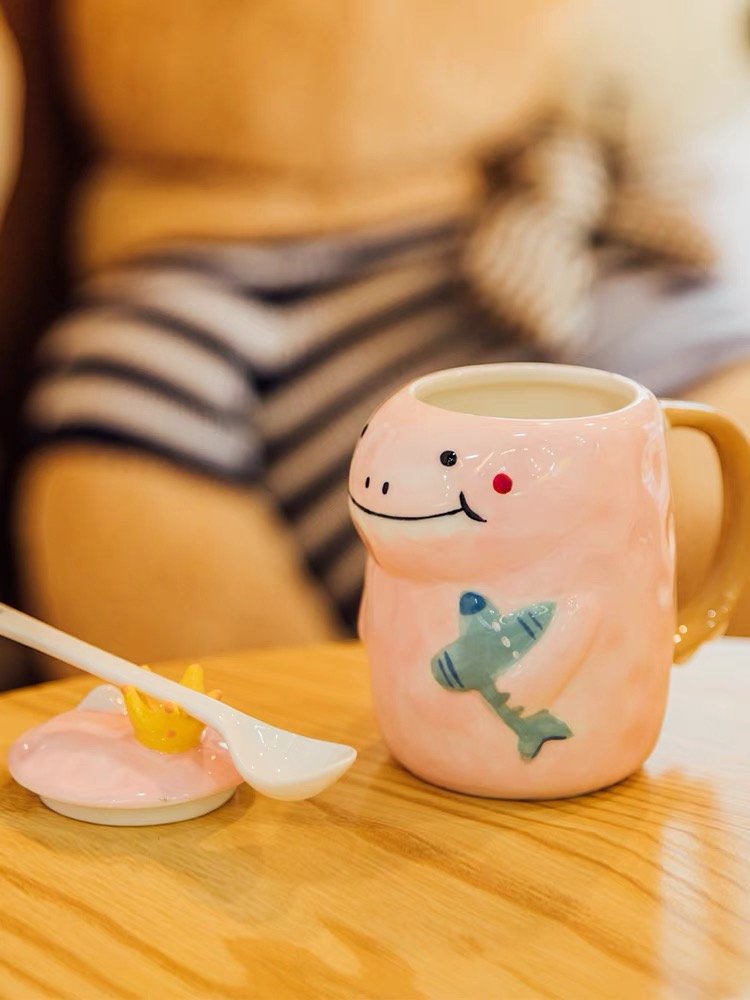 Hello kitty cat pretty children gift mug
If you are a childlike person, then you will definitely like our hello kitty ceramic mug,because it is really cute.I think coffee will be much delicious when you using this lovely ceramic mug.It can be a decorative item on your office table.Custom cute color box pack with cute mug is really a perfect gift for people.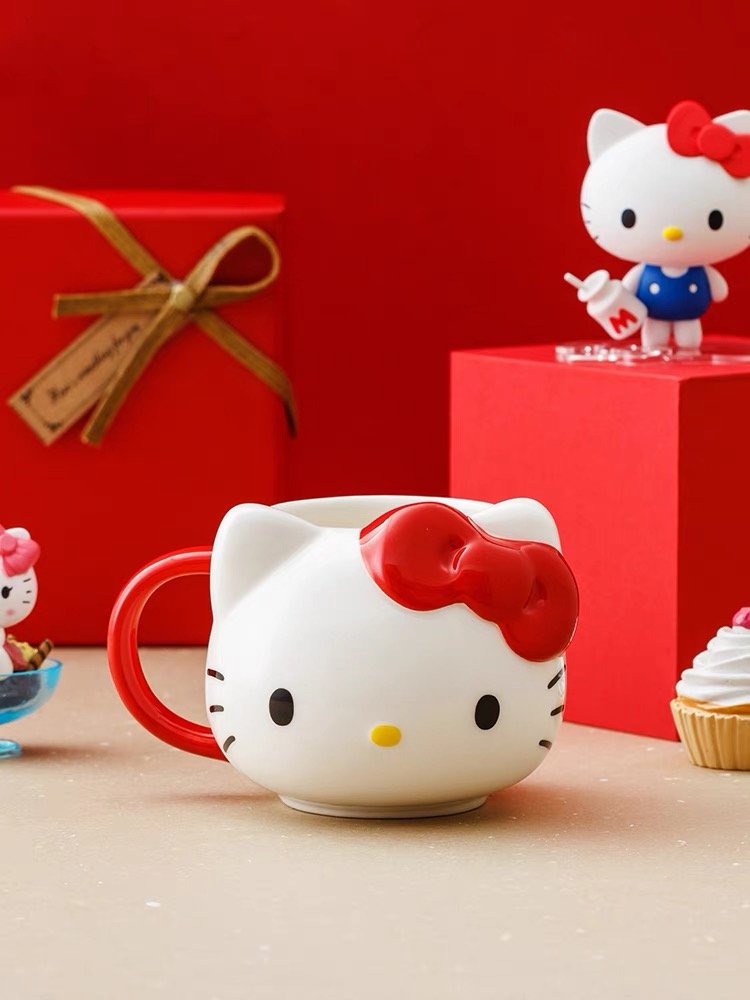 Of course,these are our so small parts of 3D design ceramic mug,and there are so many model samples arrived at our showroom.Please contact us immediately to send sample to you for quality checking.They are very hot sale in Europe market recently and MOQ for them is lower than regular ceramic mug,so it is a good choice for retailed gift shops.