Garbo tableware is aimed to offer our clients various household tableware, including soda-lime glass, opal glass, ceramic, and also today our topic plastic tableware, including dinner bowls, plates, mugs, and platters, serving dishes, etc.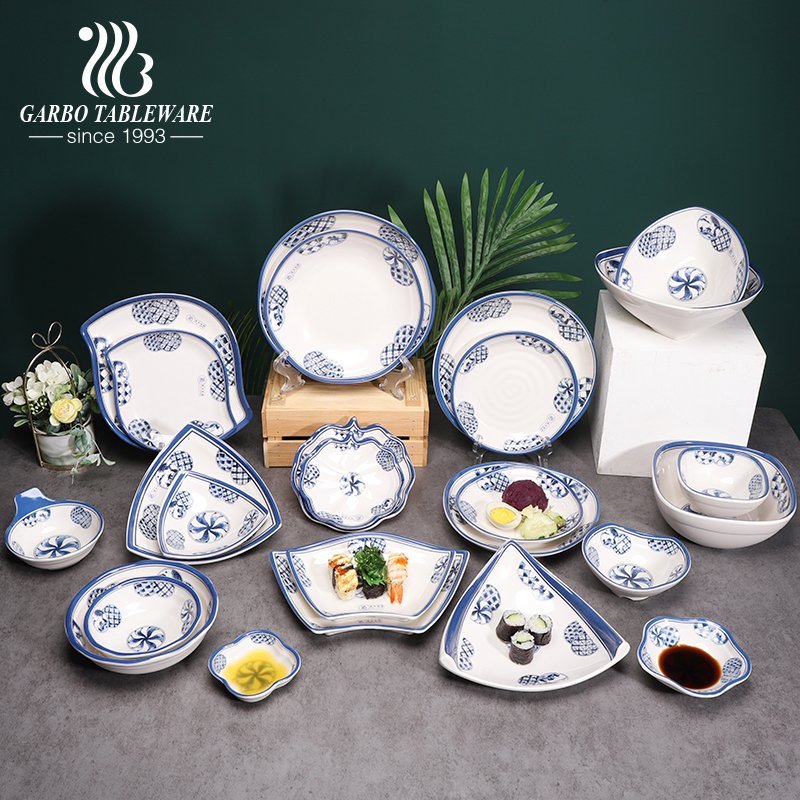 To offer more choice to our clients, recently we launched 3 different series of plastic tableware, the whole melamine dinner set for home daily using.
As we all know, for plastic tableware, the best advantage is broken resistance. And with the progress of production technology, nowadays plastic tableware is much safer than previous, food-grade safe and also with beautiful appearance, make your baby and child be more interested in eating.
Plain pure blue colored melamine dinner series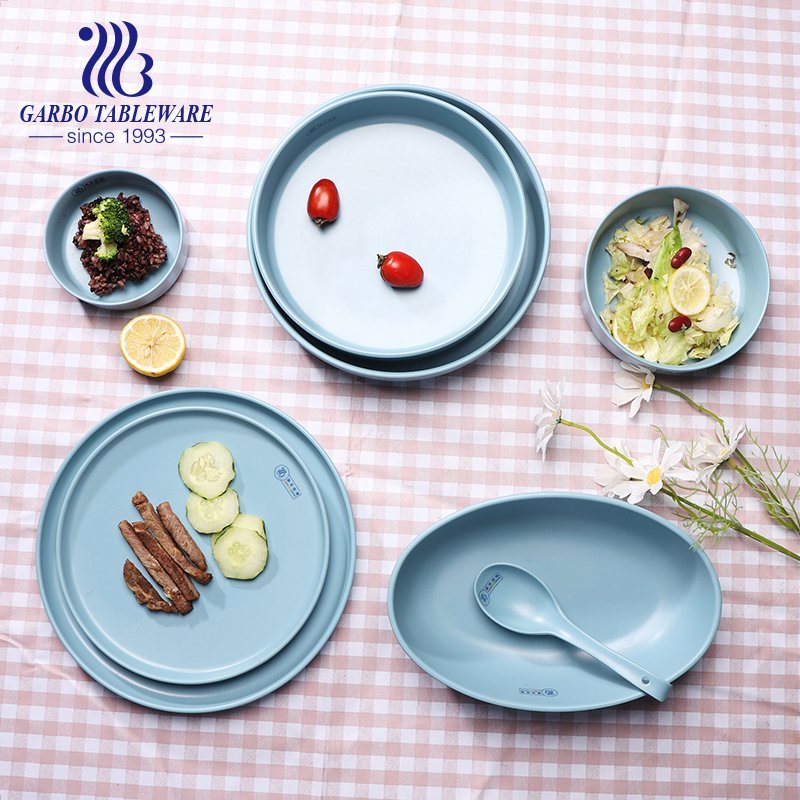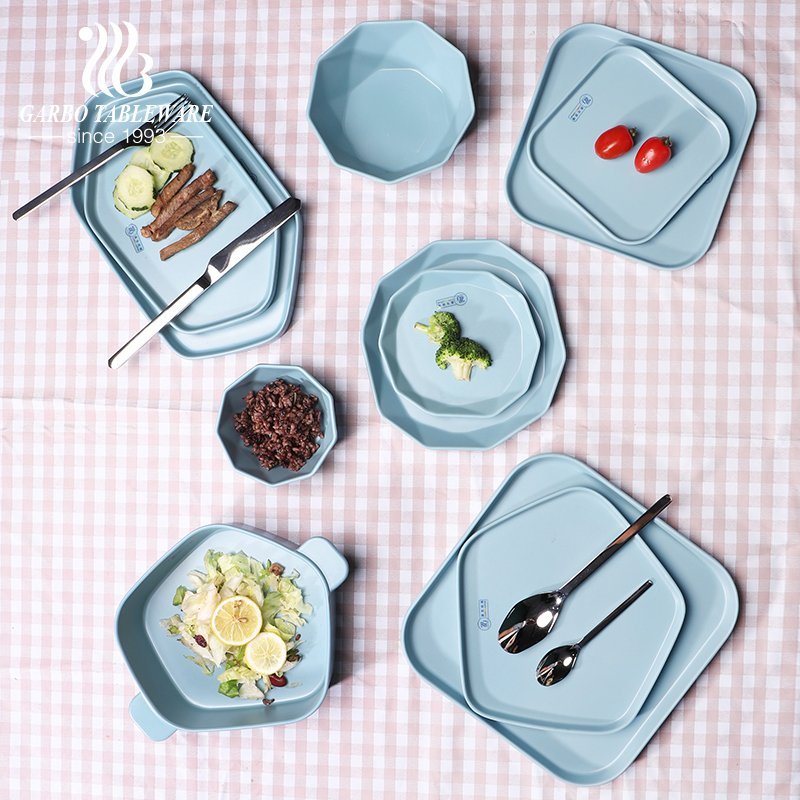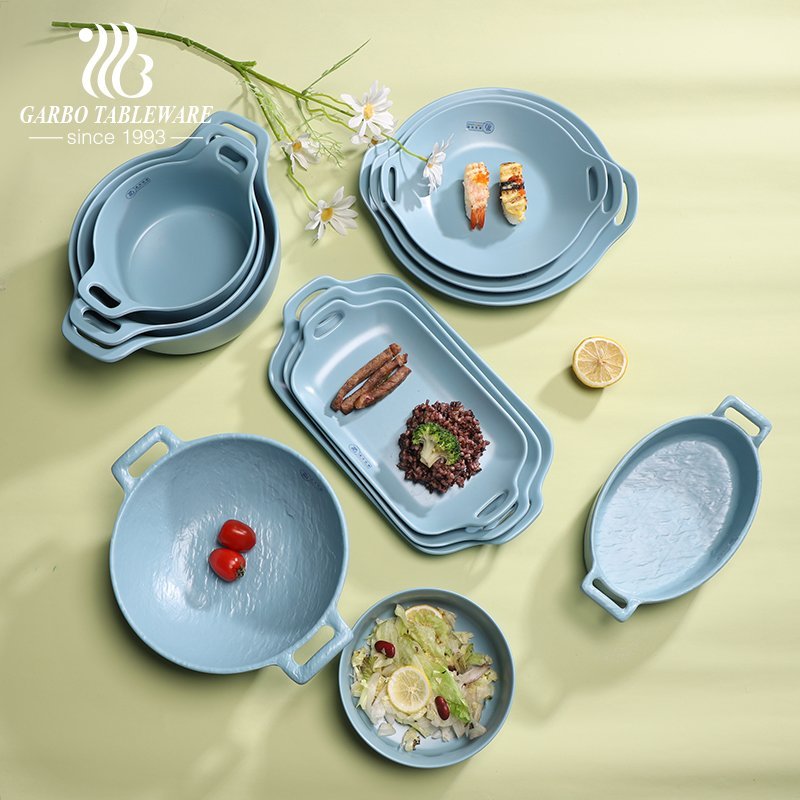 Made of high-quality imitative-ceramic material, which is melamine material. it is a kind of tableware similar to porcelain tableware but made of resin as raw materials, solid than porcelain, not easy to break, and bright color, strong finish, very popular among children.
All showed melamine dinnerware is produced with the state prescribes technological standards, high temperature and humidity resistance, solvent resistance, and alkali resistance. The client should buy melamine tableware which of high quality and produce with the standard process.
White melamine dinnerware with pattern decal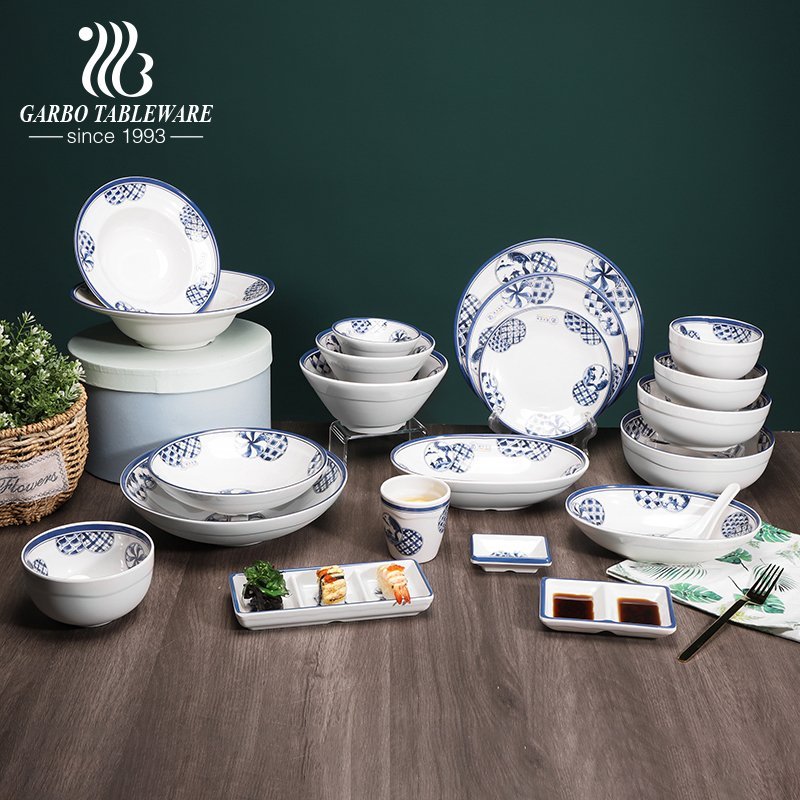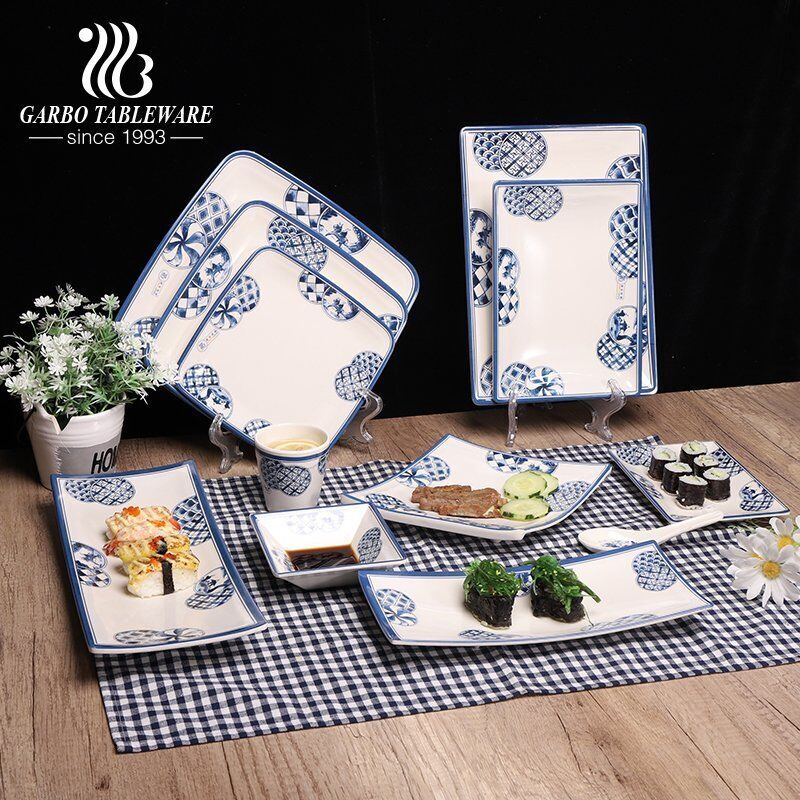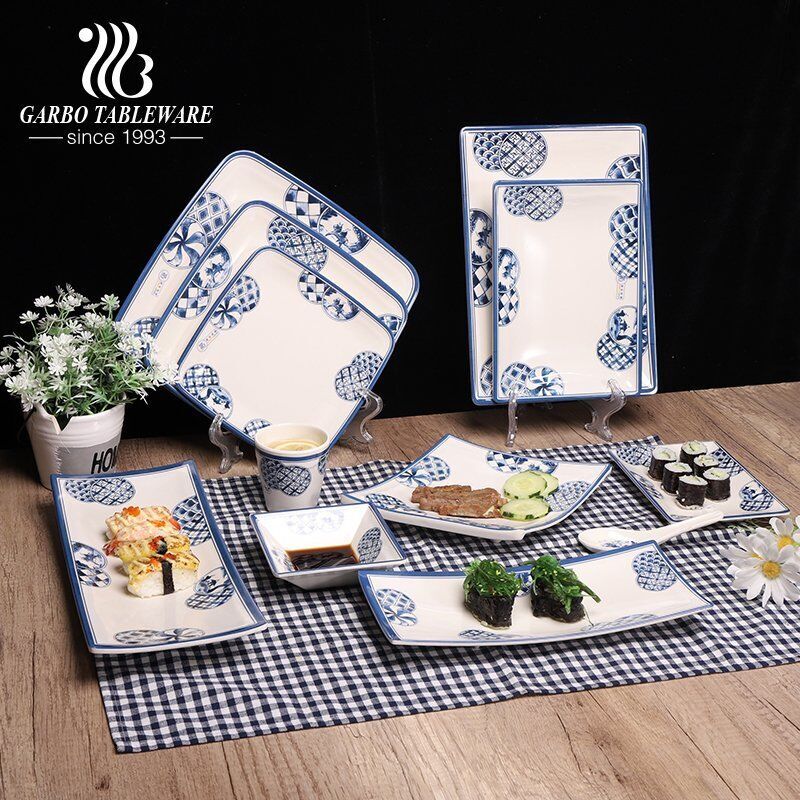 When you touch our melamine tableware, you will feel it just like the porcelain tableware, the same smooth and glossy surface, but in lightweight. But what is different with porcelain is, melamine tableware can not be used in the microwave, traditional ovens, otherwise, it could leak highly toxic melamine, and it can cause serious health problems if melamine is found in food at levels higher than the FDA's warning level. And when using, also do not scratch melamine tableware with metal cutlery and kitchen utensils; do not wash melamine tableware with chlorine bleach.  Some melamine tableware may contain BPA, but the standard melamine tableware is BPA-free.
melamine dinnerware with full flower decal.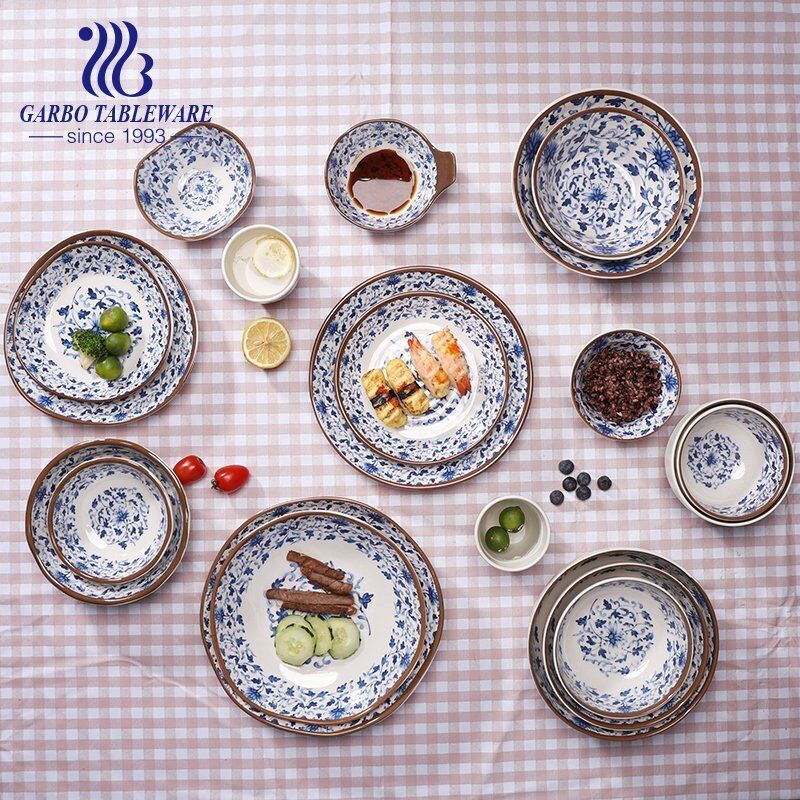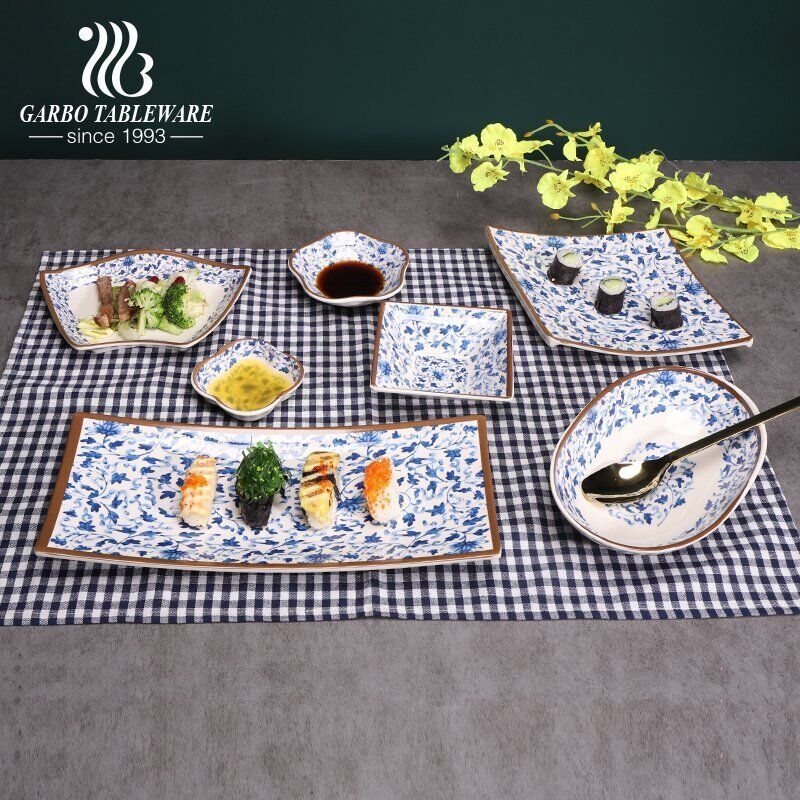 Melamine tableware is light, colorful, fireproof, not afraid of falling like plastic, but more resistant to scratch than ordinary plastic (not easy to scratch), good temperature performance.
In an experiment conducted by the US FDA, detectable melamine leaks occurred only when highly acidic foods (such as fruit juices) were left in melamine cutlery at high temperatures (70 degrees Celsius) for more than two hours, and the levels were 250 times lower than the FDA's warning level. We can think that in standard daily use, melamine tableware is relatively safe.
And as our pictures showed, we can also do post-processing on melamine tableware, such as the decal. If you want to make something special, just do your decal design on the product surface, and put your logo on it.