Valentine's Day is coming. Love is in the air this February and you should spend some time to figure out what kinds of gifts you want to prepare for your loved. Normally you will treat your valentine with flowers or gifts like jewelry, chocolate, and so on. How about checkout Garbo's dinnerware and glassware to make a special gift this year? We provide the most suitable and creative dinnerware in 2023 for Valentine's Day. There are some options you will be surprised. Let's see what we have for you.
Number 1 Heart shaped stoneware dinner set
Material: PREMIUM QUALITY food safe stoneware, dishwasher and microwave safe
Product type: dinner bowl, dinner plate, snack plate, dessert dish
Color: red, pink, grey, white, black
Packing: nice gift box with your slogan
Size: From 5inch to 10inch
These excellent heart dinnerware set are multipurpose and perfect for your table setting during dinner time with a great feeling, serving lots of food like meat, fruit, condiments, candy, nuts, sweets and other snacks.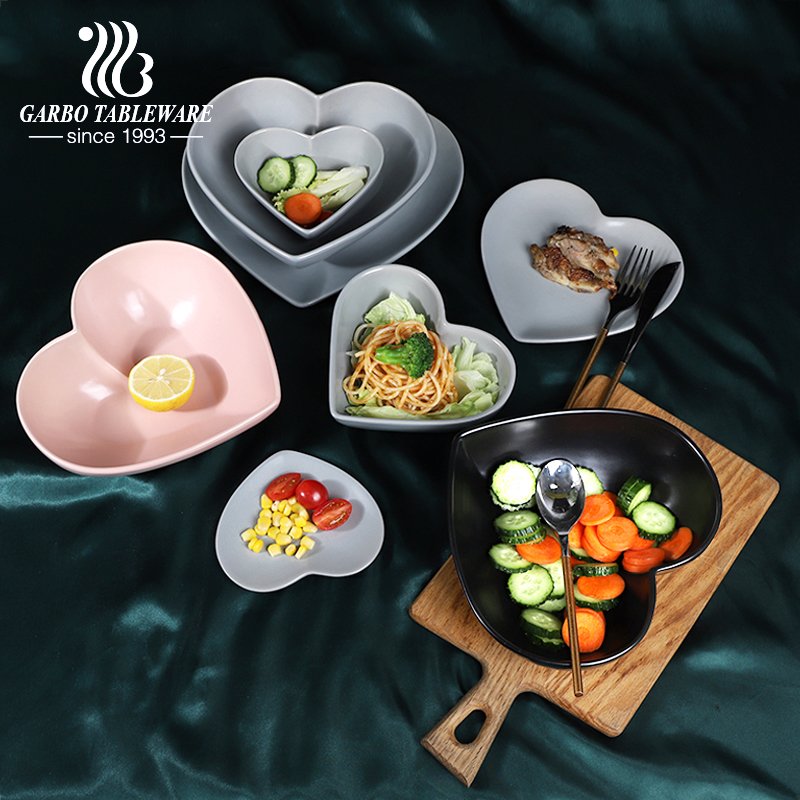 Number 2 Heart opal glass collection
Material: heat resistant opal glass
Product type: strong opal glassware
Color: white
Packing: nice gift box with your slogan
Items: dinner plate, dinner bowl, snack dish, tea cup and saucer, mixing bowl
Size: various sizes
The collection will add romance for your table when all dinnerware in same heart shape in elegant white color. It is more like a stylish décor to table especially when you use for Valentine's Day.
Number 3 Heart shaped glassware
Material: food grade sodalime glass
Design: heart-shaped with luxury gold rim and romantic pink colo
Items: hiball glass and glass bowls
Hiball glass tumblers can use for water, whisky or other drinks and bowls for dessert, salad, noodles, soup, fruit, cereal, ice cream sundae, snacks and more.
This glassware collection is with timeless and romantic looking. To make your table with delicate and elegant feeling. It will be an enjoyable time with your loved to use such adorable glassware.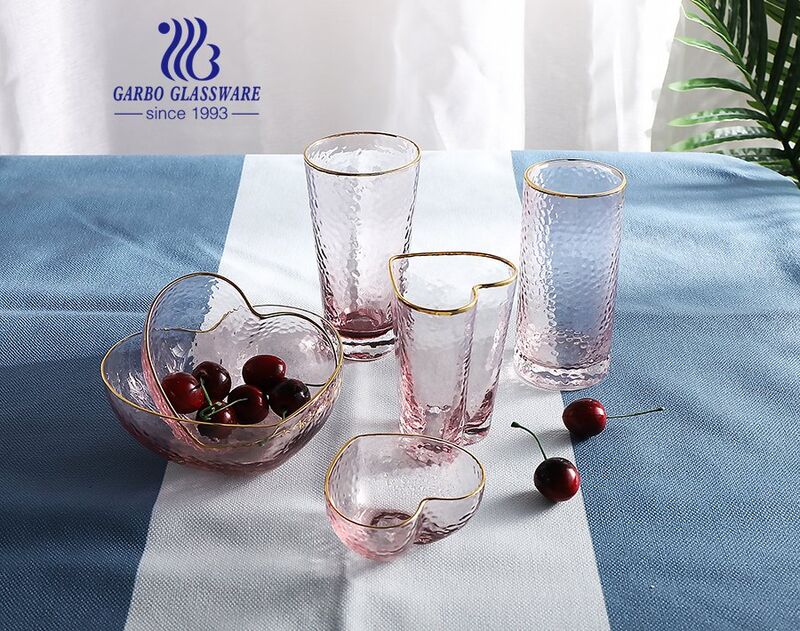 Number 4 Heart shaped glass serving plates
Material: glass
Design: heart shape with gold band
Size: 5 inch, 7 inch and 9 inch
Color: jade green
Usage: Suitable for displaying fruits, dried fruits, snacks, candies, chocolates, desserts, biscuits and more.
Our glass serving plates with heart shape is beautiful and generous. Buy them to add a warm atmosphere for your home table. They are absolutely a great gift for Valentine's Day.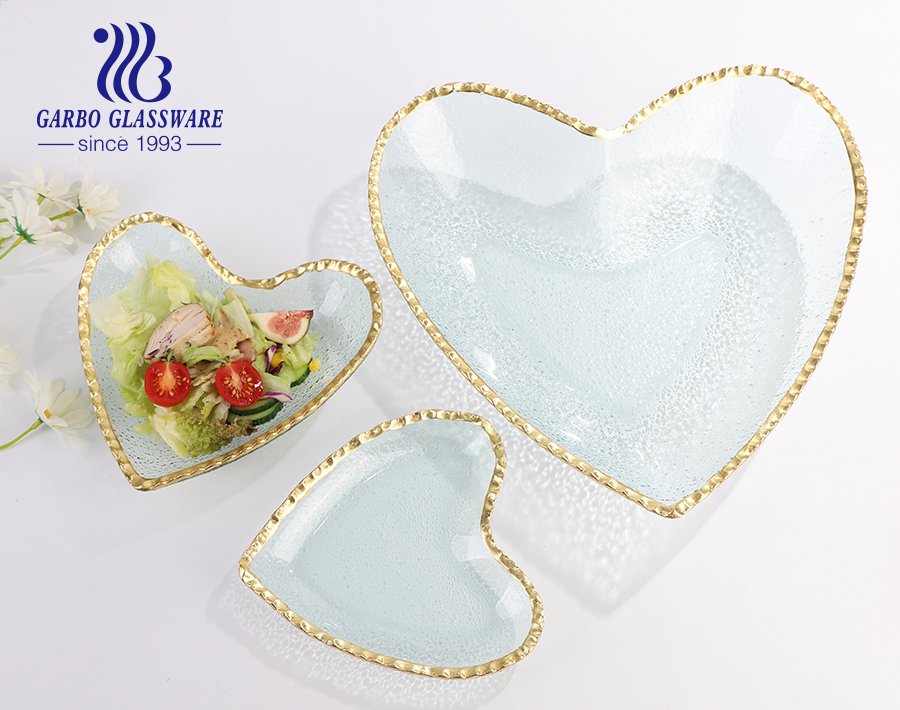 Number 5 12pcs new combined dinnerware set
Material: glass, opal glass and stainless steel, food safe and dishwasher safe
Product: glass tumbler, opal glass bowl and stainless steel dinner fork
Design: elegant heart shaped for all products
This combined set is perfect for Valentines' Day. It spells love all over and also a great decoration on your table. You will have all need for your dinner table setting at the same time when you buy a combined set.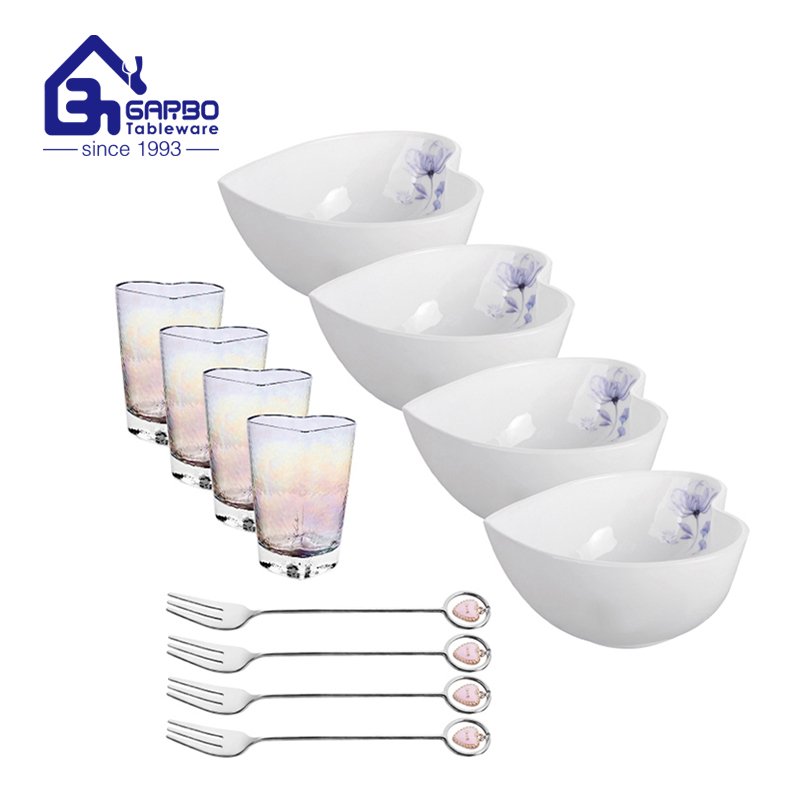 Come and give our heart shaped dinnerware collection a try. We Garbo will assure you that you're going to love these products and use them not only for your table but also a great gift for your Valentine's Day.