India's love for food and elaborate dining is not unknown to the world. Indians are typically fond of their gastronomic delights, and the history and culture of varied cuisines make the country unique. Dining together and making the guests dine elaborately has always been a part of Indian customs. Such arrangements definitely call for the need to have excellent dinnerware in each home. Even the best-cooked food needs proper serving to enrich the dining experience. Indians being so proud of their hospitality generally love shopping exquisite ceramic dinnerware for impressive dinners for their friends, families, and guests.
India Imports Dinnerware From China
Undoubtedly, the biggest exporter of dinnerware to India is China. The high demand for ceramic dinner sets and glassware in India makes the country import the best quality products from China. Glassware, ceramics, porcelain, and bone china are best made in China, making the country the biggest exporter of these items. Glassware and ceramic dinnerware made in China are of premium quality and design, keeping up with the latest trends in production techniques.
Chinese dinnerware boasts fine craftsmanship and intricate designs that also suit Indian taste and aesthetics. Indians have always preferred Chinese crafts and their mastery in producing the most beautiful and aesthetically pleasing range of products.
India has been exporting ceramic tea and coffee sets, dinner sets, and finely detailed glassware for decades. The intricacy of Chinese designs matches the Indian tastes and preferences perfectly, being the primary reason why the demand in India for Chinese dinnerware never slackens.
Moreover, Indians prefer Chinese ceramics because of the premium quality. With their delicate appearance, smooth texture, and chip resistance, the lightweight plates, and bowls are ever high in demand.
Garbo Tableware Is The Biggest Exporter Of The Best Ceramics
Garbo Tableware is the biggest producer, seller, and exporter of the best ceramics in China. The premium range of dinnerware manufactured by Garbo has a flourishing market in China as well as the entire world. India is one of the biggest importers of ceramic dinnerware from Garbo Tableware.
Garbo has always maintained the highest standards of production, keeping a strict eye on quality and craftsmanship. Since Garbo Tableware has to face an endless surge of demands from countries like India, it has the biggest warehouse in China to maintain steady sales and keep products available for shipping without delay.
Over the last 25 years, Garbo has built a reputation in the tableware industry with its latest designs, inventions, and technology. A significant part of the sales go to India every year, the country being its loyal importer.
Why Are Garbo's Dinnerware So Popular In India?
Looking at the impressionable catalog of dinnerware by Garbo Tableware, it's not a mystery why they are so popular in India. Indians prefer both subtlety and intricacy in designs when it comes to dinnerware. You can find both the opulence of gold-toned elaborate designs on dinnerware and subtle shades and sophisticated, modern floral patterns in Indian cultures. Garbo has a balanced collection suiting all such popular trends and tastes.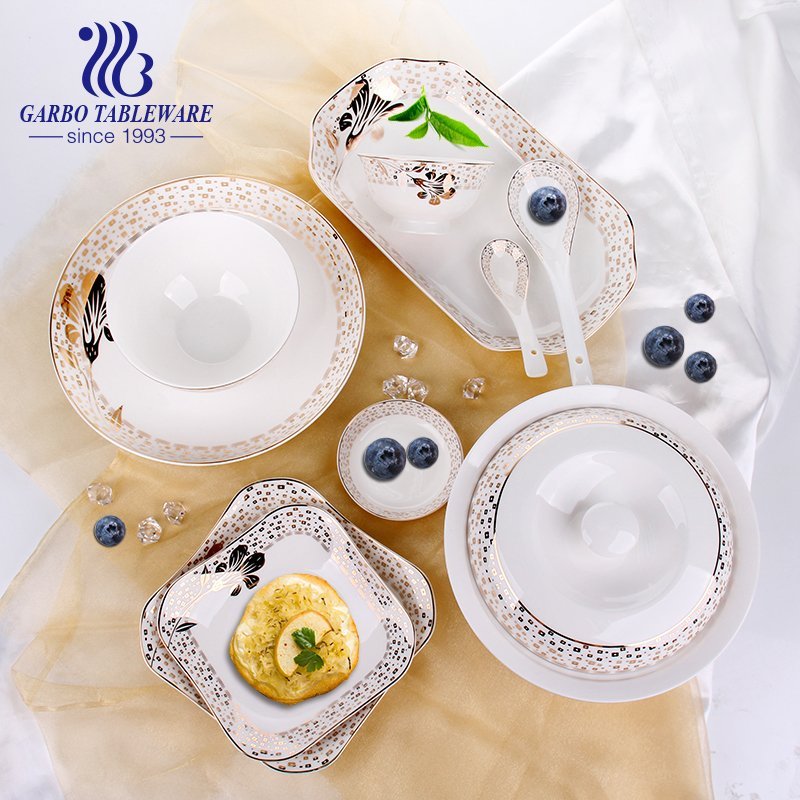 The classic white ceramic dinner set with gold-toned edges speaks sophistication. It's perfectly suited to Indian dining scene with its classy appearance. The rounded edges of the square trays and dishes offer a unique look to the 50-piece dinner set.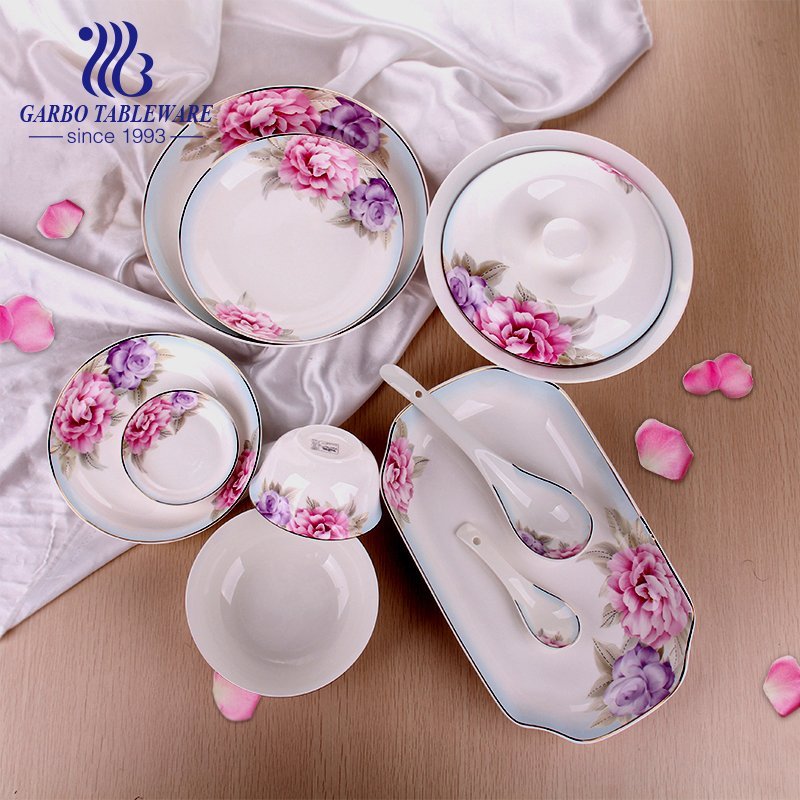 Exquisite is the word for ceramic dinner sets as breathtaking as this from Garbo. Made of A/B grade ceramic, the 50 pieces dinner set in pristine white with pink and lavender floral imprints is one of the most impressive ones in stock. Floral design dinner sets are classy and never go out of fashion. Such spectacular sets perfectly match Indian styles and sensibility. Undoubtedly, it is one of the best-selling items from Garbo.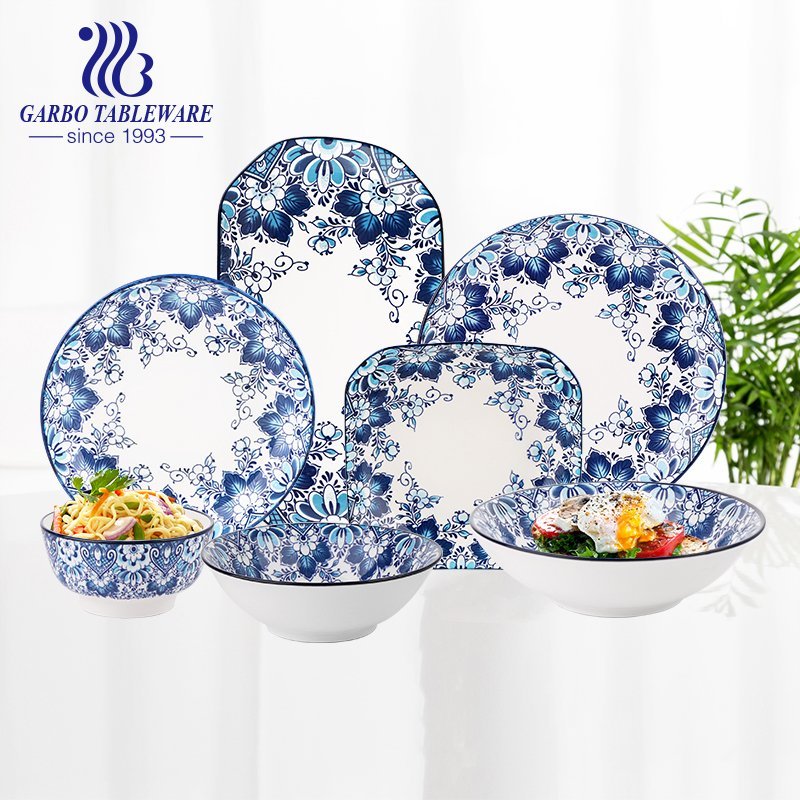 If the occasion is a grand dinner, nothing should suit better than this intricately designed ceramic dinnerware in a classic blue and white combination. The elaborate floral patterns printed wonderfully in blue offer a vintage glamor to this exquisite dinner set. Going by Indian tastes and love for grandeur, it's a match made in heaven. The royal set is definitely a best seller.
Conclusion
China has always been the best manufacturer of ceramic items, and brands like Garbo Tableware help maintain the exceptional standards of production. In countries like India, where the demands for elaborate dining experience always remain high, Garbo Tableware regularly exports the most exquisite ceramics in its collection. Garbo has the ideal answer to match high standards of Indian culture and aesthetics with its fine, sophisticated and unparalleled designs of ceramics. The look and feel of such premium products best complements the grandeur of Indian culinary experiences.