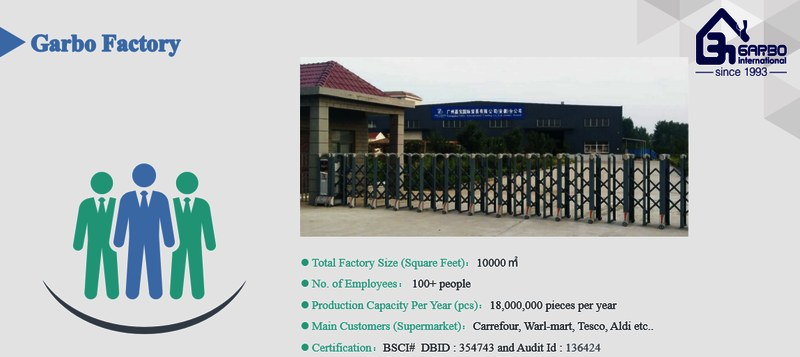 Opal glass, also known as milk glass, is a type of translucent or opaque glass that is typically white or cream-colored. It has been used for centuries in various applications, including in the manufacturing of household items such as plates, bowls, cups, tea pots and spoons. One of the leading manufacturers of opal glass in the world is China.
The Chinese opal glass factories are located from North China and South China with loading port vary from Wuhan, Lianyungang, Nanjing and Shenzhen. The factories are always with big workshops and warehouse because the machines are big and products ability is strong. One of the notable opal glass suppliers in China is Garbo Opal Glass, located in the city of Jiangsu Province. The factory was established in 1987 and has since become one of the largest opal glass manufacturers in China, producing a wide range of opal glass products for both domestic and international markets. Dedicated to providing customers with the best products experience, Garbo opal tableware has been committed to the development, production, marketing and brand management on all daily used dinnerware.
The production process of opal glass is complex and involves several steps. The raw materials used in the manufacturing process include silica, sodium carbonate, and limestone. These materials are mixed together in a furnace and melted at high temperatures. Once the mixture is melted, it is cooled and then poured into molds. The molds are then heated in a kiln, which causes the glass to become opaque and white in color. Our production team focuses on high-quality process forging. Strict quality inspection procedures and high quality services make us popular with customers.
The opal glass products produced by the Garbo opal glass are of high quality and meet international standards. The factory produces a wide range of opal glass products, including dinnerware, tea sets, glassware, lampshades, and decorative objects. The products are available in various sizes, shapes, and designs to meet the diverse needs of customers.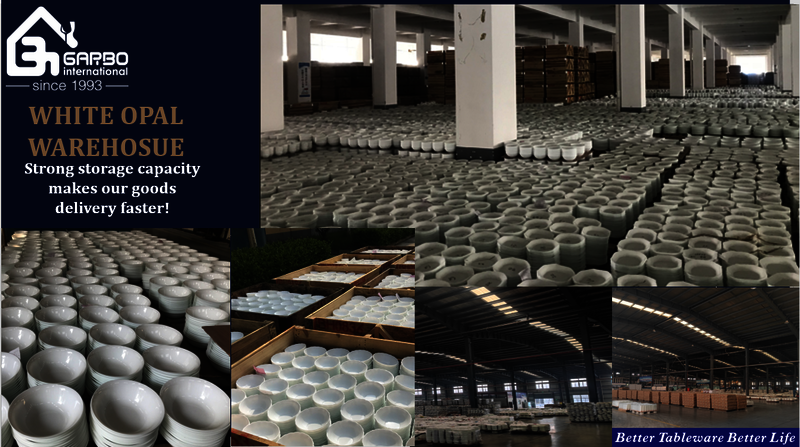 The Chinese opal glass factory has invested heavily in research and development, and as a result, they have developed several unique manufacturing techniques. For example, they have developed a technique that allows them to produce opal glass that is highly resistant to impact, making it ideal for use in high-traffic areas such as airports and train stations. Garbo also conducts research and development activities to improve the quality and performance of opal glass. Garbo has a team of experienced researchers and engineers who work on developing new opal glass formulations, improving production processes, and enhancing product quality. The design team is professional and spend lots of time to develop new molds or new decal designs on opal glass products.
The Chinese opal glass factory is known for its high-quality products, and they have a reputation for delivering products that are both durable and aesthetically pleasing. They have strict quality control measures in place to ensure that every product that leaves the factory meets their high standards.
There are 7 superiority of Garbo opal glassware.
Strong R&D team
More than 15 designers to creat shapes, sizes, patterns etc. 3D samples provided within 48 hours for any new models.

Durable
Garbo opal glassware are impact-resisting; non-cracking; and flawless.
Good texture and dishwasher use.
Heat-resistance
Natural quartz sand by high temperature melting, cooling solidifying formed amorphous mineral, the heat-resistant temperature of 120℃.
Melted by 1500℃ high temperature, the pyrex glass is bright; stable; nontoxic; flavorless; and ageing resistant.
Microwave and oven use.
Hi-quality
Easy to wash in comparison with the ceramic.
With the higher level anti-dirt; anti-bacteria; and hardness.
Greenness
Without some harmful substance such as lead and cadmium.
Secondary recycling; greener; and environmental.
Corrosion resistance
Stable preformance, high hardness, smooth surface, dirt is not easy to adhere to.
Easy for Cleaning
Polishing double sides, adhesion is not easy, easier cleaning.
It could be washed by without any dishwashing liquid, flush with water.
Garbo works with many famous brands like Tesco, Metro, Aldi, both retailers or wholesales. Thanks to the supports from customers all over the word, the annual selling amount of opal glass products from Garbo is $6,000,000.00 every year. Garbo will keep on innovation and create more and more suitable and high quality opal products for all customers.
In order to ensure our customers can have a good time in our showroom, we upgrade all our showrooms from 2019-2022 with total 6 showrooms in Guangzhou. And the opal showroom displays all opal products including white opal glassware and black opal glassware, both single pieces and dinner set with nice pack.
We welcome customers from all over the world to visit our factory and showroom when you come to China.